In the academic community, Alain Touraine is known as a professor, theorist, sociologist, and scholar. His career has involved groundbreaking ideas about social movements and societies. He has traveled from Latin America to Poland, from Spain to the U.S., meeting like-minded intellectuals as well as critics along the way. When asked about his accomplishments, however, Touraine said he most identifies with a simpler feat, one that involves the process of discovery.
"I have a relatively narrow image of my role, which is to produce ideas — like people produce potatoes," Touraine said.
On Oct. 29 Touraine visited USC Annenberg for a lecture about his new book titled, "We, Human Subjects." The lecture was moderated and hosted by professor Manuel Castells, a long time co-worker and friend of Touraine's. During the lecture Castells interviewed Touraine about the sociological viewpoints presented in the book as well as his inspiration for his scholarly work.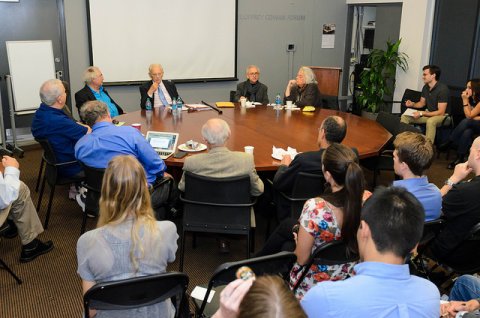 USC Annenberg / Benjamin Dunn
"The title of the book is not clear, but the ideas are very clear," Castells said. "The ideas are basically about emphasizing the fact that people are those who change the world … And once they become subjects, everything is possible."
According to Touraine, "We, Human Subjects" is the last book he will ever author, a culmination of his work and ideas. At 90-years-old, he has taken the opportunity to reflect on and learn from his life. He hopes audiences will be empowered by the ideas of human dignity presented in his book.
In the book, Touraine proposes a new society. One where individuals embrace their fundamental and universal rights.
When asked about where he got inspiration for his book, Touraine notes that his work has been governed by two major events in his lifetime. First the death of his wife, and second, the death of a dear friend.
"My life has never been defined in professional and administrative terms," Touraine said. "Nothing happened in my professional life. No successes, no terrible failures. I am absolutely confused that the main changes in my ideas have been linked with two periods of my life, when first my wife and, many years afterwards, a friend died. I don't have a private and public life. I have an intellectual and emotional life which are always linked together."
These two events had a profound impact on Touraine's work. For five to six years leading up to his wife's passing, Touraine had abandoned his study of social movements, and devoted himself to developing a new method of study. However, after the loss of his wife, Touraine had the desire to head in a different direction with his research. He battled through days of low morale and the desire to quit.
Then came the loss of a dear friend. Touraine's life following this loss involved 12 hour work days for four to five years. He then felt like he found his peace.
"I was in a new continent, I was not in the air, nor the sea, or a tempest," Touraine said, "I had landed. Which brings me to my last book."
With a background in studying the Free Speech Movement of 1964 during his time as a professor at University of California, Berkeley, Touraine emphasizes the ideas of freedom, subjectivation, and human empowerment in his latest book.
Touraine recalls a time when he believed studying social movements was actually a mistake since instead of progress and reform, the world witnessed violence, assassinations, and political unrest. The absence of the development of new social movements urged Touraine to focus his work around creating a new method for studying past and future social movements.
Touraine's discoveries from his different academic experiences and lenses form the fabric of his new book.
"The idea that people are the protagonists of their own history is what Touraine calls the creation of the 'subject,'" Castells said. "It's a philosophy of liberty."