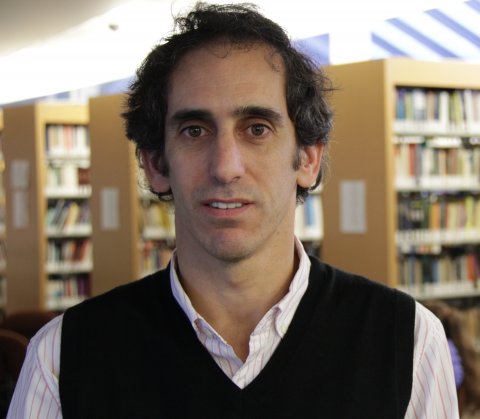 After starting his academic career at USC Annenberg 15 years ago, professor
Hernán Galperin
has recently returned from Universidad de San Andrés in Argentina, where he founded and directed the Centro de Tecnología y Sociedad. His research focuses on online labor markets, digital inclusion and telecom regulation in Latin America.
Galperin's recent paper (with co-authors M. Fernanda Viecens and Catrihel Greppi), "Discrimination in online contracting: Evidence from Latin America," asks whether online job markets are truly leveling the playing field for job searchers.
Based in Spain, Nubelo, a large online job website for Spanish-speakers, is used by employers and contractors in over sixty countries to fill freelance jobs in areas that range from software development to design to writing and translation, all done online. OCL (online contract labor) aims to break down geographical barriers for job searchers in faltering or limited job markets. Galperin and his co-authors explored whether Nubelo delivers on that promise.
According to Galperin, he and his colleagues were driven to pursue the research because Nubelo offered a unique intersection of online labor and digital inclusion.
"Our work intersects with several current debates about work in the digital economy and rising income inequalities," Galperin said. "We identified online labor platforms as a unique opportunity to bring a micro level perspective on these macro debates, and understand the underlying mechanisms at work."
Nubelo operators were interested in the work and readily shared internal data.
Through their research, Galperin and his colleagues revealed that online contract labor via a site like Nubelo does not necessarily offer access to job seekers without restrictions.
"The notion of a 'flat world' (borrowing from Thomas Friedman's well-known book), in which workers around the world are on a level playing field to compete for contracts solely based on their skills, is misguided," Galperin said.
Their research showed that employers often discriminate against foreign workers. Galperin noted, however, "This discrimination is a result of uncertainty about their skills, rather than a simple dislike of foreigners, per se."
And while there was no evidence of discrimination against women, according to Galperin: "Female workers make less on average and this results from two factors: they are less active on digital labor platforms and they ask for less, particularly when the employers are male."
Galperin said that his team was surprised by the gender differences and because of that, they're currently designing an experiment to validate their initial findings. They also plan to conduct interviews with a small sample of workers to add context.
"We know very little about what people do outside of the platform," Galperin said. "Do they have other jobs? Do they work full or part time? What is their previous labor trajectory?"
The Nubelo study isn't just a recounting of facts — it's a call to action.
"One of the key policy takeaways is the need to help young workers through training and programs that help them overcome the first-job barrier," Galperin said.
This barrier is even higher in online markets, because hiring decisions are made using a very small amount of information. In the traditional job market, new or inexperienced job seekers might rely on interviews or referrals to give them a leg up. No such aids exist for online-only jobs.
Another issue is simply access.
"If you live in a place where connectivity is lacking or is unreliable, you are simply shut out from these new labor opportunities," Galperin said.
If you don't have a computer and you don't have reliable internet access, your job market shrinks. For Galperin and his colleagues, the hope is that through policy changes and programs that promote tech skills and job searching strategies, those barriers will get smaller and the world a little flatter.
Galperin teaches COMM 582 and will teach COMM 430 in Spring 2016. His research informs his teaching and he sees it as a cornerstone of his work with students at USC Annenberg.
"I strongly believe a good teacher is necessarily at the cutting edge of research in his or her field, and should be able to communicate effectively and engage students with the latest findings and new questions that emerge from his or her work," Galperin said.
His latest book is "Broadband in Latin America: Beyond Connectivity."