When Lauren Teruya enrolled in the Spring presidential campaign reporting course, she knew she'd signed up for something special. USC Annenberg journalism courses nearly always have strong practical learning experiences built in, but Christina Bellantoni's class offered a unique opportunity: The students would travel to Iowa and Nevada to report on the presidential campaigns.
Even so, Teruya, a double-major in journalism and theater, says she could hardly believe it when she found herself face-to-face with former Vice President Joe Biden in an Iowa gymnasium.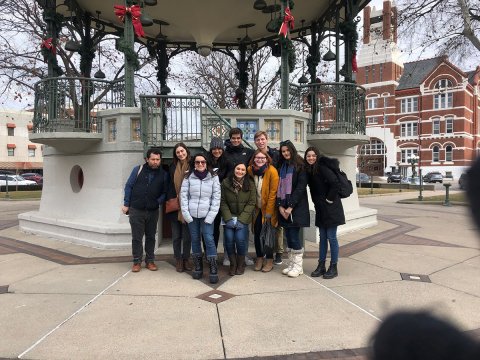 Photo courtesy of: Christina Bellantoni
"I don't want to say 'star-struck,' but our very first night in Iowa was at a Joe Biden event, and to literally be a foot away from him, putting my recorder up, trying to talk to him — it was a pretty unreal experience," she said. As she and her classmates drove around the frigid fields of Iowa from event to candidate event — Senator Cory Booker, Senator Elizabeth Warren, businessman Andrew Yang — Teruya says she got more accustomed to the rhythm of the campaign trail. "Each time we saw a different candidate, I was able to grow more and more confident just being around them," she said.
The 16-person class, which includes both undergraduate and graduate students, was split into two groups. Half went to Iowa from Jan. 4-8 to cover the candidates campaigning there in advance of the Feb. 3 caucus, and the other half went to Nevada, where they were there for caucus day on Feb. 22. Today, with California being one of the Super Tuesday states holding its primary election, the students are going to the polls in Los Angeles to report.
"The official name of the JOUR 448 course is 'Government and Public Affairs Reporting,' but I adapted it to the presidential election year," said Bellantoni, professor of professional practice and director of USC Annenberg's Media Center. "You don't have to want to be a political journalist to take this class, but you have to be like deeply curious and interested in that type of work. And maybe that ends up going into political consulting, or even politics itself."
A master's student in the strategic public relations program, Anna Pederson is interested not in being a political journalist, but in working with government officeholders or agencies; she's currently interning with Congressman Adam Schiff (D-Burbank). "I would consider myself a political junkie," Pedersen said. "So, being able to actually be on the ground in Iowa was a huge draw for me. The Iowa trip, and the class, are definitely in line with my long-term goals."
For the January trip to Iowa, Pederson recalls they "hit the ground running," heading out immediately to attend the Biden event. Some gatherings were hosted in people's homes, which gave the students a rare opportunity to spend time with the candidates, their supporters, and the political reporters assigned to cover them.
"If you read a couple stories or watched CNN, you might have a sense of what a caucus looks like or what the process is about," Bellantoni said. "But when you physically go and talk to real people about what their motivations are, it is just much more illuminating as a journalist. You can never really know until you see these people up close and personal. We were with Cory Booker in a living room, and the students got to talk to him directly and that's something you don't experience in California in any way."
These two trips were funded in part by donations from R. Rebecca "Becki" Donatelli, a member of USC Annenberg's Board of Councilors, a USC alumna, and a longtime Republican political consultant. It was important to her that students had a chance to learn about differing political perspectives through firsthand experience.
Photo courtesy of: Christina Bellantoni
"I can't think of any better experience than going to the caucus states," Donatelli said. "It's a great way to see democracy in action, and it exposes you to the importance of learning another's point of view. We've gotten so stuck in our own lanes politically that we don't even consider what other people might be thinking. A journalist has to be able to see both sides of a story to report it honestly and fairly."
In between the reporting trips, the students did readings about covering campaigns — starting with The Boys on the Bus and Fear and Loathing on the Campaign Trail, both about the 1972 presidential primaries — and completed writing and reporting assignments.
Along with the digital and social media coverage they were generating from covering the campaigns and the caucuses, all of the students were given the assignment to find someone in the caucus state they visited with different political opinions from them, and then write a profile of that person. Since the majority of Bellantoni's students are more on the liberal side of the political spectrum, that has meant getting to know some conservatives.
"I've taken great pains to make sure the students are exposed to different viewpoints," Bellantoni said. "In Iowa, for example, we rented an Airbnb from a Republican in a Republican town, and we got an earful every morning about why he thinks Ivanka Trump is going to be the first female president. I've also made very clear that all opinions are welcomed, and you are not going to talk down to someone whose opinions you don't agree with."
Bellantoni also brought three Annenberg Media journalists to Iowa to cover the Feb. 3 caucuses. Two of those students are taking the presidential campaign reporting course.
Abhinanda Bhattacharyya, a student in the master of science in journalism program, was one of the three students who covered the Iowa caucus itself, and also traveled to Nevada. She has a bachelor's degree in mathematics from Bard College, has taught high school math, is a U.S. army reservist, and worked in tech for a few years before making the leap to journalism. She hopes to eventually combine her interests in data journalism and political reporting.
Photo courtesy of: Christina Bellantoni
"In the Marshalltown, Iowa caucus we attended, the energy was different," she recalled. "People had been organizing within their neighborhoods and communities for months, and at the caucus, people were having fun and chatting. The caucus location we went to in Nevada was at the Bellagio Hotel, and a lot of the people there were shift workers who were in the middle of their workdays. They were going to go right back to serving or working in kitchens after making this momentous political decision."
Journalism major Luke Scorziell says his interest in politics began in high school, and he has his own political podcast. Having worked with Bellantoni through Annenberg Media, he jumped at the chance to enroll in her class and actually cover a presidential campaign. In addition to having such direct access to the candidates, he says the profile assignment has been a particularly interesting part of the class.
"I think just recognizing the humanity in people is one of my biggest takeaways," Scorziell said. "A lot of the time journalists can just see others as sources who have something they need. So, this trip provided the opportunity to relate to people we talked to in different ways beyond just politics, and that includes the candidates. I think that the human aspect of politics is often forgotten."