When Manuel Abud, the CEO of the Latin Recording Academy, first met the five USC Annenberg students who received academy fellowships, he asked them to name their favorite Latin singer. Over Zoom, some mentioned some popular current artists, including Bad Bunny and J Balvin, but senior journalism major Emily Bonilla brought up legends like Celia Cruz and Héctor Lavoe. "He [Abud] was really surprised," Bonilla said. "He was like, 'Oh wow, you know your stuff.'"
The fellowship was a "perfect fit" for Bonilla, whose love of Latin music came from her maternal grandfather Victor Camarillo. "He used to work at restaurants in Mexico City where famous singers would come, and my grandfather would grab a microphone and perform with them," she said. In applying for the fellowship, Bonilla shared this story, along with an award-winning podcast she produced for Dímelo, a Latinx-focused student vertical within Annenberg Media.
This unique opportunity came about when Abud, a USC Annenberg Board of Councilors member, approached the school's development office with an idea. He wanted to bring current students, ideally bilingual in English and Spanish, to the Academy to help create a multiplatform digital campaign. Abud wanted students to work with his team to help inform and demystify the judging process of the Latin Grammy Awards for their audience. "Partnering with USC Annenberg students has been fundamental in understanding the perception of The Latin Recording Academy and how to best engage with new generations of music creators," he said.
Abud added, "Working with these emerging leaders in communications to facilitate research enables us to evolve in a meaningful way, providing a fresh lens on storytelling that meets audiences needs while delivering on our mission to nurture, celebrate, honor and elevate Latin music and its creators."
Laura Dergal, the academy's vice president of marketing and content development, guided the students on strategy and planning, but, for the most part, they worked independently. "It was kind of like having an agency team, a student agency team," she said. "Their profiles aligned in a way that we had a native Portuguese speaker, we had a couple of native Spanish speakers. We had someone with experience in hands-on creation, someone who had a strategic communication background. It was really a very functional team."
Beginning in March, after spending time doing research, the students went to work creating a variety of ways to reach both the members of the Latin Recording Academy — and the general public — on the various processes around how the voting is conducted. They created quizzes, infographics and video content for their website and social media channels, including Instagram and TikTok.
Bonilla, along with senior communication major Emanuel Rodriguez, edited videotaped interviews with a variety of artists — including Gloria Estefan, Lila Downs and Olga Tañón — into clips for social media. "Our job was to really promote this educational campaign through the voices of the artists," Bonilla said.
Rodriguez added, "I think we were able to provide a new set of eyes. From a consumer side, since we weren't really sure about how the nominations process worked ourselves, it gave us a way to channel our curiosity to make sure we presented this in a way that's understandable."'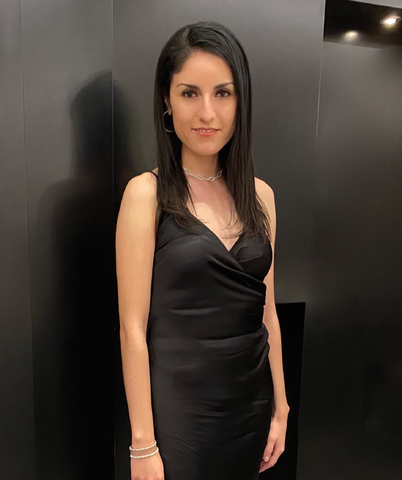 Photo courtesy of: Alexandria Arrieta
This fellowship was also "tailor-made" for Rodriguez. He recalls car rides with his family through the streets of Kansas City listening to either pop songs playing on the radio (Lady Gaga was a favorite) or reggaeton blasting from his sister's MP3 player. This broad interest in the entertainment industry prompted him to enroll in the undergraduate communication major, taking courses like "Global Entertainment" and "Communication and Mass Media," and later writing music reviews for the Daily Trojan.
In addition to creating the fellowship, the academy made a second request: They wanted to bring on a USC Annenberg student to design and conduct a study of how the academy is perceived throughout the music industry. Alexandria Arrieta, a fourth-year communication PhD student who is bilingual in English and Spanish and studies issues related to popular music, the internet and race, came on board to help. As part of the study, Arrieta conducted interviews with opinion leaders throughout the music industry and designed and administered a survey to help get a broader sample of opinions. "It's been really compelling for me to research music within the space of academia, while also working on this study for an organization that is historic and significant in terms of its influence on the industry," she said.
For all the students, the fellowship ended in November, culminating in an in-person trip to the Latin Grammy Awards in Las Vegas.
"This has been one of the coolest experiences," Bonilla said. "Not a lot of people can say they were meeting with executives on a weekly basis for a company as big as the Latin Grammys. These people know my name, and I don't know if we'll ever get an experience like this again."
"A big part of the Annenberg education is to expose you to different perspectives, and then you learn how to communicate from those perspectives," Rodriguez said. "This whole experience — both my classes and this internship — gave me the chance to really think about why this sort of music and these different viewpoints are important, and it made me even more appreciative of my own culture."
---
In addition to Bonilla and Rodriguez, the fellows included undergraduate communication major Carmen Vosmik and master's students Isa Fernandez (PR and Advertising) and Maricarmen Pedroza (Digital Social Media).