Chairman and CEO of BET Networks Debra L. Lee delivered the School of Communication's commencement address on May 15, 2015. The following is a transcription of her speech.
---
Good morning! Well, I have to take a deep breath. This is a special day for many reasons, but my speech was going to originally begin with "It's always beautiful in Southern California."
Then I heard the weather report. So I had to revise that. So now I'm going start off by saying it's going be a beautiful day. It is a beautiful day even with the rain, because on a day like this nothing can dampen the excitement of new beginnings in the air.
I want to thank Dean Wilson, Willow Bay, the director of the School of Journalism, Vice Dean Seib and Sarah Banet-Weiser. I'm glad to share this moment when both of our children are graduating. She is the director of the School of Communication. But I want to thank them for the warm welcome.
I also want to thank Dean Wilson for the invitation to speak today. He knew where I would be. There was no way I could decline. He knew for sure I would be here, so it kind of worked out.
I also like to recognize the rest of Ava's family, her dad Randy Coleman and the rest of our immediate family, Carla, Quinn Coleman, our son, and our friends who have joined us here today. Thank you all for being here.
To all the parents in the audience, today, I am one of you. My daughter Ava is part of the class of 2015. So I know exactly how you're feeling right now.
It's equal parts pride, excitement - and maybe a little anxiety. Sending our children to college was enough to cause a few heart palpitations but now the real world? It's a little bit daunting. But that last tuition payment? Now that felt good.
Seriously though I believe in Ava and all of her classmates. They are graduating from the prestigious Annenberg School of Communication and Journalism. They will be more than OK. So parents, let's just celebrate and leave the worry for another day.
USC / Gus Ruelas
Graduates, congratulations! You have worked so hard to get to this moment and I know you're feeling some of the same emotions your parents are — pride, excitement and anxiety. And judging by the fatigue on your face I think you partied a little too hard last night, especially that guy over there. In fact, he's still partying.
But today, I'm going to help you with all of that. I'm going to share the information you need to succeed that no one else will tell you. And you know why they won't tell you? Because you're a millennial and they think you won't listen.
But I know differently.
So, Number one: you are the power. As millennials, you have all the power. You are the buzz in the media industry — and pretty much every industry — and we are all talking about you, your habits, what you eat, what you read, what you watch, everything. For a long time I thought Ava and my son Quinn were just a little bit different.
I was a girl who grew up in the South in the 60s and they are kids from D.C. who grew up in the 90s. So of course we might have some differences of opinion. Don't worry Ava, I'm gonna stop there.
But research from BET Networks, Viacom, and industry wide, showed me the social significance of your generation — which by the way is 80 million strong.
I mean us boomers thought we were really doing something and that we were going to be the ones that changed world. But the reality is Generation X are bigger than us and millennials are three times larger than Generation X. Millennials will nearly be 50 percent of the U.S. workforce in 2020. You have a combined purchasing power of 2.4 trillion dollars. But don't spend it all in one place. And you are the most racially and ethnically diverse generation, with over 40 percent of you identifying as non-white.
So because of your power and because of your influence, everyone wants you. They want you to like them, retweet them, or vote for them. And by the way if you want to retweet me, my twitter handle is @IamDebraLee. But seriously because your generation is setting every trend, employers want you.
But you have to keep the job once you get in the door. That's where it gets tricky.
A study at another university, that will remain nameless, said you are sheltered and special. And special was not meant in a good way. These qualities are not so enticing for employers. The study noted that every milestone in your life was marked with celebration and praise. And for this reason you crave attention and need feedback from employers.
So here's the next valuable information you need to succeed that probably no one else will tell you.
You are enough.
Now your boss won't always give you praise and maybe that's why 40 percent of millennials say they don't feel valued at work.
But I'll let you in on a little secret. Your boss is really, really busy. And are not your parents. We will reward hard work and achievement but we might not bring you cake and balloons when we do.
So here's the lesson. Always remember even if you don't get the feedback you are looking for — you are enough.
Your self-confidence is what compels you to act and think creatively. It's what compels you to take risks and frankly it's one of the reasons we hired you in the first place. And here is the last piece of information I want to share with you as you dream about making a difference.
You are the change.
BET and MTV, and almost every organization that studied millennials, have found that your generation is set on changing the world and that you're capable of doing it. One study said you are masters of self-expression. You're adept at using social media to convey and spread your opinions. Quite simply, your generation is capable of launching a revolution with a post on Instagram or with a tweet. And you have — across the world.
That is very, very powerful.
But with that power comes responsibility. Thankfully, the ideas you're expressing are driving us towards a society that is more accepting. That desire for inclusion probably stems from the fact that millennials are the most diverse generation in this country ever.
Your younger brothers and sisters barely know a world where a black man can't be president, where a classmate doesn't have two moms or two dads and they certainly don't know a world where a woman can't run a company or university or a country.
The bottom line is that your generation will be the one that ends systemic racism, sexism, and hatred of all kinds.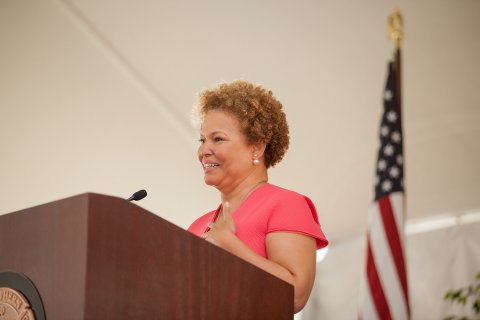 USC Annenberg / Brett Van Ort
You will do it.
I was recently appointed by President Obama to his My Brother's Keeper alliance, which is a nonprofit organization whose mission it is to improve the lives of young men of color. I intend to work with him and the First Lady closely to improve the lives of all young people regardless of who they are, where they come from or the circumstances in which they were born.
We are all in a fight right to now to eliminate injustice and increase understanding — from Ferguson to Cleveland to Baltimore.
And while there is no easy answer to address conflicts between communities of color and law enforcement agencies, you can make an impact.
As communicators, I encourage you to look for ways you can help facilitate practical, dynamic and civil conversations about what's going across the country on all of our social issues.
You are armed with the right tools to change the world. You have your iPhone, your Twitter account and everything you've learned about every communication platform during your time here at USC. You can be the ones who can bring all parties to the table for passionate yet peaceful discussions.
So now that you know how to succeed at work and change the world, I want to leave you and your parents with one last tip.
About one third of millennials live at home with their parents. It's the truth.
And you might be one of the 30 percent who moves back home this weekend. And it's great you have that option. When my generation went to college our parents put everything we owned in a footlocker and shipped it with us. So at least you have that option.
So class of 2015, how can we coexist peacefully after you move back into the basement?
For you graduates it means showing your parents some love - hang out with us a bit. Let us know what you're up to. Email, text, heck, tweet us or at least tag us on Instagram. Put us in a Snapchat. What? I don't know. We will take all of the attention you can give. In that way we aren't that much different than you guys. We like positive reinforcement too.
And parents, I have some advice for you too. Just give your graduates some breathing space.
No curfews. And give them some wifi, they're millennials sand that's all they really need.
So class of 2015, you'll succeed and you'll make you alma mater proud because you are part of a legacy of excellence that is larger than you.
You are plugged into a progressive, dynamic, cosmopolitan network of incredible people whose vision and ideas have electrified the world. You have been well prepared and when you step off this campus you will step into a world of possibility.
And if no one ever tells you, remember that I told you, you are the power, you are enough and you are the change.
I know you will succeed at work or graduate school. I know you will use your influence to create positive change and I know you will eventually move out of the basement.
So I have high hopes for you and I know you will always fight on.
Graduates, I am so very honored to have been part of your day today and Ava, I am so very proud to be our mom.
Congratulations to the class of 2015. I can't wait to watch you change the world. Thank you very much.