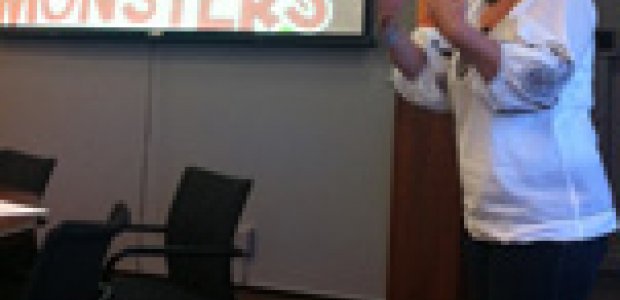 Jennifer Taylor speaks at the Journalism Director's Forum. Photo by Jessica Zech.
A USC Annenberg's Journalism Director's Forum recently hosted filmmaker Jennifer Taylor for a discussion and presentation of her upcoming PBS project, "Street Knowledge 2 College."
The project, commissioned by the Latino Public Broadcasting for the Corporation for Public Broadcasting's American Graduate Initiative, utilizes "long-form storytelling through short chapters" that will go straight to online and mobile media.
Taylor, a USC Annenberg alumna, has been documenting her work at Free LA High School, an alternative school for students, up to the age of 24, whose educational careers have been stalled by the harsh realities of life in South Los Angeles.
"A lot of the stories that have emerged have to do with trauma, with death," Taylor said.
This "social issue documentation," she said, highlights the struggles of the community by painting intimate portraits of students who are trying to get their lives on track and attend college.
Claudia Gomez has become Taylor's premiere collaborative partner at the school. A former straight-A pupil whose life was rattled by the premature death of her sister, Gomez dropped out of school and found herself in a downward spiral.
When "Street Knowledge 2 College" came around, however, Gomez embraced the project and became a central figure in Taylor's documentation. Her insight and first-hand experiences elicited deep, emotional stories from her peers that translated into short films.
Gomez's role with "Street Knowledge" is a successful illustration of one of Taylor's primary goals: to allow the community to report its own stories.
"I started realizing a couple of years ago . . . people want much more sense of ownership of their image and their story," she said. "I wanted to see what it would be like if you embraced that . . . to collaborate and make these stories more authentic."
According to Taylor, the project has been an emotional challenge.
"We were filming between January and June (of 2012), and in that time, 5 former or current students from Free LA were killed," she said. "It was a very heavy, heavy spring."
The hardships, however, are a part of a day-to-day life in South Los Angeles, and "Street Knowledge" reflects them.
"I want to make sure that the community feels authenticated," Taylor said.