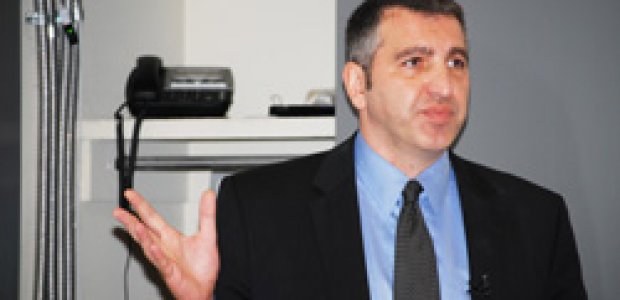 Ramin Asgard, director of Voice of America's Persian News Network, spoke at a Journalism Director's Forum co-hosted with the Center on Public Diplomacy on the issues he faces broadcasting in a country that tightly controls the media.
Iran is a closed society because the government imposed an "electric curtain," according to Asgard, that blocks people's access to information. In the 1980s, Iran passed laws maintaining that the purpose of the press is to promote Islamic culture, in contrast with the Western view of the media as an open forum and government watchdog.
"They don't view, again, this as a market of ideas, they see media as a battlefield where there's a war is going on," said Asgard about the Iranian fight to control access to information and narratives.
Iran views cyber activity as a "national security issue," according to Asgard, who believes Iran would give up their own broadcasting if that meant no one else was. Iran jams satellites to prevent other broadcasts, like Voice of America, from being shown, hacks other news organizations' websites and prosecutes bloggers, Asgard said. The country is also has plans to launch within the next year an isolated internet, named Halal Internet, that will be highly monitored by Iranian authorities.
"Why don't we blow up their satellite transmission equipment? Well, it's not really in keeping with what I am sure they are teaching you here, and it's not really in keeping with American values of what the media is supposed to do," Asgard said. "It's supposed to be an open forum for discussion."
Resorting to advocacy and propaganda is not the answer because Asgard thinks Iran has more to fear from the truth than propaganda.