Imagine you're a college start-up wunderkind. Having skipped the rocky navigation of an endless sea of internships, you've moved straight to CEO and founder of your own company. And all before you've earned your degree.
At USC, student entrepreneurs across campus have been receiving help to do just that, from a one-year old program called the Blackstone LaunchPad USC.
J'Net Nguyen, a 2015 graduate of the communication management master's program, was just 16 years old when she got the idea to crowdsource waiting in line after attending hundreds of concerts as a precociously young music journalist. Now her app LineAngel, which she co-founded while completing her degree, has earned her a coveted space in the USC Marshall Incubator and a flurry of press after its beta-test at this year's Comic Con.
Chad Massura, a junior majoring in business and cinema, was a freshman when he and his two roommates started EnvoyNow, a student-run food delivery service that promises delivery anywhere on campus. After exposure from meeting the producer of "Shark Tank," who offered them a $100,000 investment, EnvoyNow has secured $300,000 in funding and a place at the industry-respected 500 Startups Accelerator.
Both Nguyen and Massura went to the Blackstone LaunchPad USC to help them turn their ventures into successful businesses. Still flying under most students and professors' radar after only one full school-year on campus, Blackstone LaunchPad has one message for the Trojan family: Whether you're already CEO of your own company or only have the glimmer of an idea, (or if you simply want to add some entrepreneurial skills to your portolio), we can help you turn it into a reality. For free.
USC Annenberg / Brett Van Ort
"Anyone who has an idea or wants to start something can actually come to Blackstone LaunchPad to learn entrepreneurial skills. Think of us as your first entry to pointing you in the right direction of all the incredible entrepreneurial resources happening across campus," said Erin Reilly, executive director of Blackstone LaunchPad and managing director and research fellow for the USC Annenberg Innovation Lab (AIL) under which it's housed.
First established in the spring semester of 2014, the Blackstone LaunchPad USC was funded by the Blackstone Charitable Foundation, which promotes student entrepreneurship on university campuses nationwide through a $50 million, five-year Entrepreneurship Initiative. USC's grant is managed by the AIL, which runs the entrepreneurial CRUNCH Student Accelerator each spring, open to students across campus.
"We're housed in the School of Communication and Journalism, which is known to be a connector and multidisciplinary," Reilly said. "Even though Blackstone LaunchPad is situated in ASC's West Lobby, Blackstone LaunchPad belongs to USC as a whole, regardless of school or major."
Program director James Bottom, a former Trojan football player with an infectiously upbeat attitude and a penchant for high-fives, emphasizes that the Blackstone LaunchPad's door is open for anyone who wants to start a business, a nonprofit, or create an event. And when Bottom says "anyone," he really means it: professors, students, and even alumni can avail themselves of Blackstone's resources. All they have to do is walk in.
"There's absolutely no barrier to come see us," he said. "You have to have an idea, you sign up, you ask time to see us. That doesn't happen anywhere else on campus."
Blackstone LaunchPad's team is small but mighty, with handful of employees prepared to take a potential entrepreneur at any stage of the process." A "newbie" can take their nascent idea to Jennifer Ellis, whose expertise includes brainstorming and building up concepts into fully-fledged wireframes, while someone more experienced can take a running start-up to Ian Donahue, whose connections in the venture capital world are vital for a fledgling company. Then there's Anjuli Bedi, who jumpstarted Blackstone LaunchPad USC's focus on women and diversity, in an effort to put USC at the forefront of Los Angeles' push to transform itself into a hotbed for anyone with an entrepreneurial spirit. And of course, Reilly and Bottom make themselves available to students as well.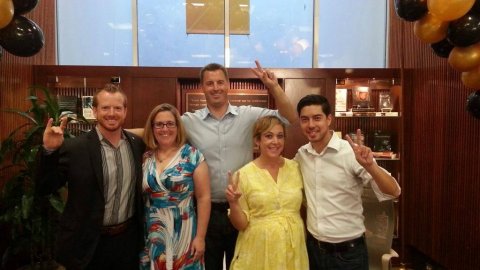 Facebook / Blackstone LaunchPad USC
Josh Javaheri is a junior majoring in business administration and entrepreneurial studies. He's also the founder of a gaming app called Lucky Day, for which he's raised $500k. Javaheri said that Bottom has become a friend as well as an advisor.
"I talk to him at least once a week," Javaheri said. "And he gives me great advice. So for me, it's been a great support system and a great tool, as in what's the next step."
The enthusiasm and empathy of the USC Blackstone LaunchPad staff hasn't gone unnoticed.
"It would be hard to find a staff that champions their students more than the USC Blackstone LaunchPad staff," said Amy Amsterdam, the former innovation director at the Los Angeles County Economic Development Corporation (LACEDC) and regional coordinator for the three Blackstone LaunchPads in Southern California.
"They are committed to making sure that the students who take part in the Blackstone LaunchPad program are connected with the community inside and outside of USC and that they can offer as many resources as possible for their students to be successful," Amsterdam said, adding that she is impressed by the student start-up ventures that have emerged from USC.
For Nguyen, help meant contract and legal advice, connection to mentors, and assistance finding LineAngel's co-founder, fellow USC student Chris Eckman. Massura and his EnvoyNow co-founders met weekly with the Blackstone LaunchPad staff for advice on strategy and focus.
But for some students, like Kaitlin Mogentale, the Blackstone LaunchPad staff acted as a guide from her first pitch to an up-and-running business. Mogentale, who graduated this past May, came up with the idea for Pulp Pantry, a social enterprise that takes the fruit and vegetable pulp commonly thrown out by juiceries and repurposes it into nutritional food products.
"I was an environmental studies major, I did not have any of the business background," Mogentale said. "I remembered in the beginning going to meet James and Jen and they really helped me with, 'this is how you develop a business pitch, this is how you develop a business plan.'"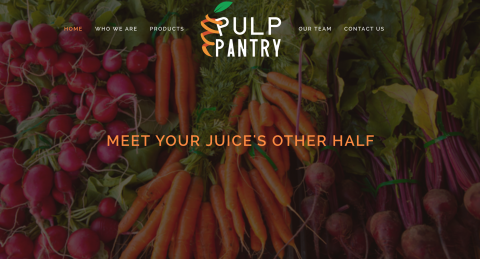 Mogentale started by collecting pulp from Nektar on campus, and now works full-time on Pulp Pantry with USC student and co-founder Ashley Lukashevsky.
"I wasn't totally sure that I was capable of doing it," Mogentale said. "And I think that's one great thing that the mentors at Blackstone have done, is really empower me to understand that you don't have to have everything figured out.
It's kind of the process that really gets you to a place where you can be successful. And it's like, if you're passionate about it and committed, that's really all it takes," she said.
To date, Bottom said Blackstone LaunchPad has helped 200 start-ups, partnered with student organizations like Spark SC to host 240 events, and connected with 8,000 students, with at least one student from every school on campus represented.
But Bottom quoted his former coach Pete Carroll when he said, "He always taught us it's not about what you've done, it's about what we're going to do."
For the next year, Blackstone LaunchPad USC will focus on initiatives in non-profits and clean technology, working with the Los Angeles Cleantech Incubator (LACI), which is building an innovation campus. But a large amount of Blackstone LaunchPad's energy will be directed at maintaining and increasing diversity among the student entrepreneurs. This includes a woman's initiative, which aims to increase the 29 percent of female students who were involved in Blackstone LaunchPad last year.
"The goal is to reach out to different types of students, male, female, different majors … different ages," Ellis said.
Nguyen, whose mother is also an entrepreneur, is no stranger to self-starting companies. But she said she found the support of the Blackstone LaunchPad staff incredibly helpful.
"I think just having them, and that encouragement, and knowing that you have resources, it just makes the process a lot more seamless," she said.