As the sun began its lofty descent, dancers Rebecca Bruno and Samantha Mohr combined hieroglyphic formations with fluid igneous gestures, attracting a curious crowd on the sidewalk in front of Velaslavasay Panorama. Their performance launched The Ampersand Salon, an event held on April 10 by Mark "Frosty" McNeill and his USC arts journalism graduate colleagues – the dozen of whom are creators and editors of the award-winning online arts magazine, Ampersand.
"We wanted to expand the definition of journalism and how it is manifested," said McNeill.
To that end, he programmed 19 artists to perform within the venue's many enigmatic nooks and crannies. He hoped that the 225 guests who showed up would be able to experience art in unexpected ways and forge connections that will help build arts journalism further into the public conversation.
"We wanted to engage with the public through a stimulating in-the-moment format, " continued McNeill, who is also a co-founder of the web radio station dublab, "and provide a well-curated taste of the Los Angeles creative landscape."
Allison Wolfe of the Sex Stains and another Ampersand contributor, joined Shifflett for the end of Echo Mountain's set, and sang the rarely heard, "Don't Put Her Down (You Helped Put Her There)," by the feminist blue grass duo, Hazel & Alice. Their magnetic duet highlighted that fact that one third of USC's arts journalism graduate students are artists, too. The other two-thirds are seasoned art journalists with impressive cred and, in most cases, impressive artistic chops.
At one point in the evening, Annenberg professor Sandy Tolan and his six-year old son found themselves venturing though one of Velaslavasay Panorama's hidden spaces known as the Novatusk Hut. This room was "tricked out like a 19th century log cabin," Tolan posted later on Facebook, describing how he and his son were peering through the cabin's windows at glaciers melting, when, suddenly, an operatic melody filled the room as Justine Aronson sang her music box solo from "Hopscotch," casting a spell. Tolan described this experience as, "completely suprising; completely, magically enchanting."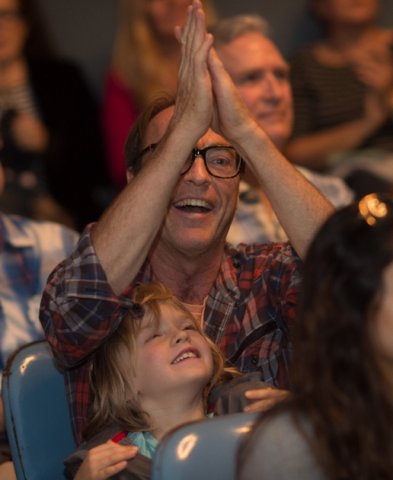 Flickr / Alan Mittelstaedt
Back in the theatre, Mia Doi Todd and SK Kakraba performed their own musical pieces -- both drastically different, but equally intriguing. Todd's lyrical folk sound sent tingles, while Kakraba's gyil xylophone playing incited the audience to clap a resounding beat to his Ghanaian tune. Outside in the rain-drenched garden still sparkling in the lingering sun, Mecca Vazie Andrews and two other emotionally charged dancers (Alison Fung and Annie Gimas) performed among the buzzing crowd, repeating the phrases "construct" and "reconstruct."
And, finally, Andrews and Ampersand member Wolfe, with her breathtaking shock of red hair and flouncy blue square dance dress, drew everyone's attention to the main stage performing with Wolfe's vivacious and respected punk band, the Sex Stains. Embodying the spirit of a digital journalist, Wolfe stepped out into the audience -- some of whose members were L.A. arts organizations and arts media leaders -- and looked people directly in the eye as if calling them to engage, interact, and play to make the wild moment memorable.
"Bringing together an extended community of arts practitioners put a human face to our still young organization," said McNeill, refering to Ampersand, which was created in 2014 through a graduate course taught by Annenberg professor Sasha Anawalt.
McNeill compared Ampersand itself to the location for The Ampersand Salon at the Velslavasay Panorama by stating, "Ampersand, while part of USC Annenberg School for Communication and Journalism, operates very much as an independent arts journalism entity. Likewise, the Velaslavasay Panorama is part of the university community, based on its proximity to the school, but also seems a world away."
For more information about Velslavasay Panoroma on 24th Street and Hoover, and its hours of operation, go here.
If you want to be part of Ampersand and its future activities, join its Facebook group.