Journalism Major Admission Standards, Requirements And Application
Journalism Major Information And Requirements For Current Students
The USC Annenberg School of Journalism's Bachelor of Arts in Journalism is a forward-thinking curriculum that encourages students to embrace technology, assess it critically and employ it in the service of powerful and effective journalism. Several team-taught courses will allow students to learn from faculty with a strong expertise in video, audio, text and digital journalism. Through this team-teaching approach, students will establish their reporting and writing expertise across multiple platforms. In an integrated Media Center experience, students will acquire the editing, production and digital storytelling skills to produce journalism across a range of media.
The program offers courses that explore the essential components of a contemporary journalism education, including media literacy, ethical constructs of social media, a civic engagement lab experience, coding for storytelling, and law and ethics for the digital age. At the conclusion of the degree program, students will produce digital portfolios and personal websites featuring their best work at the school.
The curriculum also offers an opportunity to add deeper, more specialized media experience through the selection of electives, including app development, virtual reality journalism and native content for social media. Electives may also be concentrated in areas of study, such as broadcast and video journalism, digital and emerging technologies or sports journalism.
---
Major Requirements
Journalism Requirements
(44 units)
ASCJ 200 – Navigating Media and News in the Digital Age (4 units) or JOUR 300 – Journalism and Society (4 units)
JOUR 201 – Culture of Journalism: Past, Present, and Future (4 units)
JOUR 207 – Reporting and Writing I (4 units)
JOUR 307 – Reporting and Writing II (4 units)
JOUR 320 – Introduction to Coding for Storytelling (2 units)
JOUR 321 – Visual Journalism (2 units)
JOUR 322 – Data Journalism (2 units)
JOUR 372 – Engaging Diverse Communities in the Digital Era (2 units)
JOUR 414 – Advanced Digital Media Storytelling (2 units)
JOUR 462 – Law of Mass Communication (4 units)
Advanced Reporting Elective (choose one course): JOUR 402 (6 units), JOUR 403 (6 units), JOUR 405 (4 units), JOUR 409 (4 units), JOUR 448 (4 units)
Plus 8-10 upper-division journalism or public relations elective units chosen in consultation with your adviser.
NOTE: Students who choose a 4-unit Advanced Reporting course will need 10 units of upper-division electives; students who choose a 6-unit Advanced Reporting course will need 8 units of upper-division electives.
Accreditation Requirement
To meet accrediting guidelines, journalism majors must complete a minimum of 72 units outside the major area of journalism and public relations.
For more information regarding major requirements for the Annenberg School of Journalism, please visit the USC Catalogue.
---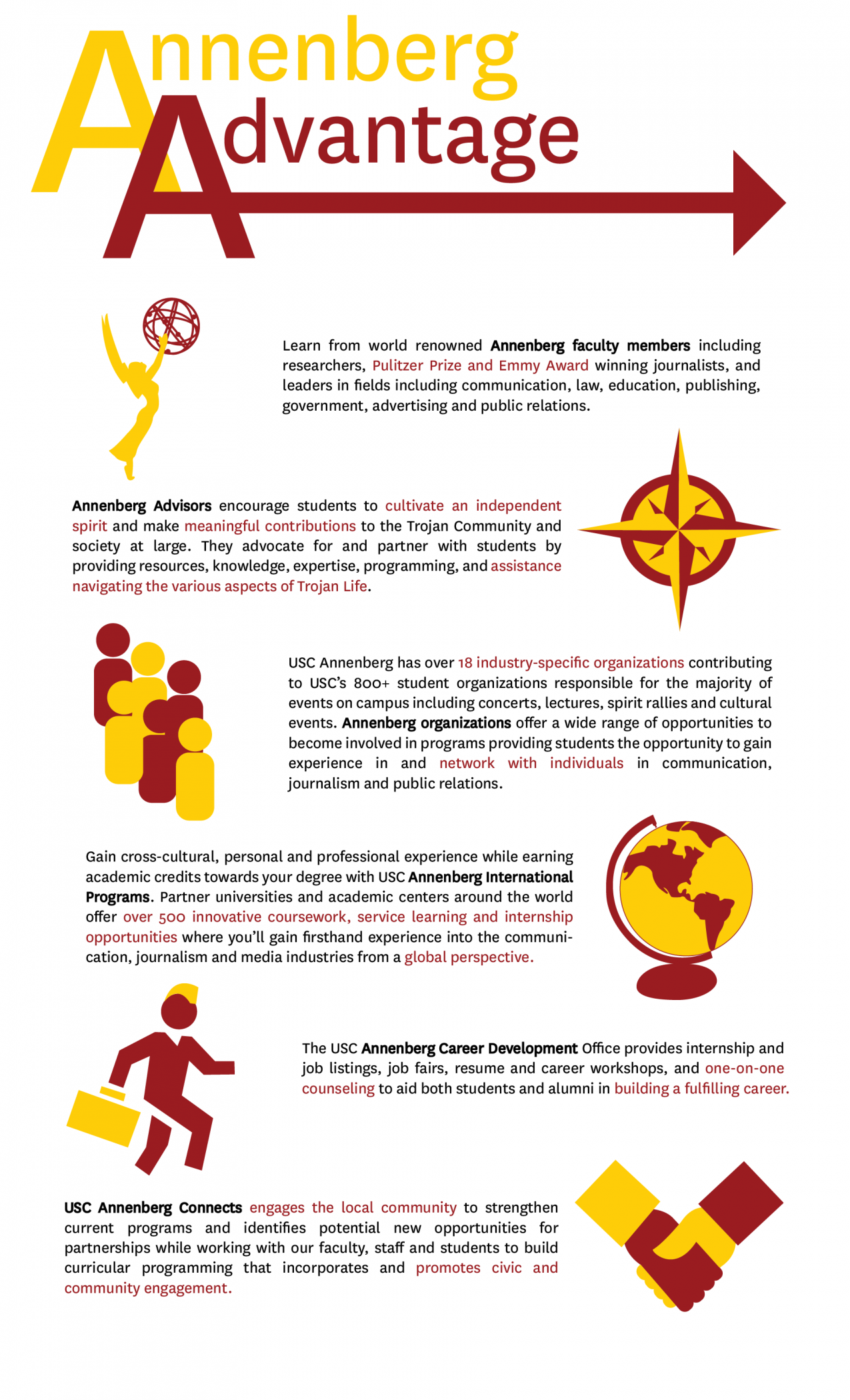 Learn More About Our:
USC Annenberg faculty members are among the top scholars and professionals in their fields. They include renowned researchers, Pulitzer Prize and Emmy Award-winning journalists, and leaders in fields including law, education, publishing, government, advertising, and public relations. Students at USC Annenberg learn from the best and graduate with a range of experiences and contacts that will be of great value throughout their careers.
All undergraduate communication majors are required to meet with a USC Annenberg undergraduate adviser each semester to review degree requirements and plan their communication major progress. Students must use their USC email accounts to receive advisement and academic information.
USC Annenberg Career Development
The USC Annenberg Career Development Office provides internship and job listings, job fairs, résumé and career workshops, and one-on-one counseling to aid both students and alumni in their search for a fulfilling career.
Annenberg Connects engages the local community to strengthen current programs and identifies potential new opportunities for partnerships while working with our faculty, staff, and students to build curricular programming that incorporates and promotes civic and community engagement.
USC Annenberg International Programs
USC Annenberg sponsors international undergraduate study abroad programs and graduate internship programs in exciting cities around the globe. Each of the programs provides students with a once-in-a-lifetime opportunity to gain international experience in their chosen field of study.
USC Annenberg has many professional and social organizations that contribute to USC's 800+ student organizations, which are responsible for the majority of programs and events held on campus, including concerts, lectures, special events, spirit rallies, cultural and social events, and conferences.
---
Admission Standards and Application Requirements
Admission Standards
To be eligible to apply, current USC students must have:
Completed 16 units at USC.
3.0 USC GPA required.
NOTE: A minimum of four semesters is required to complete the Journalism major. No exceptions will be made.
Application Requirements
The documents below are required. Incomplete applications will not be considered.
Completed Journalism Major online application for current USC students only.
Statement of Intent: A statement of intent is required for students who have below a 3.0 USC GPA. This should be a one-page essay on any pertinent information that may have affected your academic performance and your interest in pursuing an education and career in the field of journalism. Limit 500-600 words.
For more information about the School of Journalism or the application process, please contact USC Annenberg Student Services at (213) 740-0900 or ascjadv@usc.edu. Information sessions are throughout the fall and spring semesters for students who plan to apply to the School of Journalism. Click here to RSVP for an information session.
NOTE: The Admission Committee will review students' academic records (transcripts and transfer credit statements) on the university system. Students accepted to the Journalism major will be admitted to the semester in which they apply.
---
Application Availability, Deadline and Notification
It is recommended that students interested in applying to the journalism major do so before their junior year. It takes journalism majors a minimum of four semesters from the time of admission to the program to complete the major requirements.
Fall applications are made available on July 1.
Fall applications are due by 4:30 p.m. on the first Friday of the fall semester (in August).
Fall applicants will be notified on the fourth Friday of the fall semester (in September).
Spring applications are made available on December 1.
Spring applications are due by 4:30 p.m. on the first Friday of the spring semester (in January).
Spring applicants will be notified on the fourth Friday of the spring semester (in February).
Summer applications are made available on April 1.
Summer applications are due by 4:30 p.m. on the first Friday after commencement (in May).
Summer applicants will be notified two weeks after the deadline (in June).
Please reference the academic calendar on the schedule of classes for specific dates relating to each semester.
Late applications will not be considered.
Questions? Contact ascjadv@usc.edu.