Communication Major Admission Standards, Requirements And Application
Communication Major Information And Requirements For Current Students
The USC Annenberg School for Communication and Journalism offers programs of study leading to a Bachelor of Arts degree in communication. Communication has become a highly prized commodity in modern society, for it is through communication that our social, economic and cultural lives are shaped — globally, daily and comprehensively.
By design, the courses in the curriculum tend to cluster into different areas of study. These areas represent important foci in the communication discipline and are areas in which USC Annenberg's faculty possess special expertise. Four such areas of study are described below. They are not mutually exclusive, nor do they exhaust the curriculum; rather, they represent partially overlapping areas of extraordinary depth. Students may specialize in one of these areas or may design individual programs of study by choosing combinations of electives that best meet their needs and career objectives.
Media, Law and Politics
Designed for students who are interested in careers in government and public service, the law, and political and legal consulting. Students examine communication processes in the public sphere and learn how to participate competently in these practices.
Communication and Culture
Designed for students whose careers have an international or multicultural dimension, from those interested in foreign service, travel and consulting to those seeking careers in the arts.
Entertainment, Communication and Society
This major track is attractive to students who wish to pursue careers in the entertainment industry, as well as students interested in the relationship of communication and entertainment to popular culture, globalization, cultural studies, marketing, advertising and ethics. Students choosing this option will be well prepared for graduate study and will also be able to enter the entertainment industry with grounding in the theory, roles, issues and effects of entertainment.
Organizational and Interpersonal Communication
This option is most relevant to students interested in careers in business, management, human resources and development, corporate communications and consulting.
---
Major Requirements
Students must maintain a minimum 2.0 overall GPA in their upper-division courses. No more than 16 upper division communication elective units may be taken prior to completion of the entire theory and Annenberg experience classes.
Students who have not been admitted to the communication major or one of the minors may complete a maximum of 20 communication units at USC. No further communication courses may be taken until the student is admitted.
For more information regarding major requirements for the Annenberg School for Communication, please click here or visit the USC Catalogue.
Bachelor of Arts in Communication
(48 units)
Theoretical and Foundational Classes (12 units total):
Communication Interaction, Influence and Impact (4 units)
COMM 200 – Communication and Social Science
OR
COMM 313 – Communication and Mass Media [Duplicates credit in COMM 203]

Communication, Civic Life, and Culture (4 units)
COMM 206 – ​Communication and Culture
OR
COMM 311 – Communication and Publics

Economics and Technologies of Communication (4 units)
COMM 209 – Communication and Media Economics [Duplicates credit in COMM 207 and 208]
OR
COMM 309 – Communication and Technology [Duplicates credit in COMM 202]

Methods of Communication Practice (8 units total):
COMM 204 – Public Speaking
OR
COMM 322 – Argumentation and Advocacy

AND

COMM 301Lg – Empirical Research in Communication
OR
COMM 305 – Understanding Social Science Research

Annenberg Experience (4 units):
ASCJ 200 – Navigating Media and News in the Digital Age
OR
ASCJ 210 – Contours of Change in Media and Communication

Electives:
Upper division COMM courses (16 units)
Lower or upper division COMM or ASCJ courses (4 units, excluding ASCJ 100x,ASCJ 220x and COMM 205x)
One 400-level non-cross-listed COMM course (4 units, excluding COMM 490, COMM 494, and COMM 499)
---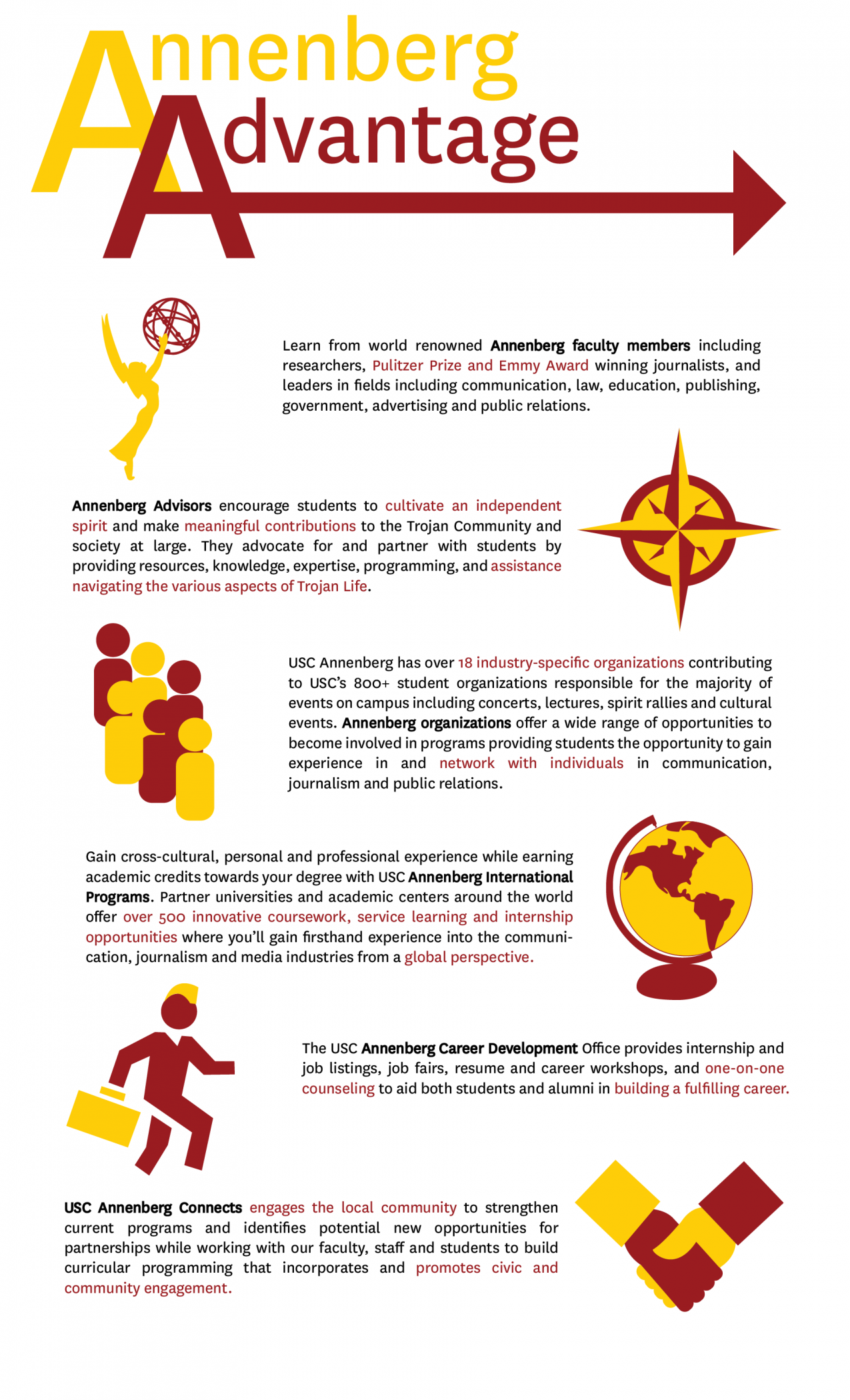 Learn More About Our:
USC Annenberg faculty members are among the top scholars and professionals in their fields. They include renowned researchers, Pulitzer Prize and Emmy Award-winning journalists, and leaders in fields including law, education, publishing, government, advertising and public relations. Students at USC Annenberg learn from the best and graduate with a range of experiences and contacts that will be of great value throughout their careers.
All undergraduate communication majors are required to meet with a USC Annenberg undergraduate adviser each semester to review degree requirements and plan their communication major progress. Students must use their USC email accounts to receive advisement and academic information.
USC Annenberg Career Development
The USC Annenberg Career Development Office provides internship and job listings, job fairs, résumé and career workshops, and one-on-one counseling to aid both students and alumni in their search for a fulfilling career.
Annenberg Connects engages the local community to strengthen current programs and identifies potential new opportunities for partnerships while working with our faculty, staff, and students to build curricular programming that incorporates and promotes civic and community engagement.
USC Annenberg International Programs
USC Annenberg sponsors international undergraduate study abroad programs and graduate internship programs in exciting cities around the globe. Each of the programs provides students with a once-in-a-lifetime opportunity to gain international experience in their chosen field of study.
USC Annenberg has many professional and social organizations that contribute to USC's 800+ student organizations, which are responsible for the majority of programs and events held on campus, including concerts, lectures, special events, spirit rallies, cultural and social events, and conferences.
---
Admission Standards and Application Requirements
Admission Standards
To be eligible to apply, current USC students must have:
Completed 16 units at USC.
3.0 USC GPA recommended.
Application Requirements
The documents below are required. Incomplete applications will not be considered.
Completed Communication Major online application for current USC students only.
Statement of Intent: A statement of intent is required for students who have below a 3.0 USC GPA. This should be a one-page essay on any pertinent information that may have affected your academic performance. Limit 500-600 words.
For more information about the School of Communication or the application process, please contact USC Annenberg Student Services at (213) 740-0900 or ascjadv@usc.edu. Information sessions are throughout the fall and spring semesters for students who plan to apply to the School of Communication. Click here to RSVP for an information session.
NOTE: The Admission Committee will review students' academic records (transcripts and transfer credit statements) on the university system. Students accepted to the Communication major will be admitted to the semester in which they apply.
---
Application Availability, Deadline and Notification Deadlines
It is recommended that students interested in applying to the Communication major apply during their sophomore year.
Fall applications are made available on July 1.
Fall applications are due by 4:30 p.m. on the first Friday of the fall semester (in August).
Fall applicants will be notified on the fourth Friday of the fall semester (in September).
Spring applications are made available on December 1.
Spring applications are due by 4:30 p.m. on the first Friday of the spring semester (in January).
Spring applicants will be notified on the fourth Friday of the spring semester (in February).
Summer applications are made available on April 1.
Summer applications are due by 4:30 p.m. on the first Friday after commencement (in May).
Summer applicants will be notified two weeks after the deadline (in June).
Please reference the academic calendar on the schedule of classes for specific dates relating to each semester.

Late applications will not be considered.
Questions? Contact ascjadv@usc.edu