For most college students, a typical weekend Instagram post might be a selfie at the big football game or brunch with friends. But for USC Annenberg senior Rachel Scott (B.A. Broadcast Journalism), a typical Instagram on Saturday, Oct. 3 was of her appointment at the White House, where she was the only college student selected to attend the second White House InstaMeet.
Having served as a White House communications intern in 2012, Scott is no stranger to 1600 Pennsylvania Avenue, but said she was still surprised to have been one of about 20 applicants selected from around the world for the meetup, and was also the youngest person in attendance.
During the event, which marked the 12th Worldwide InstaMeet, Scott heard from official White House photographer Pete Souza, who shared his experience photographing the president for the past six years, a job that sometimes requires taking thousands of photos a day.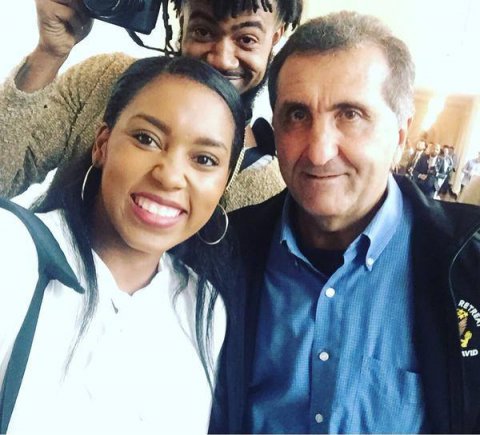 Rachel Scott/Annenberg Media
Attendees were able to ask Souza questions, which for Scott, who said she's a big fan of Souza's photography and follows his work on
Instagram
and
Twitter
, was one of the most memorable parts of the visit.
"He was so open and candid with us, just sharing his experiences with us as a White House photographer," Scott said. "That's one of the things I think I'll always remember, just my conversations with him."
After his discussion, Souza gave the photographers a tour of the White House's East Wing, where they were able to take photos for, of course, Instagram. Though she had already been inside the White House many times before, Scott said the tour was still eye-opening.
"It's funny because I had interned there, so a lot of things I somewhat knew about, but I would say I was just so surprised by how much history is really there," Scott said. "The White House is really like a museum. This is a living part of American history, so it was cool to be a part of that."
Along with posting to her own personal Instagram account, which Scott said she uses to share her journey as a student journalist, she also used the USC Annenberg Media Instagram, Twitter and Facebook accounts to document the experience.
"We got about 300 new followers on our Instagram account, and one of the photos I posted from our account got almost 1,000 likes," Scott said. "It was really cool to see the social media reaction to this event because it was huge for our pages here at Annenberg."
Scott said the experience allowed her to meet and interact with Instagram photographers from around the world, and reinforced the unifying power of social media.
"I had people that followed me from all different parts of the country and the world after this event, and it was cool that they had access to see things in the White House through the pictures I was taking," Scott said. "Social media's a cool way to link people to things that they wouldn't normally get the chance to see."
When she's not at the White House, Scott is an Executive Producer for ATVN and intern at CNN, and will graduate in December. She said Annenberg, and especially her leadership roles in the Media Center, played a large role in preparing her not only for the White House InstaMeet, but also for her professional career ahead.
"The students here are just so ambitious that it naturally makes you more ambitious," Scott said. "Everyone here is doing such great things, and so naturally I am so inspired by all of our units and teams, especially in the Media Center. Having that as an outlet to play with and practice with before we enter the real world, we're just so lucky, and I feel really lucky."