When she asked to cut in line behind a fellow freshman during a "Welcome Week" financial aid workshop in 2017 when she was running late, Diana Fonte had no idea that she had taken the first step towards starting her own magazine.
The student ahead of her in line, Jason Cerin, soon became her fast friend and creative partner. "I started to meet a lot of amazing people at USC and around Los Angeles and was getting so much constant inspiration, but not finding a place to showcase them in an accurate and in-depth way," she said. "I saw that gap and, along with Jason, really felt like starting an online magazine was the right move."
Their concept was called Haute Magazine, a student-run art, fashion and culture publication. Fonte, a public relations major at USC Annenberg, and Cerin, an international relations global business major at USC Dornsife College of Letters, Arts and Sciences, spent the better part of the next two years turning that idea into a reality.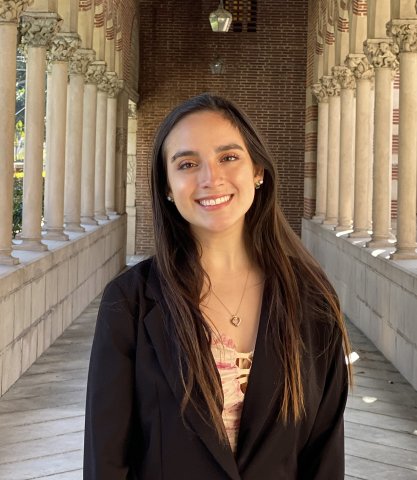 Photo courtesy of Diana Fonte
Fonte, who is graduating this May, was born in Peru; her family emigrated to the United States when she was 4 years old. She grew up in St. Petersburg, Florida and chose USC initially for the weather and the "vibe of Old Hollywood glamour." She entered as a pre-law economics major but realized quickly that math wasn't for her and switched to undecided. "I ended up taking a bunch of general education courses," she said. "I really wanted to open myself up to the possibilities of any major because I had a lot of interests and I wanted to explore them."
Her decision to move to USC Annenberg came about because of a friendship she made during a meeting of QuestBridge members — a network designed to connect low-income, mostly first-generation college students to leading institutions of higher education. There, Fonte was mentored by Vanni Le, then a senior majoring in public relations. Le, who graduated in 2018 with a bachelor's in PR (adding a master's in digital social media degree a year later), shared the highlights of majoring in public relations — specifically the ability to be creative. "I felt a little bit like I was catastrophizing my first year," Fonte said. "And Vanni was like, 'You don't have to know anything about yourself right now, you can just have fun.' I did just that, and that's how I found my path." In her second semester of freshman year, Fonte switched to PR and has "been involved ever since."
She has worked as an arts, culture and entertainment editor for Annenberg Media, as an Annenberg Admissions Ambassador and is part of a newly formed Annenberg Peer Mentoring program for first-year students. In addition, Fonte took advantage of a variety of internship opportunities, including Harper's PR, a full-service showroom for celebrities, and Prismatics PR, a creative consultancy run by two USC Annenberg alumni. She also stayed involved with QuestBridge, becoming a lead mentor in her junior year.
While involved in all of these other activities, the concept for Haute Magazine continued to form. In Spring 2018, as the editor-in-chief, she spent the next year working on a mock-up issue. "I literally just emailed people, met people on the street, and I was like, 'I would love to interview you, I would love to talk to you about your experience. I'm making a magazine,'" she said. To recruit other students and get some funding, she also put in a request with the Undergraduate Student Government (USG) to start the magazine as a student-run club on campus. Christina Bellantoni, professor of professional practice and director of USC Annenberg's Media Center, was enlisted as the faculty adviser.
As to how they recruited talented photographers, writers and artists to feature, "we made it very clear that we're a student-run publication just starting out," Fonte said. "We told them, 'We do not have the funding to pay you, but we think this has a lot of potential to give you exposure.'"
Photo by: Lee Gumbs
Their first issue of Haute Magazine was published digitally in Fall 2019 and showcased stunning photography and features like "How to decolonize your wardrobe" and "Inside upcycled denim: Sustainability with a story."
In Spring 2020, while still helming the magazine, Fonte took advantage of a study-abroad opportunity in Paris. While she was sent home early because of the pandemic, she did get the chance to intern for Fashion Week before everything closed down.
Now, almost two years after Haute's inception, Fonte and the club have produced four issues. "We've had the opportunity to feature so many amazing student creatives, but also industry professionals, great events with USC organizations and outside of USC," she said.
"The journey of making something like a magazine, there's a lot of vulnerability that's needed to create something that's genuine, authentic and representative of a cultural moment. It was really just an idea in two people's heads three years ago," she said.
Fonte is confident that they've left the magazine — and the club, which has since reached more than 70 members — in good hands. A new editor-in-chief, Awrala-Awo Jama (a journalism major), and creative director, Sydney Loew, (who is at the USC Jimmy Iovine and Andre Young Academy), took over this semester, with Fonte and Cerin helping with the transition.
As for her plans after graduation, Fonte will be heading to France in September to work part-time for the Teaching Assistant Program (TAPIF) and searching for a position in the new-media journalism, fashion and fine arts industries. "I am confident that the skills USC has given me, and specifically that I have gotten from building Haute Magazine, will be integral in the future of my career," she said.