Like many college students at USC and elsewhere, senior communication major Josie Bullen has struggled with preserving her mental health.
When Bullen sought treatment for an eating disorder during her sophomore year, she recalls searching for a piece of media she could share with her family to help them better understand what she was going through. She came up empty-handed.
"I realized that we need to be talking more about mental health in TV, film, and digital media, because it's such a normal thing that so many people — especially my age — are grappling with, but nobody wants to talk about it," Bullen said.
Bullen discussed her frustrations with her friend and fellow communication major Zoe Brown, who she met as part of a Spring 2019 USC Annenberg Career Trek to Busy Philipps' show Busy Tonight.
"We bonded over our interest in mental health and gender roles in media," said Brown, who graduated in 2020 and now works as a producer's assistant. "This past summer, Josie came to me with this idea for creating a student group that would focus on these issues."
The pair teamed up to create the Mental Health Content Collective (MHCC), which was officially recognized as a USC student organization this Spring. Bullen earned a grant from the Kaleigh Finnie Memorial Endowment to help fund startup costs for the MHCC, including building a website.
"Our main goal is to organize events that start meaningful discussions, and entertainment media is a great way to do that," Brown said. "There are good portrayals of mental health and there are bad ones, but either can start important conversations."
"I'm a huge believer in media helping shape our societies and our realities," Bullen added. "When we see something on screen, it makes it possible for something to be real in our daily lives."
Alison Trope, clinical professor of communication and MHCC's faculty adviser, says the group can play a vital role on campus and beyond. "Representations of mental health, like other disabilities, are definitely more commonplace now, partly because we've revisited previous taboos and have new frames to help us better understand these issues," said Trope, who also is director of the Critical Media Project. "I'm so happy that Zoe and Josie have taken the initiative to push for more and better representations around mental health. It ties directly to what we want our Annenberg students to do—take what they learn and apply it in the real world--to critically question and then work to improve media and media industries."
To help further the dialogue about mental health and entertainment, MHCC brings in industry professionals to speak about their work and students have an opportunity to ask them about their process, research and challenges.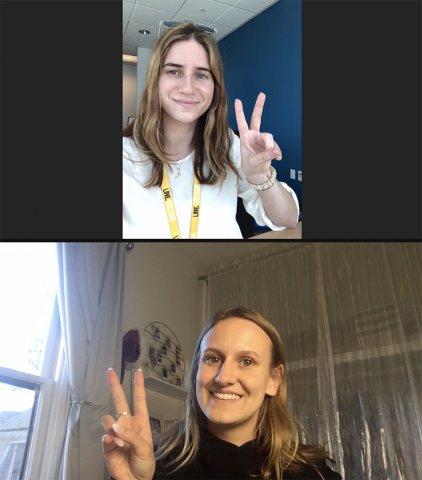 Suzanne Alcantara, assistant dean of student affairs and director of
career development
, who has been working with the pair to launch MHCC, connected them with alumnus Adam Sussman, who works in television development for Jason Raff, executive producer of
America's Got Talent
. Sussman has often served as a mentor to USC Annenberg students. So, when Alcantara told him about MHCC, he was eager to connect with Bullen and Brown.
"We had just done a project with Howie Mandel about how people use humor to overcome adversity that talks about various mental health issues," said Sussman, who graduated in 2007 with a bachelor's in communication. "Howie has been very open about his own mental health struggles, so this show is him talking about importance of therapy — whether that's a therapist's office, or just people having conversations."
Sussman, along with Kimmie Hemar-Bader from Mandel's production company, were panelists at the first MHCC event on Jan. 19. The event featured a screening of an excerpt from Sessions with Howie Mandel, as well as a Q&A.
"One of the things we talked about was how there's still this stigma around mental health," Sussman said. "Howie points out that, if people don't question you going to the dentist for your dental health, why should anyone question you going to a therapist for your mental health?"
Bullen said that that first virtual event, which had about 75 attendees, sparked exactly the sorts of conversations she and Brown were hoping to create.
"The MHCC is all about is talking with peers, professionals and alumni, about representation in media, what we think is missing and what, what do we think we can do about it as students and young professionals," she said.
Even though Brown is already an alumna and Bullen will be graduating in May, both say they will continue to be involved with group, and they are setting it up to continue as a student organization.
Their second event was a conversation with Victoria Garrick, a USC Annenberg alumna and former USC volleyball player, on Feb. 16. "She's a huge advocate for mental health, especially among athletes," Bullen said.
Brown said that other group activities could include a screenwriting contest or pairing licensed professionals with TV shows or films that deal with mental health to ensure authenticity.
For Sussman, the efforts of the MHCC bode well for how mental health will be represented on-screen in the future. "These students are going to be the next entertainment-industry leaders," he said. "Engaging in these kinds of conversations about mental health now will help inform them for their future careers."