After her freshman year at USC, Joelle Ferguson was well on her way to a stellar academic career. After focusing on life sciences and graduating from Los Alamitos High School in Orange County, Ferguson was admitted to USC and was determined to earn her bachelor's degree in biochemistry for a very personal reason: Her mother died of cancer during her senior year in high school, and her grandfather also passed away the same year.
"My mom always told me, 'Continue with school, and stay on track,'" Ferguson said. "So, that's what I did, and my focus was helping people who had been impacted by cancer and loss."
In addition to excelling in her studies as a freshman, Ferguson also had great success working with a nonprofit that benefited kids with cancer. "But while I was focused on, I'll say, external things, I wasn't really dealing with my grief," she said. By the beginning of her sophomore year, she had developed symptoms of anxiety and depression.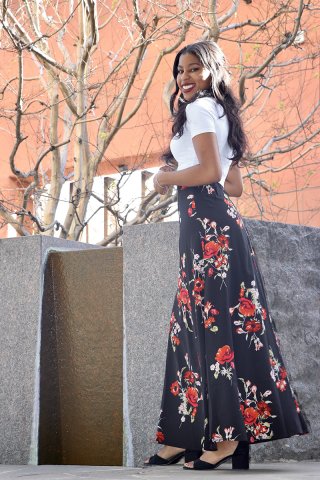 Photo courtesy of: Joelle Ferguson
"I literally had a grief attack in the middle of the quad," she recalled. "I was walking to a discussion section, and then I saw a grandfather and a granddaughter by the running track in the middle of campus, and I burst into tears — it kind of makes me emotional now. It was just like, wow, that reminds me of my grandpa, I can't talk to him, it makes me very sad." She tried to compose herself, but she remembers sitting through her class red-eyed and obviously distressed.
Later, she was amazed that no one had reached out to her. "It concerned me because, if I'm having basically a mental breakdown, shouldn't I be excused from class, the same as if I tripped and hurt my ankle?"
As Ferguson began to address her own mental health challenges through therapy and mindfulness training, that journey reshaped not only her internal life, but her academic life as well. Having transferred to USC Annenberg as a sophomore, she is now graduating in the Class of 2020 with a BA in public relations and a long track record of working to improve student mental health at USC.
Looking back on her time on campus, she sees her efforts as falling into three broad categories: raising awareness of existing mental health resources; advocating for the development of new resources, including courses on student well-being; and building ways for students to engage directly with school administrators over issues of mental health.
Coupling her drive with the PR skills she learned through her USC Annenberg coursework, Ferguson created an online home for her overall campaign, which she named Remove the Barrier. Her passionate advocacy for mental health brought her into regular communication with senior leadership at USC, leading to improvements in how mental health offerings are presented in the MyUSC online student portal, among other changes.
"Remove the Barrier is a kind of wellness hub that addresses the lack of mental health information for students," Ferguson explained. "I want this to part of my life's work, and not just for students right now, but for all of Gen Z. I want to build something that can help the mental health of our whole generation."
"Joelle is a role model for every member of the Trojan community," said Burghardt Tenderich, professor of professional practice in public relations and co-director of the Public Relations Studies program. "She has demonstrated enormous strength, courage and skills to turn a grave personal challenge into a resource to help others."
Ferguson also had an impact off-campus through her numerous internships and practical class projects, including her work for the Downtown Women's Center and the Open Paths Counseling Center, which helped both nonprofits get major grants. Her work earned her one of the first Kaleigh Finnie Memorial Scholarships. Established in 2019 by the family of USC Annenberg student who took her own life, the scholarship supports students who dedicate themselves to mental health issues.
Ferguson's advocacy work has earned her several other awards and honors, including an Order of Troy Award and one of the 10 USC Discovery Scholars Prizes offered this year. In the Fall, she will start law school, most likely at the UC Berkeley School of Law — though she is also on the waitlist at Stanford Law. Ferguson says she sees a law degree as the next logical step for her in effecting real, positive change in the way universities care for the mental well-being of their students.
"People come to college with dreams, and nothing should get in the way of those dreams," she said. "College is such a special time — we're going through so much growth, learning to become our better selves. Mental health challenges should not stand in the way of that."
The COVID-19 pandemic has created challenges for everyone, but it is bringing back some particularly difficult memories for Ferguson. When all USC instruction went online in March, Ferguson moved back into her grandmother's house — the same house where her mother passed away four years ago.
"It's been very hard," Ferguson admits. "It's definitely been very emotional. But I know that mental health is a lifetime journey, and COVID-19 has shown me that, even as I'm working on mental health for others in higher education, I still have a lot of work to do myself."