Growing up in Trinidad and Tobago, Cate Young learned several things about herself early in life: She had strong opinions, she was a feminist, and she was a voracious consumer of pop culture. But it wasn't until she was pursuing her bachelor's degree in photojournalism at Boston University that she realized that all of those traits would one day add up to a career.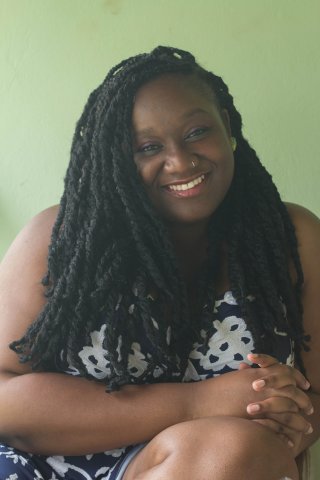 Photo Courtesy of Cate Young
"I was always a literary person, and I liked movies," she said. "Then, my senior year of university, I took an art criticism class, and it showed me that having opinions professionally is a thing you can do," she said with a laugh.
She has been doing just that for several years now, writing essays, reviews and articles for such outlets as Cosmopolitan, Bitch Magazine, Man Repeller, Vulture, Jezebel and NYLON, as well as launching her own feminist pop culture blog, BattyMamzelle.
"I strongly feel that pop culture is very important," she said. "Regardless of your opinion of a particular media product, it's still a reflection of what we consume in our society. That's kind of been my guiding philosophy."
That perspective makes her an ideal fit for USC Annenberg's specialized journalism (the arts) master's degree program, which Young will be joining this fall as the 2019–20 Rotten Tomatoes Fellow in Digital Innovation and Film Criticism.
The unique, hands-on graduate fellowship offered through a collaboration between USC Annenberg and Fandango, the parent company of film and TV editorial site Rotten Tomatoes, is designed to foster the next generation of entertainment storytellers and critics for social and emerging platforms. Students gain professional experience and partial tuition support from the fellowship.
"Our partnership with USC Annenberg has been incredibly rewarding, and the Rotten Tomatoes team is so excited to welcome Cate Young as our new fellow," said Jenny Jediny, Rotten Tomatoes critic relations manager. "Her demonstrated expertise on the issues surrounding representation in criticism aligns well with our continued goal of expanding the Tomatometer with a critics pool that closely represents the global entertainment audience."
Young said that her correspondence with Sasha Anawalt, professor of professional practice and director of the specialized journalism (the arts) program, helped her see the program as a good fit for her. "Sasha went out of her way to make attending USC Annenberg a possibility to me," she said. "I would not have been able to attend if it weren't for her. I'm really grateful for that."
"Cate is one of the forward-thinking feminist film critics defining this next generation," Anawalt said. "She believes that film and film criticism have the power to focus people's attention on big issues such as race relations, economic disparity, technology, community, climate change, and gender rights — and she does so with persuasive intellectual authority."
Young said she hopes that the curriculum of the specialized journalism (the arts) program will add depth to her film analysis. "As much as I have opinions on things, I have never really been able to talk about the technical aspects of filmmaking in an authoritative way," Young said. "This program will enable me to do that."