It's a sunny Los Angeles day. Professor of Communication François Bar has brought a new cruiser bike, along with its curious cart, to Sixth Street at San Pedro Street, where some unhoused Skid Row residents have come to know him by name. He isn't out for a leisurely ride; the cart is an experiment designed with and for the homeless residents as a means to bring more electric power and internet accessibility to the area.
Los Angeles, with its racially, ethnically and economically diverse population, provides the perfect backdrop to experiment with initiatives that seek equality. For many USC Annenberg faculty and students, Los Angeles is more than a place to be studied. Many, such as Bar, take the next step of turning their findings into actions that improve the lives of their fellow Angelenos, often through partnerships with local governments or community-based nonprofits.
In Bar's case, he has traveled the developing world studying the "digital divide" — how poor communities' lack of access to high-speed internet shuts them off from information and opportunity in the digital age. But it turned out that the best case study was much closer to home.
"The worst neighborhood in the entire state of California in terms of broadband internet use is actually two blocks down the street from USC," Bar said. "Here on campus, we have the fastest internet."
Bar and his team have joined forces with USC Price's Spatial Analysis Lab and the London School of Economics to map and quantify the disparities. "We're finding things you would expect," Bar said. "Poor people get less internet. Black and Latino people get less internet. And many of the trends are unfortunately worsening."
Determined to turn their research into positive action, Bar collaborated with the Los Angeles Community Action Network (LACAN), an organization that serves the Skid Row population, to try to co-design solutions for their lack of internet access. After much fieldwork and experimentation, what they learned was, while access to broadband internet is indeed a problem, what was more pressing for the community was their inability to charge their phones. If a phone doesn't have power, internet access is a moot point.
With this in mind, Bar and the LACAN team designed a solar-paneled cart to be towed behind a bicycle. The cart is equipped with a mobile charging station for 12 devices that also functions as a hotspot. In addition, a PA system mounted to the back plays music designed to attract community residents.
Bar says their ultimate goal isn't just to step in for City Hall and completely solve the problem.
However, as the team deploys their charging cart and conducts long-term collaborative research with community partners — really getting to know people, what they need, and the obstacles they face — they can empower Skid Row residents to develop sustainable solutions suited to their everyday practices.
"You must be designing with end-users for real conditions," Bar said. "This kind of bottom-up design is more likely to be appropriate. Things that are just deployed from the top tend to not work."
Giving data to the people
Back on the University Park campus, Professor of Professional Practice Gabriel Kahn is focusing on a wholly different group of end-users: L.A.'s regional journalists who are struggling with data and information access in the age of shrinking newsrooms.
The former Wall Street Journal L.A. bureau chief helped create a joint news project called Crosstown, a website that serves as a portal to the most succinct-yet-robust data about how Los Angeles lives, moves and breathes, presented in articles and infographics. Crosstown's data-driven storytelling seeks to keep Angelenos informed on what's actually happening in their neighborhoods, on their roadways, and in their air.
Kahn says his interest in the project was sparked by the "meltdown" of the funding model for local media. "The economics are pretty straightforward," Kahn said. "If you cover a small area, your ability to derive income from the journalism you produce, there's a cap on that. Doing traditional media that way is not sustainable."
Dean Willow Bay recognized the potential for innovation by pairing engineers with journalists and teaching them how to speak each other's languages. After securing a grant through the Annenberg Leadership Initiative to explore the idea, she asked Kahn to head up the effort. This became Crosstown. Knowing that a successful project would need to combine serious data science with serious storytelling skills, Kahn brought in fellows from both USC Annenberg and the USC Viterbi School of Engineering.
Inside the west lobby of the Annenberg School of Communication building, students from USC Annenberg's journalism school and doctoral fellows from USC Viterbi's Integrated Media Systems Center sit across from one another, furiously typing. Journalism sophomore Nisha Venkat works on the weekly University Park blotter. Shirsho Dasgupta, who is pursuing a master's in journalism, puts the finishing touches on a comprehensive neighborhood safety report. Computer science PhD student Giorgos Constantinou scans pages and pages of crime data. All the while, managing editor Lauren Whaley, who earned her master's in specialized journalism in 2010, fields urgent, last-minute questions from the students via her laptop.
The initial footwork was intense: Fellows had to design, create and populate databases for crime, traffic, and air quality analysis from scratch. The lack of standardization for collecting and distributing this kind of information between agencies complicated these tasks.
"It took us a long time to figure out how the journalists could ask the questions that the engineers would understand," Kahn said. "The journalists can ask, 'How many accidents occur on the 10 freeway heading west between 10 a.m. and 3 p.m. on Tuesday?' And the engineers' answer is, 'How do you define accidents?'"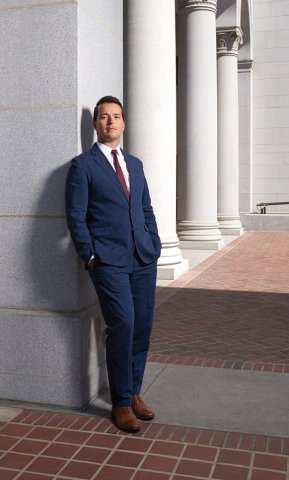 Photo by: Damon Casarez
Constantinou, who's in charge of breaking down the crime database, became a key figure in unraveling communication complexities. As he crawled through police records from all across L.A. County, he found that intercity police departments didn't even use the same coding for the same crimes. But now, Constantinou, Kahn and the team at Crosstown possess the single-most comprehensive crime database for L.A. County.
Sophomore journalism major Joshua Chang has used this data to write multiple pieces, such as, "Hate Incidents on the Rise in Los Angeles," which breaks down the reports of "incidents" not deemed criminal, but of definite interest to citizens. Further, every article features incisive infographics, and a separate "Neighborhood Tracker" map section allows anyone to access data for their specific neighborhood.
Kahn says Crosstown articles are often linked to the Los Angeles Times Essential California newsletter, but because of the breadth of information in any given piece, other local outlets use Crosstown's data to investigate the stories on their own.
"We want people to draw meaning from these articles and graphics," Kahn said. "Giving them these tools and information is how they can advocate for themselves and their communities."
Investing in our community
The work of students and faculty is only one aspect of USC Annenberg's positive impact on Los Angeles. Alumni can be found in a myriad of roles throughout the city and county, taking on a wide variety of challenges facing the community.
Ilir Lita, who earned his bachelor's degree in communication and media studies in 2002 and his master's degree in professional writing in 2010, is director of programs at the Mayor's Fund for Los Angeles, an independent, nonpartisan organization that seeks to bridge government services and philanthropic dollars with initiatives that can have a long-lasting impact on L.A.'s economic future.
"We serve as an incubator to leverage private dollars focused on innovation," Lita said. "The idea is that there's bureaucracy, but how can we jumpstart innovation within city government by piloting programs?"
Lita recalls stepping inside City Hall for his interview and thinking, "This is where I'm supposed to be, driving change at the local level." He now acts as a kind of conduit, getting all sides to communicate their needs and desires. Each of their 30 programs has its own "origin story" with key players, but Lita is the matchmaker.
As Lita describes it, the Mayor's Fund simply helps the city work better. One of their biggest accomplishments has been the L.A. College Promise, guaranteeing one full year of community college for free to Los Angeles students. They also have programs for homeless resources, sustainability, volunteerism, housing, and youth employment, including one that seeks to increase the representation of women in STEM careers. And then there's the Mayor's Young Ambassadors, which takes Los Angeles youth to embassies throughout the world to learn about international civics. "They just came back from Tokyo, and they're going to Paris this spring," Lita said.
The efforts of the Mayor's Fund to bring more women into STEM fields build on Los Angeles' tradition of leadership in science and technology. Whether it's the rich history of the Jet Propulsion Laboratory in Pasadena, the relentless archaeological excavations in the La Brea Tar Pits, or the environmental policy initiatives that have made this area a bellwether for combatting climate change, L.A. has always been on the cutting edge of research. Pamela Perrimon, who earned a master's degree in global communication in 2018, spends her days connecting the next generation with the rich history and bright future of L.A. tech.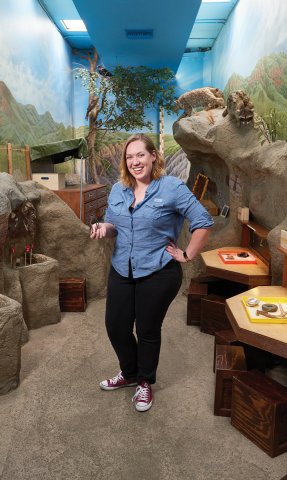 Photo by: Damon Casarez
As community scientist and mobile museums educator with the Natural History Museum of Los Angeles, she figures out how to best package not just the basic information educators would bring to K-12 classrooms, but also how to convey the passion behind scientific discoveries and research.
"The way I like to do things is theatrical, and that's almost antithetical to how we normally think about STEM, which can be perceived as rote or abstract," Perrimon said. "I like to think of it as telling a story about scientific process, keeping things open-ended, so people feel free to ask questions, because that's what science is about."
The museum brings two different programs — one for younger grades, one for older — all over L.A., with a focus on marine science and the archaeology of the indigenous Native American people. The program ensures that kids who live far from the Exposition Park neighborhood where NHMLA is located can feel connected to the city's scientific heritage. Perrimon, a native of Boston, cites the "Becoming L.A." exhibit for solidifying her Angeleno identity and for opening her eyes to SoCal's innovators.
"I'm consistently surprised by how active citizen science is in L.A., and how it's something I initially felt was very much hidden," she said. "There is such a vibrant environment of citizen science programs everywhere that it's becoming so much more accessible than ever before."
Perrimon added that accessibility and science literacy are essential for good citizenship. "Science is being politicized and misconstrued," she said. "The communication process between the scientists and the community isn't always easy, but being able to understand the process and knowing that a question that isn't answered can be a good thing, understanding science in the news, being able to look at the political implications, that is all of absolute importance."
Reporting on Homelessness
Communicating the facts of complex issues is one of the most important ways USC Annenberg students, faculty and alumni can drive positive change in Los Angeles — whether they're raising the science literacy of L.A. youth, or telling humane, nuanced stories about the community's seemingly intractable problem with homelessness.
"There is a lost tribe of people who most people want to ignore," said Mary Murphy, associate professor of professional practice. "Our students are not letting people ignore this huge homelessness crisis, which surrounds every community in Los Angeles."
Murphy, who has volunteered at The Midnight Mission in Skid Row for 30 years, teamed up with Professor of Journalism Sandy Tolan to devote their "Reporting on Urban Affairs" class to covering the L.A. homeless population. But before her students could do deep, meaningful reporting on homelessness, Murphy found that most needed a crash course in the basics — which stereotypical representations in the media hadn't taught them.
"The myth was that homeless people are all either mentally ill or addicted, and that is not true," Murphy said. "The students will say, 'I had no idea there were so many homeless students at USC,' or, 'I had no idea that so many people lived in their cars,' or, 'I had no idea that so many people were evicted.' 'I had no idea there was so much racism!' But this is the truth, and their job is to report the truth."
Murphy says she and Tolan don't believe in "hit-and-run interviews," where you "run down to a homeless person, stick a mic in their face, and say, 'What's it like to be homeless?'" Her methodology echoes that of François Bar: Both require their researchers to go back again and again to get to know their subjects.
Murphy is also adamant that her students find new ways to cover the homeless. "We want them to do text and video, to spend time, to speak to solutions," she said. "One of the things we really emphasized is, when you're doing the stories, talk about what would be the solution to the problem, and not just the problem. Our goal as journalists across USC Annenberg is to help find solutions to this crisis. Our local government needs help in finding solutions, and that's what we're trying to do."
She cites multiple students' work being published in outlets such as VICE and the Huffington Post. "It's what's most exciting to Sandy and me. The students enhanced my comprehension of the homelessness crisis in a way that no other media outlet I was reading had done."
To Murphy, it's imperative to cover the issue correctly and with humanity. "The next time you walk by a homeless person, don't ignore them," Murphy added. "They're Los Angeles, too."
---
This piece was originally published in the Spring 2019 issue of the USC Annenberg Magazine.