A new report documents progress toward inclusion and persistent deficits in the top films of 2018.
Was 2018 a banner year for inclusion in film, with the success of movies such as Black Panther and Crazy Rich Asians? A new study finds some gains, but more work to be done.
The report, from Professor Stacy L. Smith and the Annenberg Inclusion Initiative at USC Annenberg School for Communication and Journalism, is the most comprehensive and intersectional look at film, having examined 53,178 characters in 1,200 top films from 2007 to 2018.
The research charts the progress of leading female characters: 39 of 2018's top 100 films had a female in a leading or co-leading role. These findings represent a meaningful change from 2017, when 33 films had a lead or co-lead female actor and 2007, when that number was 20. A rise in leading or co-leading characters from underrepresented racial/ethnic groups was also observed, and went from 21 films in 2017 to 27 films in 2018. Eleven films featured a female lead from an underrepresented racial/ethnic group compared to just 4 in 2017. Finally, 11 movies were led by a female actor age 45 or older, versus 5 in 2017.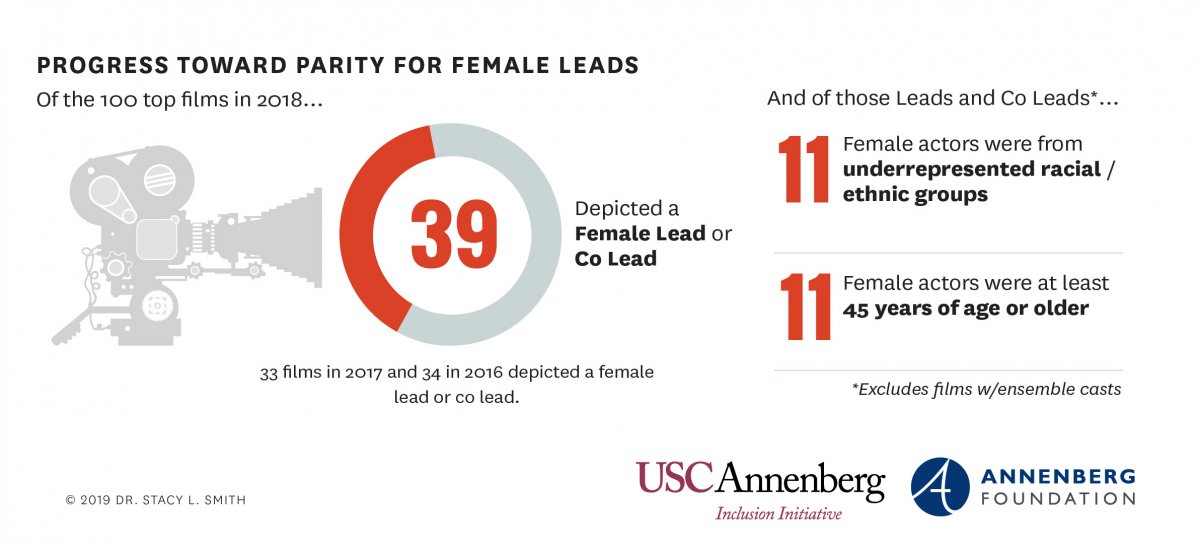 In terms of all speaking characters, the study observed a 12-year high in the percentage of Black and Asian speaking characters, though the analysis fell short of a 5-percentage point difference from 2007. One explanation for the increase in Black characters can be found behind the camera, as the number of Black directors rose from 6 in 2017 to 15 across the 100 top movies of 2018. Overall, the percentage of characters from underrepresented racial/ethnic groups rose from 29.3% in 2017 to 36.3% in 2018. Gains were also seen in the percentage of female and underrepresented speaking characters in action/adventure films.
"In 2018 we saw companies taking steps to ensure that certain groups were included in some of their most notable movies," said Professor Smith. "While we are pleased to see progress in some areas, efforts cannot end here. There are several arenas where much more growth is needed."
One area that has remained resistant to change is the on-screen representation of female characters. Female speaking characters on screen filled just 30.9% of all roles across the 12-year time frame. Only 33.1% of roles in the 100 top movies of 2018 went to female characters, on par with the 31.8% the report found in 2017. Also lagging behind population norms, the study found that of the 100 top films of 2018, 1.6% of characters were shown with a disability, a four-year low. A mere 1.3% of all characters in the top films of 2018 were from the LGBTQ community, despite a numerical increase since 2017. Across 500 films from 2014 to 2017, only 1 transgender character appeared on screen.
"Despite more than a decade of advocacy, the percentage of female speaking characters has not increased," said Professor Smith. "Additionally, we saw no substantial improvement in the percentage or representation of LGBTQ characters or characters with disabilities. It is crucial not to lose sight of these, and other areas, that still need to improve."
The report also provides an "invisibility analysis" to determine how many movies are missing female characters from different underrepresented groups. Across the 100 top films of 2018, the researchers found that 33 films were missing Black or African American female characters, 54 were missing Asian or Asian American female characters, 70 were missing Latina characters, and 51 were missing girls or women from multiracial backgrounds. Female characters from other groups were also excluded, including American Indian/Alaskan Native female characters (99 movies), female Native Hawaiian/Pacific Islanders (97 movies), and Middle Eastern/North African girls and women (92 movies). Further, 83 films did not portray a single female character with a disability and 89 films were devoid of even one female LGBT character.
"These numbers reveal the depth of the erasure of female characters, particularly those from underrepresented racial/ethnic backgrounds, the LGBTQ community, and individuals with disabilities," said Marc Choueiti, program director at the Annenberg Inclusion Initiative. "As we continue to monitor the most popular films released each year, these numbers are one place we will continue to scrutinize for change."
Across 1,335 directors over 12 years, 4.3% were female and 3.2% were Asian, and no change occurred in either of these figures over the 12-year time frame. Of the 112 directors working on the 100 top films of 2018, 2.7% were Latino and 3.6% were Middle Eastern/North African.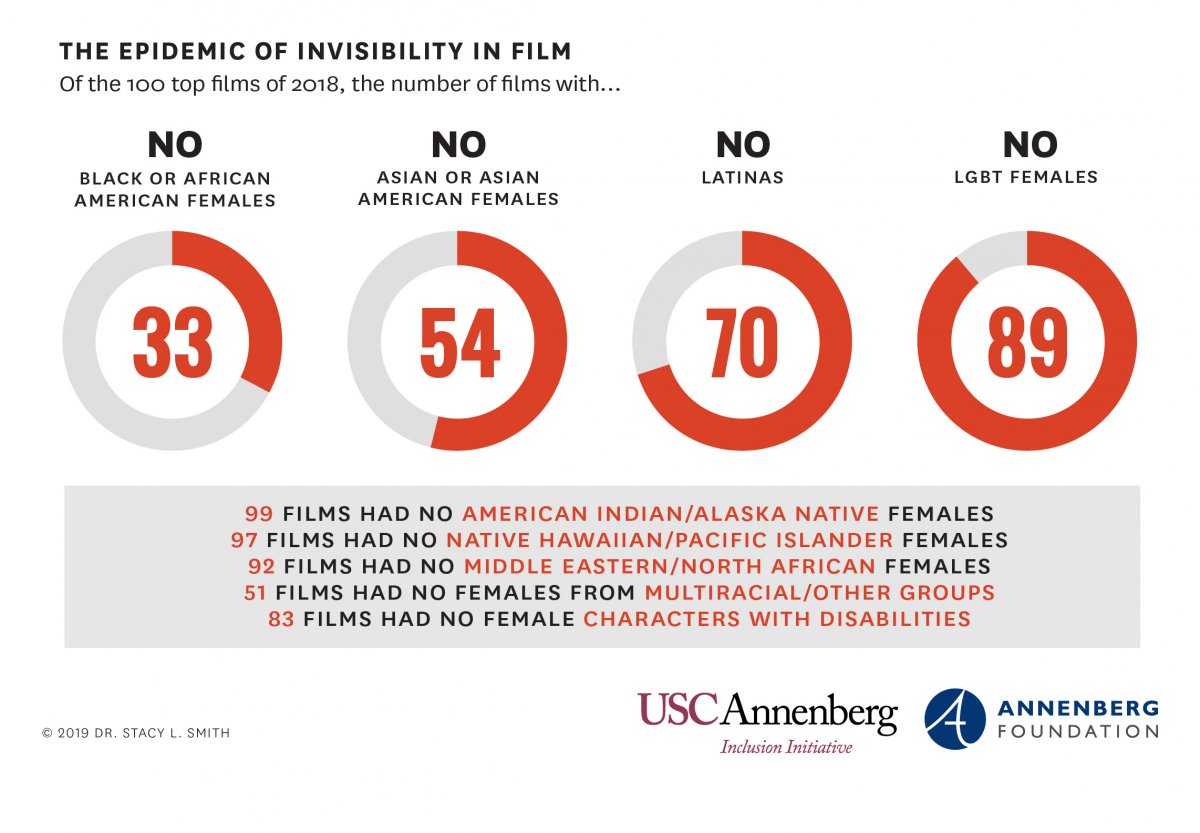 The report also examines how characters are depicted on screen, with a focus on parents, relational partners, age, and sexualization. Again, this year, female characters were more than twice as likely as male characters to be shown in sexually revealing clothing, partially naked, or referenced as attractive. In the top films from 2018, teenage (13-20) and young adult (21-39) females were equally likely to be sexualized.
The authors offer solutions, focusing on casting lead roles, small parts, and hiring behind the camera. "There are opportunities across the entertainment ecosystem to create lasting change," Professor Smith said. "By employing targeted solutions, we can ensure that all individuals are seen and heard in some of our most iconic stories."
The study is the latest from the Annenberg Inclusion Initiative, which produces an updated report annually, and can be found here.