By Kristen Villarreal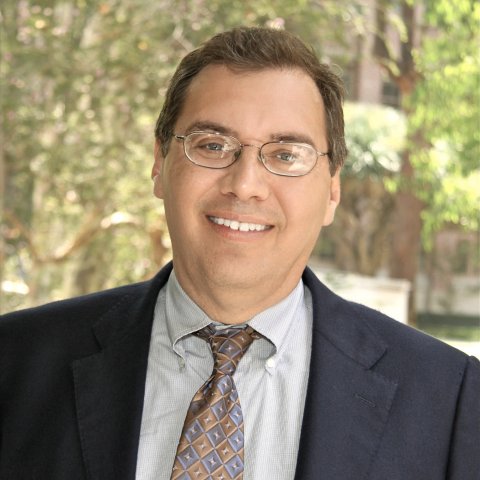 Award-winning author, journalist and Associate Director of the School of Journalism
Bill Celis
has a new, temporary job that might sound a little unusual: summer intern.
Celis is immersing himself in the education beat at Southern California Public Radio station 89.3 KPCC, as a summer intern working and thriving in a digital newsroom.
Celis is no stranger to new media or digital journalism; at USC Annenberg, Celis won the 2011 Provost's Prize for Teaching with Technology award for his the work he did incorporating technology into his courses and the school's curriculum. He helped create Intersections: The South Los Angeles Report, a hyperlocal website written almost entirely by students that explores race and class through narratives and multimedia.
"Even though I've been in the field a long time, I thought it was crucial to re-immerse myself in a newsroom and take advantage of up-to-the-minute training in the new news ecosystem," Celis said.
He's a former education correspondent for The New York Times and a former reporter and columnist for The Wall Street Journal. His work on education reform has been published in American Prospect magazine, The Boston Sunday Globe and Columbia University's Teachers College Record and Voices in Urban Education at Brown University.
In short, Celis no beginner in the art of journalism or the fast-paced newsroom environment. USC Annenberg is home to just such 24/7, student-run digital news outlets Neon Tommy, ATVN, Annenberg Radio and Impact.
But in anticipation of the Fall 2014 opening of Wallis Annenberg Hall and its high-tech, digitally converged newsroom, Celis says he wanted to be a first-hand participant in the rapidly changing news ecosystem that requires journalists to tweet, blog, and produce video on top of traditional reporting under tight deadlines.
"It's different when you're a professor, and you're editing a student work because you can see the pieces that are missing and you can explain the process at a slower and safer pace for the student," Celis said, as he sat in the midst of ringing phones and hurried conversations in the KPCC newsroom. "It's a different type of energy when you're a student again."
Celis received his master's degree from the Columbia University Graduate School of Journalism in 1982 and coincidentally shares his KPCC cubicle with Mary Plummer, who also graduated from the Columbia University Graduate School of Journalism – in 2010. Plummer is a self-proclaimed newbie reporter. She has been with KPCC for two years, first as a producer for KPCC's Take Two morning show and most recently as a reporter for the education beat.
Celis and Plummer have a collaborative relationship that allows them to share ideas and ask each other questions in a way that seems like they have been friends for years. As the talked during a recent interview, the internship seemed more like a partnership, or better yet, a two-sided mentorship between cubicle mates.
Plummer recently reported on a news conference that addressed the Inglewood Unified School District's $17.7 million budget deficient. Her coverage included live tweets from the conference, a blog post, a few more tweets and an on-air piece.
"Yeah, that was a busy day," said Plummer. "But I think for most reporters that similar flow is what a lot of folks are doing."
Celis said one lesson he's taking back from his experience is to ramp up the already-fast pace of his students' work, including posts for a class blog that already is demanding.
"I'm going to tighten some of the deadlines in my syllabi moving forward so that students are coming out of my classes even better prepared for the quicker pace of the 21st-century newsroom," he said.
Celis discussed how this learning opportunity came about after he and KPCC Vice President of Content Russ Stanton worked together to create an internship program for USC Annenberg students at KPCC. Stanton green lit Celis' request to spend a little time in the newsroom without hesitation.
Celis' work at KPCC already includes a piece on the competitive admissions process at UCLA for in-state students and a more intricate piece he described as an update to a 2011 state audit report that criticized California's oversight in the construction of new public schools with a particular emphasis on seismic safety.
Celis has several other pieces in the works, including an idea sparked by the deaths of several leaders of social justice campaigns in education such as Demetrio Rodriguez of San Antonio and Sal Castro of East Los Angeles.
"I have my own high expectations about this experience because I want this to work well so other colleagues will be welcome here and other places. We all should be doing this," Celis said.
KPCC Education Editor Evelyn Larrubia chimed in on other professors embracing a similar opportunity that Celis has with the internship.
"I think Bill is doing great," Larrubia said. "I introduce him as the world's most qualified intern."
Visit http://www.scpr.org/education/ to read Celis' current work as part of the KPCC team.