By Michael Juliani
University Professor and Wallis Annenberg Chair in Communication Technology and Society Manuel Castells has won the 2013 Balzan Prize for Sociology, an international award that comes with an award of 750,000 Swiss Francs, or roughly $800,000.
Castells is based at the USC Annenberg School for Communication and Journalism.This fall, Castells is teaching USC Annenberg classes focusing on Economic Cultures in Studies of Communication Theory and a Special Topics course focusing on Dissertation Design & Research Strategy.
"This is a great and unexpected honor that surprised me and pleased me very much, mainly for two reasons," Castells said. "The first is that it is rare that major scientific prizes that relate to all fields of science include sociology. The second is that this is a special prize because one of its provisions is that half of the monetary amount of the award has to be used for research conducted primarily by young researchers under the direction of the laureate.
"And this is exactly what I intend to do. I would also like to mention that since I joined USC 10 years ago I have received more prestigious awards than in my previous career at Berkeley and Paris, although it may also result from being at a mature stage of my career.
"Nonetheless, in these ten years I have published 3 books that are often cited in supporting my awards, so it may be a combination of both career and acceleration of my productivity at USC. This is a good sign of the synergy generated between my work, my students, and the university at large."
Larry Gross , Vice Dean of USC Annenberg and Director of its School of Communication, said it is gratifying to know that this prestigious award is recognizing the great work of his colleague and friend.
"We are all basking in his reflected glory and we are delighted that the quality and importance of his work has been recognized once again on the international stage," Gross said.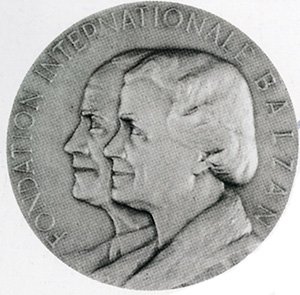 The International Balzan Prize Foundation's press release details why Castells won the award: "For his wide-ranging and imaginative thinking (about) the implications of the great technological changes of our time: the digital revolution and the profound social and political challenges brought about by the emerging technologies of communication and information processing associated with computing, microelectronics and the internet. And for having proposed a general theory of the new global information society that has arisen out of these techniques."
The Foundation was created in 1957 "to recognize the most outstanding initiatives of peace and brotherhood among peoples and foster their growth in the scientific and cultural world."
The recipients of the prize must dedicate half of the money they receive to financing research projects that the foundation prefers are carried out by young scholars or scientists.
Castells is one of four winners for the year. The ceremony for this year's recipients will happen on Nov. 15 in Berne, Switzerland. On Nov. 14, the recipients will present their research at a symposium.
The categories for the reward rotate every year, and Castells will be the first recipient in the Sociology category since 2003, according to the Foundation's press release.
Castells has received many awards, including last year's Holberg International Memorial Prize from the parliament of Norway. Castells' expertise in communications has earned him, among other distinguished awards, the Guggenheim Fellowship, the C. Wright Mills Award from the American Society for the Study of Social Problems, Spain's National Prize of Sociology and Political Science, the Eramus Medal of Science from the Academia Aeuropea, the Robert and Helen Lynd Award from the American Sociological Association for his lifelong contribution to community and urban sociology, and the Oxford Institute Lifetime Achievement Award.
He is the author of 26 academic books and the editor or co-author of 22 additional books, as well as more than 100 articles in academic journals.
He has been knighted for cause of scientific merit by the Governments of France (Order of Arts and Letters), Finland (Order of the Lion of Finland), Chile (Order of Gabriela Mistral), Portugal (Order of Santiago da Espada), and Catalonia (Cross of Saint George), and has done pro-bono advisory work for the governments of many countries and global commissions.
Castells has also received numerous fellowships and honorary doctorates, served on the advisory boards of 20 academic journals and lectured in over 300 academic institutions in 46 countries.
Castells will host a USC Annenberg event on Sept. 16 focusing on "The Moral Crisis of China," which will be open to USC faculty and graduate students.
Related: