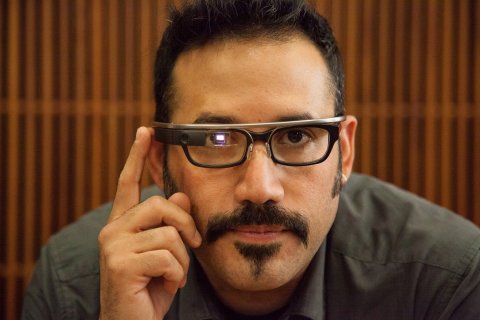 USC Annenberg
Robert Hernandez
, associate professor of professional practice at USC Annenberg, has been chosen by the national
Society of Professional Journalists
to receive its
Distinguished Teaching in Journalism Award
.
SPJ's annual teaching award goes to "an outstanding journalism educator who has made an exceptional contribution to the profession and/or journalism education," the association said. Hernandez will be honored at the Excellence in Journalism 2015 conference in Orlando, Florida, Sept. 18-20.
Hernandez, a veteran of Web journalism, focuses on exploring and developing the intersection of technology and journalism.
"Journalism is a dynamic field, and Robert Hernandez is an innovator in journalism education. It is easy to see that he enjoys teaching students how to understand and use emerging technologies to tell a story," said Butler Cain, chair of the SPJ Journalism Education Committee.
"Mentoring young journalists is important to him as well, and the SPJ Journalism Education Committee was pleased to recommend Robert for this honor," Cain said.
According to SPJ, the Distinguished Teaching in Journalism Award honors a collegiate journalism educator and recognizes outstanding teaching ability, contributions to journalism, journalism education and contributions toward maintaining the highest standards of the profession.

SPJ quoted a nomination letter from Anna-Catherine Brigida, who earned her bachelor's degree in journalism from USC Annenberg in May.
"The courses that I have taken with Professor Hernandez have been some of the most challenging, and most rewarding, learning experiences at Annenberg. They have introduced me to all the limitless possibilities of digital journalism and challenged me to continue to brainstorm new gadgets, techniques, and software to use for journalistic purposes. Professor Hernandez not only challenges his students but also encourages and supports them," Brigida wrote.
Brigida is just one of the students Hernandez has deeply influenced, said Willow Bay, director of the USC Annenberg School of Journalism.
"Robert is indeed building an army of collaborative, innovative, digital journalists," Bay said. "He is helping to further a digital culture at Annenberg, sharing his insights and enthusiasm with students, faculty and our industry partners. As he pokes, prods and tests new technology, he encourages all of us to do the same."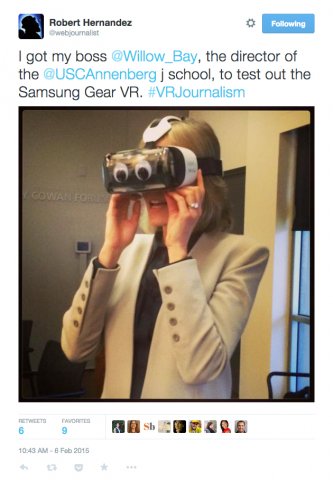 Hernandez, a self-described "mad scientist of journalism," is known for bringing a sense of humor to the task. (That includes tweeting photos of Bay wearing an Oculus Rift headset – tricked out with googly eyes.)
He is deeply connected to the tech and journalism communities and believes in "open source," sharing knowledge and experiences among journalists. To that end, he has taken a leading role in uniting and building a community of digital journalists and technologists, as a national board member of the Online News Association, the leading organization focused on developing digital journalism. He is co-chair of ONA's conference in September in Los Angeles.
Many journalists know him as the co-founder of #wjchat, a weekly forum on Twitter that engages participants from around the world.
Recently, he co-founded the Journalism Diversity Project, which amplifies and spotlights talented digital journalists of color.
And Hernandez shares his expertise in emerging technologies and digital tools, or a love of "nerding out" as he calls it, with the larger community – in newsrooms, conferences, workshops, digital/social media platforms, training sessions and local meet-ups. (At the Excellence in Journalism 2015 conference, he'll be offering workshops.)
He has gained national attention for designing cutting-edge classes: Augmented Reality Storytelling + Journalism and a Google Glass class to explore how wearable devices could transform newsgathering and delivery (coming soon: Virtual Reality + Journalism).
In addition to creating those two innovative courses, Hernandez was part of the team leading the creation of USC Annenberg's new nine-month Journalism master's degree program with its deadline driven, multi-platform skills-based approach, and the development of its unique team-teaching model that allows us to bring multiple disciplines into one classroom. In the intense, three-week summer immersion course, he teaches key digital skills, introduces apps and Web tools and creates multimedia lectures, workshops and assignments.
He graduated from San Francisco State University in 2000. As director of development for The Seattle Times, where he worked from 2002 until 2009, he helped shape and execute the vision for the Web site and company. He also worked as a Web designer anconsultant for El Salvador's largest daily newspaper site, La Prensa Gráfica, Web producer for The San Francisco Chronicle and online editor of The San Francisco Examiner.