By Greg Asciutto
Student Writer
USC Annenberg hosted a discussion Tuesday on the future of storytelling through Google Glass, an event that kicked off the semester's Journalism Forum series.
Before a packed room of students, faculty and regional media eager to see Glass in action, a panel of USC Annenberg faculty and researchers shared their experiences with the revolutionary product that uses a lens to immerse users in the digital world.
"Living your life through your phone is kind of clunky," said Journalism Professor Robert Hernandez, who has been exploring ways to use Glass for storytelling and journalism, chronicling those experiences on Tumblr and Twitter. "This allows you to engage with the world, be hands-free, participate and share your experiences that way."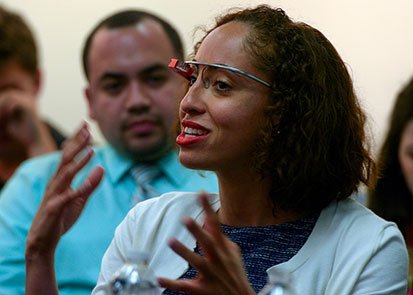 Along with forum panelists Communication Professor Marcia Dawkins (picture, right), doctoral student Alex Leavitt and doctoral candidate Francesca Marie Smith, Hernandez is among 6,000 individuals worldwide who were invited by Google to test the device.

"I'm looking at how it will affect journalism from the creation side," said Hernandez, who led the forum and answered questions interjected from a curious audience. "In order to create that content, you have to be a developer, and I'm trying to find ways to climb over that barrier and find different platforms."

Hernandez noted that while many in the media industry view Glass as an intrusive gimmick, its potential value is too promising to overlook.

"Quite honestly, when has journalism ever benefited from ignoring or dismissing technology?" he asked. "Someone's got to play with it and figure it out."

USC Annenberg is helping to lead that charge, identifying and researching innovative ways to use Glass to enhance the storytelling experience.

"There are always going to be the over-eager, early adopters, as well as the skeptics who think technology is moving too fast and leaving them behind," said Serhan Ulkumen, an international relations student interested in new technology who attended the event. "This is why it was important for the Annenberg forum to have this session, to shed some light on the future of storytelling and how Google Glass will contribute."

The Glass "Explorers" reviewed the built-in functions of Glass — photography, video-taking and integration with a range of Google products, including Google Plus and Android — and demonstrated how quickly and easily users can share digital content.

Leavitt showed a Glass video of himself biking down Wilshire Boulevard — within 10 seconds, he also snapped a photo of the audience, uploaded it to Facebook and shared it with his followers.

Using a third-party application, Hernandez published a similar photo on Twitter.
Additionally, the forum was streamed live via Google Hangouts, a digital meeting place where individuals from around the world could tune in and contribute to the conversation.
"One of the things I want to do with Glass is see how we can use it in a classroom, not only capturing students' perspectives but my own as an instructor," Dawkins said. "I'm very interested in looking at ... how it is able to tell stories about diversity and technology that show how our world may or may not be changing."

"What I'm really interested in at the moment is a project about consumption of media through Glass, particularly the question of accessibility," added Smith, who is working with the Annenberg Innovation Lab to enhance the sensory experiences of moviegoers.

Public accessibility is a major question mark for Glass, which relies heavily upon Internet connection and user familiarity with Google's circle of products.

"This is so uni-central because all their products point to this," Hernandez said. "My Gmail is here, my calendar, Google Now, the maps are here and Google Plus is here. In order for me to take advantage of this I have to get an Android."
"Glass has a camera and can take video, but if you come at it from a media specificity perspective, that's what lots of other technologies can do," Leavitt said. "How exactly can we augment that video with other data that it can track?"
"It doesn't necessarily have a unique niche in my life [where] it does one thing better than what my phone, iPad or computer does," Smith said. "If I want to send an email, unless I really want to show off and be cocky, I'm going to sit down at my computer. That's not going to be that way for very long. It's up to us to start creating demand and creating applications to make it indispensable -- that's going to happen in a matter of months."
The panel also tackled the question of how Glass changes privacy in both public and private spaces.
"Glass gets people thinking about the surveillance that we are all pretty much always under," Smith said. "I could be filming [now], but it would be a little obvious."
Added Leavitt: "As I encounter people out in public, they don't know what it is yet. Maybe someone will just glance at it but there might be some other concerns just beyond that glance. That's the big hole that academics really can bring discourse to."
Join us for next week's Journalism Forum: The Obama – Xi Sunnylands Summit seen through the press and popular culture in the U.S. and China.
Photos courtesy of Alan Mittelstaedt
Related coverage: