According to Adjunct Advertising Professor Laura Shute, the future of advertising is about convergence — especially at USC Annenberg.
The advertising minor is offered jointly by the Annenberg School of Journalism and the Marshall School of Business, and it explores how topics such as marketing, public relations and media work together within the industry.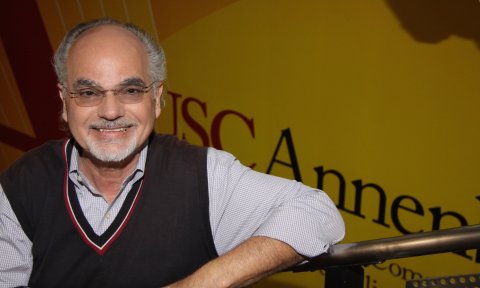 USC Annenberg
Since coming to Annenberg in 2000, Shute has helped
Professor Jerry Swerling
develop courses that address the changing industry and provide students with an understanding of the advertising community from both the client and agency side.
Shute's introductory course — JOUR 340: Introduction to Advertising — details the various positions at advertising agencies, brings in guest speakers to discuss real world issues and culminates in a group project that involves pitching a product against one another.
The structure and content of the course urge students to consider whether advertising is something they really want to pursue, according to Shute.
She also pointed to JOUR 343: Advertising Design and Production and said that the course helps students "understand how creativity operates within an advertising agency."
The course has students design ad layouts, which are then critiqued by the professor and classmates, "giving them a good sense of what it's like from a creative standpoint to have [their] work reviewed, reviewed against strategy [and] reviewed for creativity."
JOUR 342: Advertising Media and Analysis — taught by Adjunct Professor Kyle Acquistapace — explores the relationship between advertising and media buying.
"In today's ever-changing media landscape, he does a great job talking about what's new, what's important, but also what's old from a media standpoint and what's relevant," Shute said about Acquistapace.
Maddie Kirkland, a junior Communication major, said that some of her favorite classes at USC have been for her advertising minor.
"All of my professors have been so passionate about their field and are most concerned with seeing their students succeed," Kirkland said. She added that she got her internship at Deutsch LA last summer through one of her advertising professors.
Kirkland said she's always been interested in advertising and the minor curriculum has allowed her to explore the various roles available to her.
"Now, I feel like I'm closer to choosing a career path I'm passionate about," Kirkland said.