The USC Annenberg School for Communication and Journalism today announced the launch of a long-term initiative that will increase access to cutting-edge journalism education and professional development for people from diverse ethnic and socio-economic backgrounds. Funded by a $5 million grant from the Annenberg Foundation, the initiative will provide a powerful pipeline of talent equipped to lead 21st century newsrooms.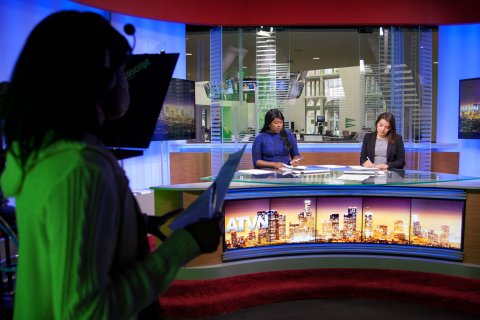 USC Annenberg / Brett Van Ort
Recognizing that the most effective and innovative newsrooms are fed by diverse classrooms, the new Annenberg Leadership Initiative will focus on supporting journalism students and young professionals from communities that are underrepresented in the news industry.
"This generous gift speaks to The Annenberg Foundation's unshakable and admirable commitment to diversity in journalism," USC President C. L. "Max" Nikias said. "With newsrooms being reimagined for the digital age, and the breadth and shape of the news ever-changing, it is critical that young reporters and editors of different backgrounds be a part of the process. Such diversity encourages critical thinking, and critical thinking leads to more insightful journalism."
The program will offer scholarships to students and fellowships to early-career journalists, who will learn to harness emerging communication technologies in the state-of-the-art digital facilities of Wallis Annenberg Hall.
Willow Bay, Director of the School of Journalism, said, "We are building a new generation of technologically and journalistically skilled communicators who will lead the complex digital newsrooms of the future. These young professionals will enrich newsrooms with new voices and perspectives, and be a driving force in informing a broader audience."
A portion of the Annenberg Leadership Initiative gift will fund the following scholarships and fellowships:
Annenberg Leadership Scholarships will provide full tuition for three Journalism M.S. graduate students a year and will target those from a variety of socio-economic backgrounds currently underrepresented in journalism and communication industries.
Annenberg Leadership Fellowships will provide three fellowships a year, giving working journalists from diverse backgrounds a one-of-a-kind head start in their industry. This unique program will train the next generation of newsroom leaders, who will manage student journalists and multimedia journalism production in a truly 21st century news environment, the Julie Chen/Leslie Moonves and CBS Media Center of Wallis Annenberg Hall.
"The future of news will be ever more diverse, and we are helping build that future here at Annenberg," said Dean Ernest J. Wilson III. The entire initiative reflects USC Annenberg's dedication to developing the core skills articulated by Dean Wilson's Third Space initiative — 360-degree thinking, cultural competency, intellectual curiosity, empathy and adaptability — skills that are emphasized and practiced at all levels of the school.
The Annenberg Leadership Initiative will also fund an expanded Community Reporting Initiative, to focus on identifying and meeting the needs of underserved communities. Working closely with USC Annenberg faculty and professional journalists, students will develop digital fluency by critically assessing and using emerging technology to reach new audiences and cover stories in more effective, compelling and accessible ways.
"If we want a news industry that truly understands and covers all of America, then our news industry has to embody all of America. We have to attract the best and brightest of every race and ethnicity and economic background — we have to equip them with the most cutting-edge tools and skills so our news coverage can be just as inclusive and forward-looking," said Wallis Annenberg, Chairman of the Board, President and CEO of the Annenberg Foundation.
USC Annenberg is set to announce, in the coming weeks, additional innovative programming funded by the Annenberg Leadership Initiative grant.
The Annenberg Foundation's gift supports the Campaign for the University of Southern California, a multi-year effort that seeks to raise $6 billion or more in private philanthropy to advance USC's academic priorities and expand its positive impact on the community and world. Four years after its launch, the campaign has raised more than $4.6 billion.
USC Annenberg was founded by Ambassador Walter H. Annenberg 1971, and over the past four and a half decades the Annenberg Foundation has continued to make invaluable investments in the school and in the University. The Foundation has established four chairs and has endowed multiple scholarships. Wallis Annenberg, as president and CEO of the Annenberg Foundation, directed the $50 million gift to develop a new landmark building at the heart of campus, Wallis Annenberg Hall. Known as the "dean" of the USC Board of Trustees, she is the group's longest-serving member.