Television news manager and educator Serena Cha has been named Annenberg Media Center executive director, officials at the USC Annenberg School for Communication and Journalism said today.
Cha, a USC Annenberg professor, has previously served as the director of Annenberg Television News (ATVN). The newly created position will oversee the real time, multi-media operation tying together groundbreaking production work in journalism, public relations and communication, and USC Annenberg student-run publications including Neon Tommy, Annenberg Radio News (ARN), ATVN and Impact.
Cha has her eye on the future. "Our outstanding media faculty, staff, students and partners are eager to create a new model that will be evolve and never be static. We will blend our school's knowledge with the urge to innovate," she said. "The Media Center will inspire our students, Annenberg and the world to invent new ways to communicate and connect. At the same time, we will still teach our students to insist on accuracy, fairness, depth and inclusiveness."
"Professor Cha's deep commitment to our students and our school is well known," said USC Annenberg Dean Ernest J. Wilson III, in announcing Cha's new position. "Her work on the Wallis Annenberg Hall building committee has been integral as well as we prepare for the opportunities ahead."
In Fall 2014, the state-of-the-art, 88,000-square-foot, technologically transformative Wallis Annenberg Hall is scheduled to open, giving USC Annenberg two buildings on the USC campus. The Media Center will be a centerpiece of Wallis Annenberg Hall.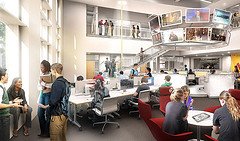 Likewise launching in Fall 2014 is the school's new nine-month Journalism M.S., which will replace the two-year master's degree.
Michael Parks, interim Director of the Journalism School, said, "I am highly optimistic about Professor Cha's ability to facilitate amazing collaboration among our student-run platforms." Added Parks: "USC Annenberg has real opportunities here to remain at the forefront of the rapidly developing world of converged media."
Cha arrived at USC Annenberg in 1998 as the founding director of ATVN. She has supervised an operation that involves as many as 250 journalists each semester putting together USC's live nightly newscasts for a worldwide web audience and the campus community.
Cha created the newscast producer training program, which includes guidelines and interactive exercises that are still taught in Annenberg's rigorous television news production course. Graduates of this intensive production and leadership program supervise news and sports programs at both the network and local level. They have also used their training to excel in other professions.
Cha led the student and staff design team responsible for the video-rich ATVN.org website. Under her leadership, Annenberg TV News has earned awards from the Society of Professional Journalists, Los Angeles Press Club, National Broadcasting Society and Academy of Television Arts & Sciences Foundation. News and sports media organizations reach out to ATVN regularly for video, information and well-trained producers and reporters. Alumni mentored by Cha are leaders in pioneering changes on the air and behind the scenes at ABC, CBS, NBC, CNN, AL Jazeera, ESPN, Fox Sports, Time Warner Sports and other networks, as well as at stations across the country. ATVN alumni dominate many markets including Los Angeles, San Diego, Lansing, Albuquerque and Seattle.
Before joining USC in the summer of '98 to start Annenberg TV News, Cha was an executive producer at KCAL-TV Los Angeles. She established a strong reputation for hands-on daily supervision of a major-TV market newsroom producing live newscasts, breaking news coverage, election coverage and special on-site reports from all over the world.
Cha also supervised news teams in her roles as senior producer at KCBS-TV and news producer at KNBC-TV and KTTV in Los Angeles. In addition to innovative production of coverage of the Gulf War, elections and natural disasters, Cha was the producer in the control room launching KNBC's live coverage of the Los Angeles riots.
She won the Associated Press Award for best television newscast in California and a Golden Mike Award for best daytime newscast in Los Angeles. She also earned a USC Mentoring Award in 2011.
Cha earned her master's degree in journalism at Columbia University and received her undergraduate degree in history from the University of Michigan. She also completed professional training at the Scripps Howard Academy Leadership Academy and The Poynter Institute.