The digital revolution has given consumers an explosion of choices and options when it comes to accessing news, entertainment and information.
In an era of this rapid technological innovation, how is the convergence and collision of two vibrant industries that span entertainment and tech — Hollywood and Silicon Valley — transforming the way we format and share stories?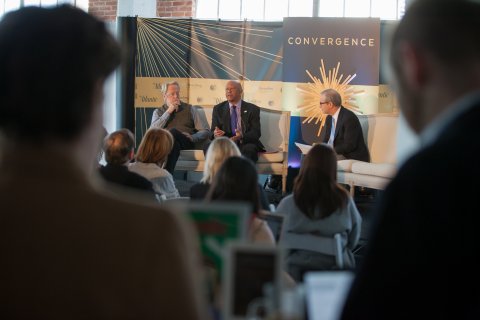 USC Annenberg / Brett Van Ort
Producers and editors from
The Atlantic
,
USC Annenberg School for Communication and Journalism
, Paramount Pictures, the Los Angeles Times and more explored and tackled how the new dynamics of convergence will redefine the entertainment industry when it comes to music, video and television. The
half day Convergence summit
, held on Dec. 3, is a joint venture between The Atlantic and USC Annenberg. The
summit
also delved into topics ranging from the ethnic diversity within the entertainment industry to making content that speaks to and reflects the changing demographics in this country.
During a panel, Ron Brownstein, editorial director for strategic partnerships at Atlantic Media, said the defining product of this convergence is uncertainty. As soon as something in media seems certain, another technological advance or shift in cultural preference renders it obsolete. Brownstein discussed "when industries collide" on the panel with professor Jonathan Taplin, director of the USC Annenberg Innovation Lab, and Dean Ernest J. Wilson III.
The digital revolution has meant profusion even an explosion of choice, Brownstein said. Consumers can choose among more options for news and opinion, music, games and so much video entertainment.
"Analysts are using the phrase 'peak television' to describe the 3,900 scripted episodes of television produced last year," Brownstein said.
Soon, consumers may even be able to insert themselves into the story through the mass application of virtual reality.
At USC Annenberg, Taplin noted the work of professor Robert Hernandez as an example. Hernandez encourages students to think about how news stories could be enhanced by virtual reality.
"These will be new ways of telling stories and new tools," Taplin said.
For Wilson, when he became Dean several years ago, he realized USC Annenberg was in the midst of an industry that was upside down and inside out.
"How do we teach this stuff? What are the skills that they need? In a dinner that we had last night, the 'T' word kept coming up again and again: Talent," Wilson said. "So we have been wrestling over the past four or five years with ways to blow up our curriculum, keep the best and add new stuff."
Wilson said communication and technology are now the center of the American economy. For instance, in California media production is split: Northern California focuses on apps and platforms, while Southern California is interested in content creation.
"So our question was how is that dynamic going to work out?" Wilson said. "This is a big deal not just for Southern California and Northern California, it's a big deal for the future of the American economy."
The position of content creators in this new type of world is ambivalent — if there aren't good content creators, the platforms make very little difference.
"Content still is king. I think what we are all wrestling with is how do we redefine the creativity so that it includes not only the artist, but the people who bring the artists together," Wilson said. "But that's the critical issue I think we have to pay attention to, how do we identify those who have been successful in identifying creativity and creatives in this new kind of environment?"

(For more on how the USC Annenberg School is helping businesses, non-profits, educators and students thrive in what Wilson calls our "emergent, dynamically interactive business environment," visit thirdspacethinking.com.)
The position of artists and their access to audiences also arose as a discussion topic, with Brownstein posing a question on whether the artist's position was improving or being eroded?
"If you look at the music business, last year 80 percent of the streaming revenue went to one percent of the content. So Jay Z and Beyonce did really well but the average middle class musician was not even noticed," Taplin said on a panel.
Taplin, who founded the first streaming video on demand company in 1996, said the notion of change needs to be embraced but "we also have to be careful that it doesn't completely erode the artistic foundation of what we want to do."
YouTube, for example, represents 62 percent of all streaming music.
"You may think of YouTube as a video platform, but every single tune that exists in the world sits on YouTube with maybe just a record cover and yet YouTube represents 11 percent of the revenue in the music business," Taplin said. "I would call that free riding."
"And so these are some of the kind of questions we will have to deal with," he continued. "The Annenberg School, at large, is trying to grapple with these questions."
For more