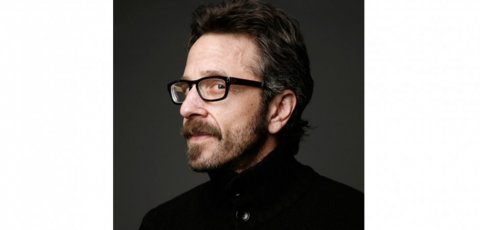 Courtesy of Marc Maron
Comedian
Marc Maron
stopped by Wallis Annenberg Hall on Monday, Nov. 9 for a candid discussion with USC Annenberg senior lecturer
Mary Murphy
about his critically-acclaimed podcast, "
WTF with Marc Maron
," his personal and professional challenges, and interviewing President Barack Obama.
Known for its candid and often uncomfortable interviews with comedians and others public figures, "WTF" has been downloaded more than 100 million times in the past six years, but gained a new level of attention when President Obama requested to be a guest.
Maron told Murphy's JOUR 381: Entertainment, Business and Media in Today's Society class that of the hundreds of people he's interviewed on his podcast, the president was understandably one of the guests who made him the most nervous.
"I knew I had a set amount of time, and if he got going on something I wouldn't get to do a well-rounded interview," Maron said. "I didn't really want to talk about politics because he could do that in his sleep."
The episode was recorded in Maron's Los Angeles garage — where he's recorded nearly all episodes of the show — two days after the Charleston mass shooting in June. Maron said he assumed the interview would have to be canceled, and when it wasn't, knew he would have to completely restructure the episode he had planned.
Though the week-long preparation for the interview was intense — Maron's house was searched by Secret Service agents and bomb-sniffing dogs, equipped with isolated phone lines in case of emergency, and bombarded with reporters — Maron said the president immediately put him at ease.
"Within five minutes I was calling him man and finishing his thoughts," Maron said. "He was going out of his way to be candid."
That candidness, according to Maron, can be attributed to the fact that Obama is nearing the end of his presidency, and wanted to use the podcast to discuss politics with a younger demographic. Still, Maron said he's generally hesitant to interview politicians.
"They're going to use you, because that's what they do," Maron said. "You're not going to get a genuine interview usually from a sitting president or even a sitting Secretary of State, because there's always an agenda."
Maron, whose career includes several years in political radio, said he takes the same approach to presidential candidates, which is why he hasn't invited any on "WTF."
"I don't want to service that dialogue, because all a candidate's going to do is use me to campaign," Maron said. "They're just going to blow through you."
Perhaps best-known for his abrasive personality and often brash humor, Maron said his tendency to interrupt guests on his podcast, including the President, is a "natural reaction to being impatient and disliking silence."
"I've learned how to let silence sit a bit because sometimes it can be really powerful," Maron said. "It took me a long time to figure out how to shut up."
Though he never set out to be a journalist, and still doesn't consider himself to be one (Maron calls his conversations with guests "talks" rather than interviews,) he said a turning point in his interviewing style came during a podcast in which he asked fellow comedian Carlos Mencia about plagiarism allegations.
Maron said he felt obligated to do his due diligence as an interviewer in that situation, but that he generally isn't concerned about being objective and prefers to learn about guests just by engaging in conversation.
"People will generally want to meet you halfway, because they want to share," Maron said. "I think that's valid, and if you want to think it's journalism, I'll take it."
Another of Maron's notable podcast guests, and the most recent at the time of his discussion, was "Saturday Night Live" creator Lorne Michaels, who famously rejected Maron's bid to be an SNL cast member in the mid 1990's.
"I don't know what I wanted out of that then," Maron said. "I was a sort of self-righteous, angry comic. I don't think at the time I had that interview with him that I wanted anything more than to be a troublemaker or to be parented somehow."
Maron began his career as a doorman at a Los Angeles comedy club in the 1980s, and spent years bouncing between New York and LA as a stand-up comedian and radio personality. As he's previously discussed during his career, Maron touched upon past struggles with drug and alcohol abuse, and how "WTF" was "borne out of desperation" in 2009 amidst his divorce and firing from the Air America radio station in New York, where he recorded the first dozen episodes of the podcast.
Though WTF has since found tremendous success with a loyal audience and lucrative sponsorships, Maron noted new podcasters have to keep their shows free, and frequent, at first, and shouldn't expect to make it big overnight.
"When you're doing something like a podcast, something self-generating, if you don't do it consistently there's no way to build an audience," Maron said. "If you have a point of view and a theme and you do it enough that it can become a part of someone's life, it's doable."
In addition to "WTF," Maron also writes, produces and stars in his own IFC show, "Maron," for which he is currently writing a fourth season. He's also authored several books and still performs stand-up, and said though he wasn't a fan of social media at first, he's since embraced the fact that maintaining a "brand" is a now way of life for content creators.
"When you're self-employed it's hard to know when to stop working, or if you're working, everything kind of bleeds together," Maron said. "There is a sort of diligence to staying out there, but eventually it starts to kind of carry itself."
On the topic of diligence, Murphy wrapped up the discussion by telling the story of how, after many unsuccessful attempts to reach Maron through his representatives, she was finally able to get the comedian to pay a visit to her class.
"I was so frustrated that I just sat in my office and hand wrote him, on paper, a note and snail mailed it," Murphy said. "And then he called me, so don't give up on snail mail. The lesson is don't give up. If you can't get to somebody, find a way."