Kelley Chan engages with classmates in the Managing Complexity in Diverse Organizations (MCDO) course from an internet cafe in Bangkok, Thailand. During a three-month-long spontaneous solo trip across multiple South East Asia countries, she is finishing up her last class as she prepares to graduate from the Digital Media Management (DMM) online master's program.
Chan initially applied to the DMM program because of its comprehensive curriculum and her desire to be part of a diverse atmosphere. She believes all voices matter and wants to inspire change through visual storytelling.
"Growing up in a predominantly white suburban town, I wanted a different space and a different environment where I could feel heard and where I could see other people that looked like me," Chan explained. "I think Annenberg holds true to their commitment toward diversity, equity and inclusion, and I think I made a really good decision."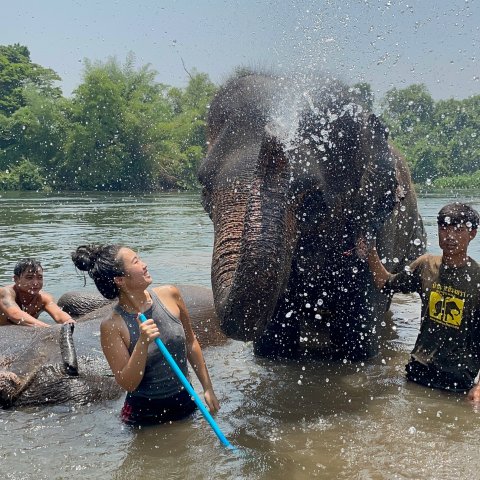 Designed to foster students' ability to create, sustain and thrive within diverse work environments, the nine-week MCDO course serves as an integral part of the DMM program's curriculum and is a mandatory experience for all graduate students in the School of Communication. Class modules focus on fostering connection and inclusive cultures; managing implicit biases and power; creating representative and inclusive content; and developing habits and strategies to effect lasting change.
"It takes some vulnerability to speak on your own experiences," Chan said. "But, at the beginning of the class, we took the time to create class norms and worked together to come up with a way to make sure that the environment was safe. I admit that in the beginning I was really intimidated, but as the weeks went on, I found myself opening up more. My instructor, Adam Day, told us that no answer is wrong, and we used emoticons to react to and support each other."
Chan's MCDO cohort reviewed case studies and participated in simulations on topics like understanding the impact of technology on diversity, equity, inclusion and accessibility. They also completed a personal leadership workbook and were evaluated based on their active participation.
"The world looks different to me than it did before," Chan said. "I like how we would have solo breakout rooms where we could reflect on the lesson. That's a unique thing to do in an online format; it allowed me to process everything and really soak it all in."
"One day I will be a manager and know what to do and how to navigate outside of my comfort zone because I was able to practice putting myself in unique positions that I've never experienced," she added.
While majoring in digital communications and media at Loyola University Maryland, Chan became interested in sociology, human rights and social justice causes. She worked as a multimedia producer for the United Nations International Organization for Migration in Washington D.C. for two years before deciding to backpack through Japan, Vietnam, Singapore, Malaysia and Thailand.
"Plans kind of changed and then countries were added, so now I'm just kind of taking it day by day," she said. "I love doing videography on the side, so I'm just taking this time to kind of curate that passion. I create these travel montages and I'm trying to do one for each country I visit."
Going into graduate school at USC Annenberg directly after receiving her bachelor's degree was a challenging transition, but she credits Adjunct Professor Raymond Lutzky for his patience and clear instruction. His positive feedback helped Chan understand that she was producing strong work and is one of the many reasons she feels ready to graduate this May.
"My professors are extremely patient and attentive and I felt like we were always on the same page," she said.
The supportive learning environment and approachable attitude of her instructors, who are also working professionals, added to Chan's sense of belonging. LinkedIn requests, open office hours and their availability outside the classroom helped build her confidence.
She recalls the informative breakout sessions and group activities when taking a course taught by CEO and President of BlueFocus International Holly Zheng as a memorable experience because she was able to connect with her peers and make new friends.
"I appreciated the organization of the program because I knew what to expect every week," Chan said. "It was very manageable to complete this program and work a full-time job and travel."
After graduation, Chan dreams of working for National Geographic managing multimedia teams and creating content with journalistic excellence, accuracy, ethics and flair. She likes the company's commitment to DEIA and its impactful coverage of global humanitarian issues.
"The Digital Media Management program and the MCDO course have helped me define the high standard I want to hold organizations to when I choose where to work," Chan said. "I want to work for an organization that really uplifts and aligns with my values."