Hunter Hinson grew up in a world of conflicting views. He was schooled in Northern California but retained close connections to family in the Midwest. That contrast between the traditional conservative values of his extended family while attending a high school that was diverse and progressive may have prepared him for today's ever more divisive political climate.
At USC, Hinson cultivated an undergraduate education that's helped him build upon that ingrained understanding, pairing a major in communication at USC Annenberg with studies in political science at USC Dornsife. He has an intense interest in the combination, and intersection, of those fields, especially when it comes to digital technology — as well as how he can use what he's learned to make a difference.
In an interview, Hinson discusses the people and experiences that have left a mark on him, a senior thesis that earned him the prestigious USC Discovery Scholarship Distinction and Prize, and where the future may take him.
What influenced your interest in studying communication?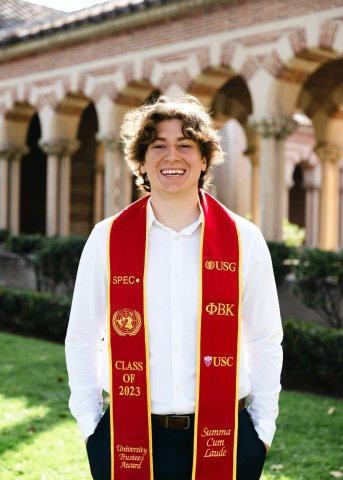 From a young age, I was interested in storytelling. The oral tradition was prominent with my family back in Missouri. I remember my grandparents recounting stories in a way that was so engaging, humorous and almost performative. Even if I'd heard a story before, it was always exciting to listen to the way they told it.
The stories we tell are important. I came to USC first as a political science major, and quickly added the second major at Annenberg because communication is such an essential element in politics.
What did you focus on for your honors thesis?
I investigated how the messaging of far-right conspiracy theories has changed over the past 60 years. Sixty years ago, the average person couldn't become a conspiracy theorist. Major gatekeepers in media limited what the general public saw or heard. Today, the internet makes it a lot easier to get your message out.
There's another important difference, though. Back then, if a politician spread a conspiracy theory, they could later distance themselves from it. Today, anyone can see what Alex Jones says on his show, and then see a politician say the same thing on Twitter hours later. It's much easier to connect the dots and hold that politician accountable.
Who has been particularly influential on your USC Annenberg experience?
The first name that comes to mind is Clinical Professor of Communication Alison Trope, interim director of the honors program. She really cares about students, and she's been a huge support this past year. Throughout my project, if I've gotten confused or lost focus, she's helped set me on the right track.
Associate Professor of Communication Jennifer Petersen is my thesis advisor. She's so familiar with everything that's going on in the academic literature, she brought a lot of important ideas to my project.
Clinical Professor of Communication Christopher Smith has been a great mentor. He's supportive of students in a way that's reassuring to see.
Finally, I met Tal Woliner, an alumna who's the chief communications officer of the American Association for the Advancement of Science, at a USC Annenberg alumni event. She offered her contact information and asked all of us to reach out. She really meant it. I reached out, and she has become a great mentor for me. When I had an internship in Washington, D.C., she gave me advice on the field. It demonstrates the strength of the Trojan Family. As an alumnus, I want to do the same — pass on the knowledge and support that I've received.
What did you do during the internship in Washington?
The internship was through the Leonard D. Schaeffer Fellows in Government Service program. It accepts 50 undergraduates each year from five universities, and USC is one of them.
The fellowship matched me with the Office of Personnel Management (OPM). I was in the Office of the Director, but I worked a lot with the communications team. OPM is a small federal agency, and the team is so inclusive of interns. I was able to sit in on high-level government communications work, which is rare.
My USC Annenberg training prepared me to be proactive, be adaptive, and quickly grasp different tasks. I saw my work in press releases and I worked with the speechwriter at times, so I heard my words actually coming out of the director's mouth. It was an invaluable experience.
Out of the several other internships you've pursued, does one stand out?
After my freshman year, I worked with the first fully digital congressional campaign in history. With the pandemic, the campaign didn't want to risk the health of the team or the community. There was no ability to knock on doors, to host town halls, to meet voters face-to-face, so it was fully digital.
Some people say that limited the ability to reach voters, but I would argue otherwise. The fully digital campaign enabled us to reach voters where they were. It also led to some great events. I assisted with events where Bill Clinton and Pete Buttigieg spoke virtually. That wouldn't have happened in an in-person campaign.
You've participated in the Undergraduate Student Government as an executive aide, Senator and committee head. What accomplishments mean the most to you?
Coming into USC, I knew I wanted to make a difference on campus. During the pandemic, my family struggled, as so many other students and families struggled. I saw the need for someone to advocate for low-income students. You may be a student, but you're a person first. And you need to meet the most basic human needs if you're going to succeed academically.
I'm proud of helping create a coalition of people concerned about low-income students, basic needs, first-generation issues and affordability. We've seen almost $26,000 donated by students to a program that gives students in need free dining swipes at the dining halls.
We also raised more than $20,000 for business attire for low-income, first-generation and veteran students. If you don't have business attire, you can't interview, you can't work at internships or jobs, and you can't participate in clubs. For our clothing drive, we had donations from senior administrators such as USC President Carol L. Folt. It was nice to have support from people high up in the administration.
What comes next?
I'm attending a master's program at the Oxford Internet Institute next fall, focusing on how digital technologies impact society and politics. I'll be studying how propaganda, disinformation and violence are propagated through the manipulation of new platforms.
I've realized over the last four years that I'm a mission-oriented, passionate person, and I want to do something that helps people. After attending Oxford, I hope to work in politics or government, either in D.C. or maybe on the 2024 campaign trail.
After getting hands-on experience, I want to go to law school and focus on tech policy. Hopefully, I can work on technology regulation and internet governance. It's been a long time coming, and it's needed.