Most of the world saw the July 20 launch of Blue Origin's New Shepard spacecraft, with Blue Origin and Amazon founder Jeff Bezos on board, through either TV or social media. USC Annenberg senior public relations major Ian Solano got to experience that moment from inside Blue Origin headquarters in Kent, Washington.
"It was a room filled with hundreds of engineers," recalled Solano, who this summer, worked as Blue Origin's first communications intern. "Everyone was erupting with so much joy and relief that their years and years of hard work finally paid off. As we watched the launch, the crew capsule and booster rocket landing safely, it felt like everyone was yelling for three minutes straight."
Since his role at the company involved internal communications, Solano was directly responsible for setting up watch parties at the company's facilities across the country.
"Before this, I didn't know that communication people ordered the food," he said. "I was coordinating with vendors, executing on event activations, managing budgets, and also putting together 'crescendo events' that built up to the summer's launch. It's was a really amazing experience."
Solano's Blue Origin internship has been the pinnacle of his academic journey so far — one in which he didn't let an initial setback get in the way of his ambition.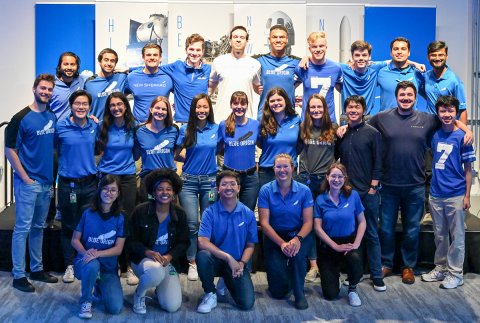 Growing up in Los Angeles' San Fernando Valley as the child of immigrants from the Philippines, Solano says he has always been interested in how companies and brands communicate their story with their potential customers.
"Advertising was always fascinating to me," he said. "Even when I was watching cartoons, I remember enjoying the ads. I saw them as just other pieces of content, part of the stories brands tell about themselves."
He excelled at Granada Hills Charter High School as part of the marketing and business program, and even interned with entertainment and social content company, Fullscreen Media, as a teen. While his grades, extracurricular activities and teacher recommendations were outstanding, Solano admits that his standardized test scores weren't as high as he would have liked. He ended up only getting in to one university: California State University, Northridge.
"When I told one of my teachers that I didn't get into USC, he laughed — he thought I was joking," Solano recalled. "At first, I was devastated, but eventually, I became just as determined to go to CSUN and give it my all."
Solano threw himself into earning internships and learning more about marketing and communications. He became an intern with a student-staffed creative agency, serving in numerous roles, from photographer to copywriter, eventually working his way up to lead strategist and account manager. Solano remembers that he once completely reworked an integrated marketing slide deck the day before a presentation (applying the lessons he had learned from his internships and academic marketing journals) — and that his clients were impressed with "how organized and professional it was."
"After that moment, even if I didn't say anything in a meeting, my boss would always comment, 'Ian, I know you have something to say, what are your thoughts on this?'" he said.
Because of his success at CSUN, Solano was at first hesitant to transfer to USC. "I had a strong community at CSUN, and I was thriving," he said. "What convinced me was that all of my mentors told me, 'You should go to USC, it'll open a lot more doors for you.'"
Solano was initially accepted as a transfer student to USC Marshall.
"But when I took my first accounting class, I was like, 'This ain't it!'" he said with a chuckle. "I like to write and tell stories, and PR and marketing allows me to do that."
He transferred to USC Annenberg's public relations program for his junior year, continuing to broaden his skillset through both his coursework and work experience. He particularly credits "Effective Writing for Strategic Public Relations" with Adjunct Instructor Jacqueline Liu and "Strategic Public Relations Research Analysis and Insights" with Assistant Professor Eunjin "Anna" Kim.
"In the first class, I learned how to hone my craft in writing, mastering the materials you're expected to know on your first day in public relations: press releases, FAQ's, newsletters, etc.," he said. "In the second, you learn how to layer that writing with sound research and analytics. I really liked the emphasis on being a really good writer — that's something that I can apply to literally anywhere that I go in my career," he said.
He also continued to secure meaningful internships, notably at the Annenberg Agency, which pairs students with nonprofits that need PR and marketing support. His work with the nonprofit Duet helped grow their donations and social media footprint.
For Summer 2021, he weighed internship options that included Amazon and Facebook, but his mentors convinced him that the uniqueness of the Blue Origin position was too good to pass up.
"I've always been interested in space. I'm a huge Star Trek fan," Solano said. "And I was like, OK, space travel is such an interesting industry, I get to live in Seattle for the summer, let's do it."
Now moving into his last semester at USC Annenberg, Solano is focusing on a project he calls Cue Protagonist!, a content channel on Twitter that aims to teach and empower individuals "to be the main character of their own life." After that, he said, he'll likely apply for communications positions at agencies like Golin and WE Communications, and companies like Apple, Facebook – and Blue Origin, where he knows he left a good impression.
"With my internship at Blue Origin winding down, I asked my boss if there was anything during my interview process that I should leverage for future interviews." Solano said. "She told me my interview was like one of those interviews where you just knew that the person you were going to hire was right in front of you; that showed me how well Annenberg has prepared me for stepping out into the professional communications world."