Angela pulled over to the side of the road for the second time that evening as she and Tyrah Majors continued their journey to Culver City. Angela got out of the car and beckoned for Majors to follow.
They were at Angela's former apartment, the one she called home before she started living in her car. They toured the outside of the complex with their phone flashlights dancing along the walls as evening began to envelop the area. She pointed to the window her boyfriend broke when they lived together. It had since been mended. She gestured toward the side of the building where her car had once sat. Only tire marks and oil stains remained.
When Majors sat down to write Angela's story, that moment stuck with her.
"You really don't know everyone's situation," Majors said. "People who are homeless or people who are without shelter — it could be anyone."
Majors, who will graduate with a master's in journalism in May, wrote and produced a story on Angela's life for the USC Annenberg course "Reporting Urban Affairs." The emphasis in the class is on homelessness. Majors followed Angela over the semester-long class taught by professors Mary Murphy and Sandy Tolan in which 10 students pitched and produced stories examining a variety of issues surrounding the unstable housing within the community.
"[Murphy and Tolan] are like my editors in a sense," she said. "They'll tell me they liked the story, but what I really need to do is a, b, c and d. Find a character. Don't make it all about [one issue] but make it about somebody's life."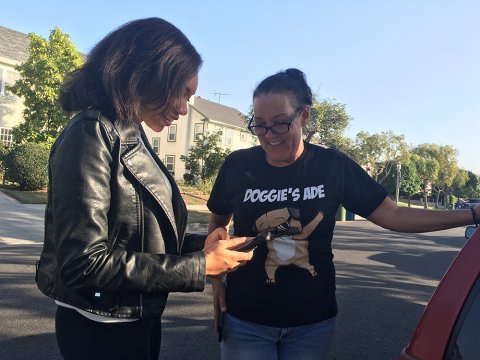 Photo by: Kate Sequeira
Majors met Angela on a visit to Safe Parking LA, an organization that provides people living in their cars with a safe place to park at night. She gave Majors a tour of her car and pointed out where she kept her food, how she cooked and where she tucked her clothing away.
"She walked me through the process," Majors said. "She wakes up in the morning, she'll make her coffee and then she organizes her car, which she told me is the most important part of her day because she doesn't want people to see that she's homeless."
Majors, who also reported on homelessness issues in Malibu for a summer graduate class, said this reporting process further humanized homelessness for her.
"This woman is just like any other person," she said. "You would never suspect that she's homeless. You see a woman with the name of her business on her shirt and on her car: She's walking dogs. You never think, 'Oh, she's a homeless woman.'"
As part of the class requirement, Tolan and Murphy expected the students to conduct at least one interview a week as they began to develop their stories. Before meeting Angela, Majors had intended to focus her story on a couple who had recently moved on from Safe Parking into low-income housing. She stuck with Angela because she felt that focusing on a specific person helped make the story more moving.
"Even though we're all working independently, the class is still a very collaborative process," Majors said. "During the class, we'll give an update on our stories. Everyone is involved in what everyone else is working on. It really has a newsroom feel: We're all giving each other advice and suggestions and compliments."
Majors said Angela took the chance to challenge her misconceptions about the homeless population.
"People think homeless people don't take care of themselves," Majors said. "But she made it a point to show me her cleaning supplies and show me the bleach and all that."
"I thought this class would be a good opportunity for me to step outside of my comfort zone in general — not [do] entertainment, but report on real people," Majors said. "This was my opportunity to be a part of something bigger than myself… We really kind of gain this sense of wanting to know more, wanting to find more about different people who are homeless."
---
Other students in the class have focused their projects on other aspects of homelessness. Lulit Tadesse, a graduate student studying journalism, wrote about racial prejudice and African-American homelessness. Natasha Piñon, a senior majoring in political science, wrote about homelessness at USC.
Students developed their projects over the course of the Fall semester. Click here to see the projects created in Fall 2017 that were featured in the Huffington Post last year.