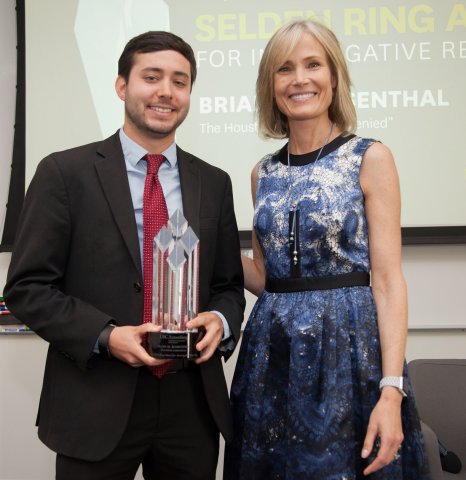 © USC Annenberg/Brett Van Ort
Journalist Brian Rosenthal, who wrote the
2017 Selden Ring-winning series
"Denied" for the Houston Chronicle, related his experience – along with some real-world advice – to USC Annenberg students at a ceremony in his honor.
Students gathered at Wallis Annenberg Hall on April 21 to celebrate Rosenthal's work. They were joined by faculty, journalists from regional and national publications, and friends of USC Annenberg.
"Denied," published in seven parts, revealed that for years, Texas state educators secretly and systematically denied special education services to hundreds of thousands of schoolchildren with developmental, intellectual and physical disabilities. The reporting prompted immediate and sweeping changes to state policy, and it freed up benefits that may now help a countless number of children.
Working off a tip, Rosenthal's reporting revealed what Texas lawmakers, the federal government and even the state Board of Education didn't know – that a few state educators had instituted an arbitrary "cap" on special ed services. The policy limited special education to no more than 8.5 percent of schoolchildren, well below the national average of 12 percent. The difference between those two percentages? About 250,000 kids.
The Chronicle interviewed more than a thousand people, including 300 former educators and nearly 400 parents whose children had been denied services, Rosenthal told his audience at USC Annenberg.
For the student journalists in the audience, he outlined the reporting process, which he summed up as nine months of trying to debunk the outrageous tip he'd received.
"We did not take that tip for granted," said Rosenthal, who now works at The New York Times. "The first thing we decided was that it was such a crazy thing that was suggested – that the state was intentionally keeping services away from kids, that the state was illegally, intentionally, secretly harming kids – that we decided to disprove that tip."
Rosenthal related how the investigation unfolded – the method of eliminating several alternate explanations and then examining the hidden policy. Finally, they investigated the devastating effects the policy had on children and families.
---
---
In a Q&A with students after his presentation, Rosenthal was asked how he stayed objective as the reporting revealed how much children were harmed by the state's policy.
Helen Carefoot (B.A., Journalism '17) asked: "We have a lot of discussions here in the journalism school about how objectivity and the place it has in news. How do you remain objective when you find that clearly someone is in the wrong?"
Rosenthal: "I think you need to remain objective to the facts. But if you come to a conclusion, in a fair way, and the facts are clear, I don't think there's anything wrong with saying, 'This was bad. This hurt people.' I'm not sacrificing my objectivity to say that."
Sean Myers (B.A. Journalism '18): "Did you go through periods of doubt, when you had to rethink your direction?"
Rosenthal: "As a journalist, I'm skeptical of everything, and I was skeptical of the tip and whether we were going about the process in the right way. That's when editing is very helpful. My editor, (Houston Chronicle Managing Editor) Vernon Loeb, and I talked about it constantly and whether we were going about it the right way and whether we had what we thought we had."
Maral Tavitian (B.A. Journalism '17): "What is your advice for small newsrooms trying to conduct big investigations?"
Rosenthal: "It's the kind of thing a lot of newsrooms wouldn't have the resources to do, and that's just a fact. The first thing I would say is to be ambitious about that. Which is my same advice I have for young journalists – to think big, and think about what it is that you are trying to do and where you can find time to do it. In terms of resources, this did not really require than many resources. We had lots of records requests, where they came back and wanted us to pay thousands of dollars. And for the most part, we just said "no, thank you" to that. We did not have to expend a lot of money…. So in terms of smaller newsrooms trying to do that, it's a real balancing act in trying to find where you can save a few minutes here and there to work on it. It's really tough, I know."
Noorhan Maamoon (B.A. Journalism '18): "There is a lot of data in this project. How do you go about translating pure percentages into something that means something to the audience?"
Rosenthal: "I have friends who are not journalists. I call them normal people," he said, drawing laughter from his audience. "I ran a lot of stuff by them. I asked them what made sense to them. I also trusted my own instincts… Put yourself in the seat of the reader and think about, when you're reading something, are you going to be able to understand it? I think that is a really helpful exercise. Pretend you're reading someone else's work.
"I also had two months of editing… We were working on that very question: What numbers do you present, and how do you present them so people would understand? How to be compelling and not overwhelm people. That was something we thought about draft after draft."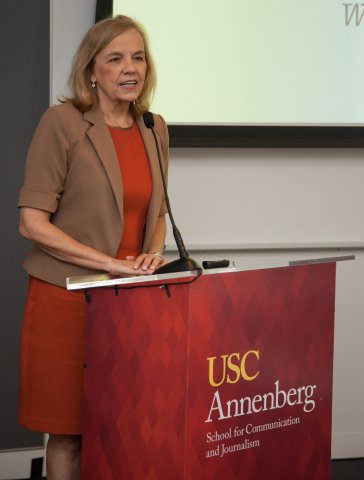 © USC Annenberg/Brett Van Ort
After the ceremony, during which Rosenthal officially accepted the 2017 Selden Ring Award for Investigative Reporting, Carefoot said the program drove home for her that she can make a difference as a journalist.
"It affirms all the things we learn here," she said. "Seeing someone who is able to do that outside the school setting, to go out and do this amazing work, and produce such an impactful story. I thought that was really powerful. I would definitely say it's inspiring."
Since 1989, the USC Annenberg has partnered with the Ring Foundation as the home of the Selden Ring Award for Investigative Journalism. The $35,000 annual award, established with the support of Southern California businessman and philanthropist Selden Ring, has recognized exemplary investigative journalism that has a substantial societal impact.
This year, the Ring Foundation, under the leadership of Cindy Miscikowski, announced it has pledged $1.4 million to fund the Selden Ring Investigative Journalism Fellowship, for a student enrolled in the nine-and-a-half month Journalism M.S. or the M.A. in Specialized Journalism programs.