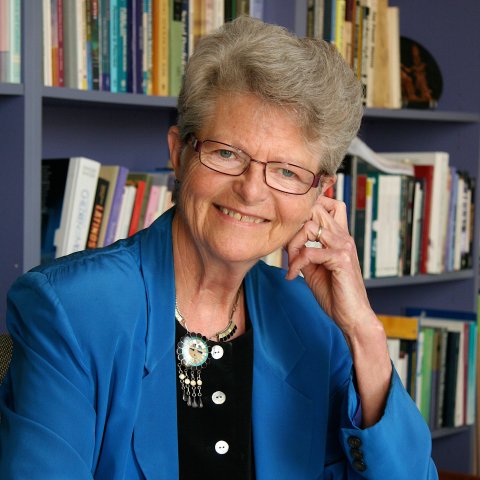 Communication professor Sandra Ball-Rokeach won USC's 2013 Provost Mentoring Award, given to only one faculty member each year at the university.
"It's very rewarding because I think it reflects a lot of my commitment to how I deal with students," Ball-Rokeach said.
The Provost's Mentoring Award honors an individual faculty member who has demonstrated sustained success in mentoring other USC faculty, graduate students, or undergraduate students, and in helping them to succeed in their own research or professional development.
In 2011, Ball-Rokeach was one of four USC Annenberg professors honored with the USC Mellon Award for Excellence in Teaching – an award that at least one USC Annenberg faculty member has won each year since 2009.
School of Communication Director Larry Gross said mentoring students and colleagues is among the most important roles played by faculty.
"It is especially gratifying that the Provost has established an award that acknowledges the value of mentoring and gives this important role the recognition it deserves," Gross said.
One of the most important things to remember, Ball-Rokeach said, is that you can't be a good mentor unless you're in an institution that values mentorship and gives professors the resources to succeed.
"It's not just me, it's we. We are located in an institution that encourages this, that supports this, and has given me resources to do this," she said. "It's a person and a team in an institutional setting."
Ball-Rokeach said her mentoring style comes from her graduate school days when she didn't receive any mentoring herself.
"I was a sociologist Ph.D. and there had never been a woman on faculty. They didn't know what to do with me. They didn't sponsor me. They didn't do anything," she said. "This was in the early 60s so I think that experience led me to want to do it right with my students and not discriminate on the basis of gender or anything else."
Teamwork is one of the major ideas Ball-Rokeach holds to in her style.
"I'm not the great oracle telling people what to do," she said. "We are figuring out what to do together. There's a phrase that I've grown to like, which I think kind of speaks to my style: I don't feel uncomfortable being on the edge of ignorance."
She said she does not feel as though she has to know every answer to every question.
"I can learn from my students in the same way that they can learn from me because by the time they are Ph.D. students, fairly far along, they know more about a particular area than I do," Ball-Rokeach said.
Although she relies heavily on the teamwork approach, she is clear that she does not abdicate her role as the professor.
"I'll tell you a little anecdote that my students would tell you. They give me a draft of the paper, and then I comment on it, critique it, and many times I'll write as much as they wrote on the page," she said.
One of Ball-Rokeach's previous students, Carmen Gonzales, said Ball-Rokeach's mentorship during her undergraduate and graduate training has been invaluable.
"She is supportive, engaging and inspiring, but also demands high caliber work from all of her students," Gonzales said. "I am grateful for her guidance as a mentor, colleague and a friend."
Gross, who wrote the nominating letter for Ball-Rokeach, ended his letter with the following statement:
"There is no question that Sandra embodies for so many of her colleagues and students the very best that universities represent, and the term mentorship only captures part of this quality, but possibly the most important part. I know that mentorship of this quality is its own reward but I also believe that it would be entirely fitting and proper for USC to honor Sandra's extraordinary mentoring with this award."