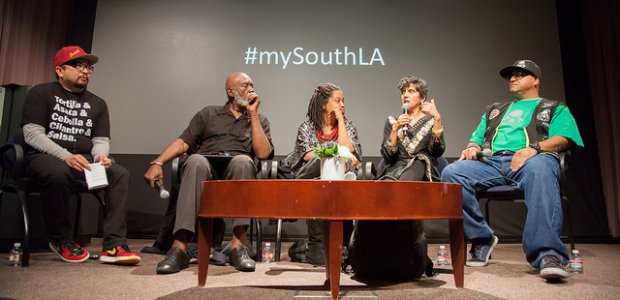 (left to right) USC Annenberg Postdoctoral fellow George Villanueva, Ben Caldwell of Kaos Network, Karen Mack of LA Commons, Neelam Sharma of Community Services Unlimited, and JP Partida of Los Ryderz at Voices of South L.A. Photo Credit: Brett Van Ort. For more photos from this event,
visit the USC Annenberg Flickr page
.
Last week, USC Annenberg hosted the second in a three-part series of events focused on fostering a stronger relationship between USC and its surrounding communities. Part of the university-wide
Visions and Voices
arts and humanities initiative, Voices of South L.A. aims to not just create dialogue around the university's role in community life, but to also help promote the significant work being done by community members and institutions in South Los Angeles. The event focused on food and the arts as forms of social justice activism that can respond to disparities and injustices in South Los Angeles. The community leaders and artists in attendance offered diverse and dynamic visions for how food justice, urban agriculture, public arts and recreation can make neighborhoods better. These panelists included
Ben Caldwell
(Kaos Network); Karen Mack (
LA Commons
); Javier "JP" Partida (
Los Ryderz Bike Club
) and Neelam Sharma (
Community Services Unlimited
). The event was organized by Communication professors
Alison Trope
and
Robeson Taj Frazier
, and postdoctoral fellow
George Villanueva
. The event was also co-sponsored by the
Environmental Student Assembly
and the
Black Social Work Caucus
. During a lively discussion, the panelists discussed their own work as both communication leadership and social justice. Their imaginative responses to community issues are particularly important in neighborhoods adjacent to USC, where university expansion is driving an overarching transition. The discussion began by directly addressing skepticism over how food relates to social justice. "[Food] is the entry point to almost any social issue you can think of," Neelam Sharma said. "Food is especially crucial to South L.A., because there has been a significant decrease in the amount of fresh food offered to the community." Sharma's organization, Community Services Unlimited, has responded to this crisis by working directly with community members so that they can control their own food supply. "[We work] to build urban farms around the area and to engage young people from the community to facilitate this process," Sharma said. "Engaging young people creates greater connections within the community and also promotes a sustainable fresh food infrastructure." Panelists Karen Mack and Ben Caldwell expressed a similar vision of the significance of the arts. "Neelam's remarks really carry over to the arts in terms of [the arts] also being a connector," Mack said. "The arts really makes [connections between people] possible, and that's where I think power comes from in general. Forging those connections is what L.A. Commons works to achieve." For Mack and her organization, L.A. Commons, public art is a powerful connector. "You can travel anywhere in the world in L.A.," Mack said, "however, most places in L.A. that tend to be the most culturally rich are also the most poor. L.A. Commons aims to change this by empowering broader communities through telling their stories in the form of public art."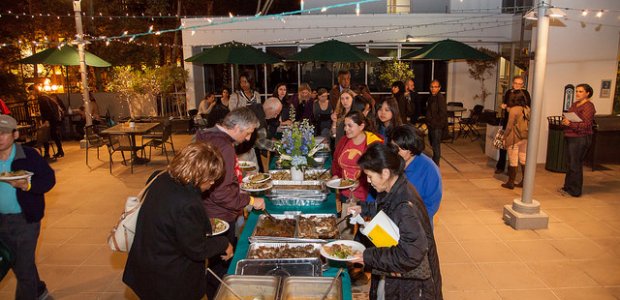 Audience members wait in line for food after Visions and Voices: Voices of South L.A. Photo Credit: Brett Van Ort. For more photos from this event,
visit the USC Annenberg Flickr page
.
Caldwell's Kaos Network puts equal emphasis on using art to bring people together and empower them. The Leimert Park-based media center houses both educational programs and a long-running slate of hip-hop and spoken word events. "My use of art is really very holistic," Caldwell said. "It's not art for art's sake, but art for a reason. My teaching career inspired me to engage with kids, which is how I began working with the youth in South Central. Presently, we're working at Leimert Park on a project called Innovation Village, which is essentially an ongoing collaborative neighborhood art project." The contributions of those focused on what may seem like simple recreation were not forgotten during the discussion. Panelist Javier "JP" Partida described how his community bike club Los Ryderz Bike Club inspires and empowers youth in his community. "I started the [bike club] because I wanted to give the youth a safe place to hang out and talk about their problems," Partida said. "By taking them out on rides, the kids began noticing the large degree of negativity in their community and became inspired to do something about it." Collaboration was a recurring theme, and Mack and Caldwell discussed how they have worked together on numerous projects.  One such project began in 2012, where temporary murals were installed in South L.A. around the theme of "building a healthier L.A." The ongoing project includes 80 youth artist team members, 14 professional artists and youth mentors, and it has completed a total of 17 major artworks now on display in the area. For audience members Ryan Ochoa and Lauren Barth, the discussion was especially valuable. Both are USC sophomores active with
Los Angeles Community Impact
(LACI), a campus organization that works to help strengthen nonprofit organizations such as those represented on the panel by addressing their business-related challenges. "There were some very valid points [in the discussion] about USC being a conscious neighbor and developer, which I was not previously aware of," Barth said. "It made me more aware how intimately connected food and social justice are," Ochoa said. "[Sharma's] urban farms show how powerful gardens can be, both as a community gathering place as well as a place to create something." The third and final event of the Voices of South L.A. series on Saturday, March 7th will highlight L.A. Commons' work by taking current USC students on a walking tour (led by Mack) of some of the public art the organization has made possible. The ability of such visual and cultural interventions to help community members change their circumstances was perhaps the panel's key takeaway. "Art shows you can create your own reality," Mack said.
Students interested in the walking tour can RSVP here.
---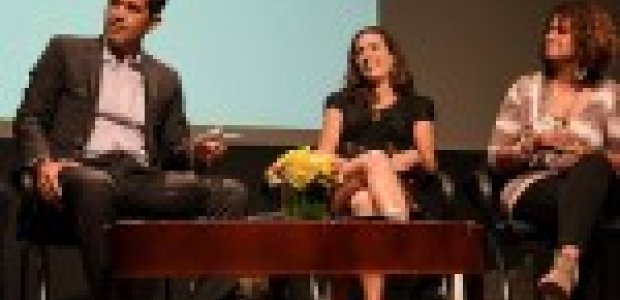 Series of events at USC Annenberg focus on South L.A. community relations
The first of the Voices of South L.A. events, a spirited panel discussion on "Civic Action and Community Voice," occurred last October and brought together journalists Erin Aubry Kaplan and Sahra Sulaiman, Los Angeles Human Relations Commission advisor Francisco Ortega, and executive vice president of the Community Coalition Alberto Retana.