Fashion industry icon Bethann Hardison discussed her life as a fashion model, opening her own modeling agency and issues of race in relations in the fashion industry with professor Alison Trope's COMM 396 "Fashion, Media and Culture" class this month.
Sharp and witty, Hardison, a renowned fashion activist and former model, also shared advice on making it in the fashion world.
Hardison's visit was part of the class's week learning about fashion's race relations, Trope said.
Trope recounted the time Hardison walked during the Battle of Versailles fashion show in 1973 in Paris. Students in the class read from author Robin Givhan's book, in which the author quotes someone in the show's audience saying Hardison walked like a "gangster" on the runway. The competition pitted five French couture designers and five up-and-coming Americans.
Hardison said the American models stood out because the French hadn't seen that many girls of color.
"I knew that it was very important that we win this. If we had nothing else, I knew I would walk and I could really present," she said to the class. "I didn't walk like a model, I walked like an actor."
Hardison recalled the song playing as the models walked the runway was "Love and Happiness" by Al Green.
"We had bows in our head and every girl had a dress with a train that we held with our pinkie," Hardison said. "It was getting really intense — this was gangster for sure. When I get to the very end of the stage, I stopped and threw the train and all I said to them was 'you get this, you see where I'm coming from?' … People started stamping and threw the programs up in the air."
The night, safe to say, was a success for the American models and fashion industry.
After modeling, Hardison went on to found her own modeling management agency. And in the late 1980s Hardison co-founded the Black Girls Coalition with fellow model Iman to support and celebrate African American models.
In 2013, with Iman, supermodel Naomi Campbell and the Diversity Coalition, Hardison wrote a letter to various fashion councils in New York City, Paris, Milan and London and cited particular houses of fashion of racism. Trope said by writing "a bold and open letter to all the top fashion houses and sharing it with the press, she not only called for conversation around this topic, but a kind of consciousness among the gatekeepers in this industry."
Hardison said she named each fashion house in recent seasons. "This way you have to go gangster because the only way to do it is to go get them exposed," she said.
She wondered if she became an advocate because she liked telling people what to do.
Hardison remembered top designers would call and ask her to find them a "really good black girl." When she asked them how many girls they had in the show, they would tell her "35."
"You want me to find you one black woman? Just listen to what you just said. Do you see how racially unjust that sounds?" she remembers replying.
A student in Trope's class, Michelle Etehad (B.A. Communication '17), asked Hardison what it was like growing up in the fashion industry and having opinions. Etehad said it's still an issue with the public constantly telling celebrities and models to not have opinions and not to speak out about political issues.
After the class, Etehad said she was surprised how honest Hardison was.
"She was really candid and I really liked that," Etehad said. "I follow more of the industry not so much the fashion, but the social cultural aspect of it."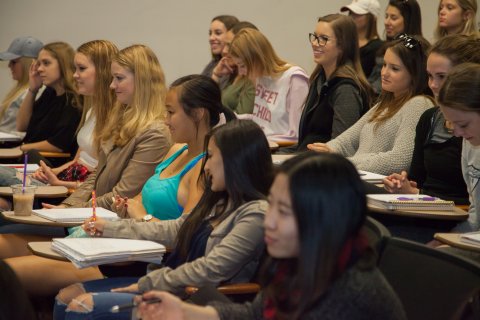 USC Annenberg / Brett Van Ort
To answer Etehad's question, Hardison said no one tells someone else not to have opinions. She gave examples of model Naomi Campbell and actress Jennifer Lawrence, who do speak up.
"I think anyone who has a real point of view, you can't shut them up. You can't shut Kanye up, you may want to," she said, as the comment drew laughter from the class.
Hardison also discussed how the modeling industry sees skin color in terms of "aesthetics." She said often times, people will hide behind the word. She gave the example of when it was summer and designers would want girls who had more tropical, brown or Latina looks whereas when it was winter, they went more Nordic.
"The word aesthetic could be a borderline word for racism, even though it's not your intention, you can fall to that extremes and leave out the other guy," Hardison said.
For Trope, she said she hoped her students got an appreciation of history. Hardison is a powerful woman and role model who has a passion for change and won't sit on the sidelines and let the status quo continue, she said.
"I hope my students were inspired by Bethann's voice and her tenacity — not to mention her wit and humor," Trope said in an email. "Unlike other industries like Hollywood where diversity is widely being discussed and researched among a range of figures, Bethann,and her coalition, have been at the frontlines of this discussion and this push. She is a force."
Hardison left parting advice to the students on how to enter the fashion industry. She suggested everyone buy a helmet and armor to wear underneath their clothing.
"Go for it and really do everything you can," Hardison said. "Don't come thinking you're Kanye tomorrow or Puffy, just remember you're nobody and you want to be somebody."