USC Annenberg alumni are among the world's preeminent and prodigious cross-disciplinary innovators. The profiles that follow share the stories of 20 such innovative alumni. This is the beginning of a conversation, and not the end. We invite you to share with us your nominations for other alumni innovators via social media @uscannenberg and #ASCJalumni.
Daring in Denim
Paige Adams-Geller (B.A., Communications '90)
Paige Adams-Geller has gone far from her Anchorage, Alaska roots. In 2004, she founded her namesake collection and became the only female founder in the premium denim industry. "We held a focus group recently and one of my favorite take aways from it was when one young woman claimed that when wearing a great fitting pair of jeans, she knew it was going to be a good night! I feel the same way," Adams-Geller said of denim's ability to empower. PAIGE is now evolving into a lifestyle brand, offering the line's signature comfort and tailoring from head to toe.
The Mobile Medium
Deanna Brown (B.A., Broadcast Journalism '86)
"You have to be willing to crush your business model before someone else does," said Deanna Brown, a 25-year media and technology veteran. Such focused commitment amid the inevitable sea change in the media landscape has landed Brown in boardrooms and top jobs, including Y!, Scripps, and Byliner. Her latest stint is as CEO in Residence at Samsung Global Innovation Center. While she's as mum as 007 on the specifics of her work, she said she worked on a "mobile application creation that marries 'data science and social science.'" When not poring through a dozen magazines (digital, of course), she can be found gardening — rooting herself in the physical world.
Masterminding a Frisbee Frenzy
Brian Calle (B.A., Communication '05)
Lei-Out was just a simple local Ultimate Frisbee tournament in 1999. More than 15 years later, it's the second largest Ultimate tournament in the world, with more than 275 teams and around 4,000 participants. "The best thing about Lei-Out is that, while it is one of the more competitive tournaments around, there is also an amazing sense of revelry and camaraderie," Calle said. "It's kind of like a giant theme-driven costume-clad celebration with some Ultimate on the side." Apart from instigating this massive event, Calle also oversees opinion content for the Orange County Register and Press-Enterprise in Riverside and San Bernardino counties, where he takes on a wide array of duties ranging from editorial direction to community engagement.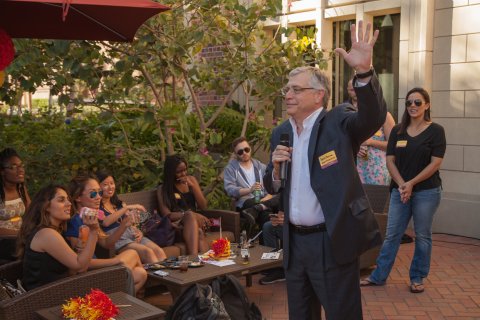 USC Annenberg / Brett Van Ort
Forging the Future of Computing
John Farina (M.A., Communication Management '75)
When John Farina attended USC Annenberg in 1974, he had access to one of the most powerful computers of the time, one of a dozen or so in the world connected via the arpanet — the predecessor of the Internet. "This environment created for me the most unique opportunity to experience the future of communications and especially communications technologies that have become the passion of my life," Farina said. His look into the future stoked his passion for forming companies that took technology a step further. He's built companies that brought digital imaging technology to the IBM PC and the Apple II, produced software and hardware for high-resolution graphics on monitors and projectors, and turned color copiers into networked color printers. He's gone on to launch his own venture capital fund, Glenbarr Partners, investing in companies like CardioVax, a biotech company that's working to develop a vaccine against cardiovascular disease. "[We] must become masters of these technologies and business practices — not just consumers of them," Farina said. "It is not enough to know how to use these technologies but how they work and how will they improve the efficiencies of businesses, global economies and of course — the lives of people in the world."
Lip Care Leader
Sara Happ (B.A., Broadcast Journalism '01)
Sara Happ is all about smoothing your smackers. Her first item for her eponymous beauty line is an exfoliating product for your kisser called the Lip Scrub. Since it launched it has become a cult product, addressing a gap in the market. "I repeatedly read beauty editors advise using a wet washcloth or baby toothbrush to exfoliate lips," Happ recalled. "I had scrubs for my face, my body, my hands, my feet. How was there nothing for my lips? So I went to my kitchen." Initially sold in five Los Angeles boutiques, the scrub is now found in more than 25 countries. Happ is looking to be the leader in lip care. "We're setting out to solve every lip problem we've heard about for the past 10 years," she said.
Climbing the Ivory Tower
Susan Herbst (Ph.D., Communication Theory and Research '89)
The University of Connecticut named Susan Herbst its 15th president in 2010, making her the first female appointed to that position in the institution's nearly 130-year history. A coup, considering only 14 percent of research university presidents are female. "I'm sorry that it's still something that's a novelty. But I think it's good to point it out, because maybe it will get more women interested in taking on leadership roles at universities," Herbst said to Annenberg Agenda in 2010. Before arriving at the University of Connecticut, she was responsible for educating 300,000 students attending 35 state schools as executive vice chancellor and chief academic officer for the University System of Georgia.
Evening the Playing Field
Michele Himmelberg (B.A., Journalism '79)
Time and again, Michele Himmelberg, then an NFL beat writer, found herself barred from postgame interviews held in the male players' locker rooms. Her work, which clearly depended on access to the players postgame, became the catalyst for a series of changes in NFL policy. "One of the worst parts of going through those early battles was the harsh, ugly criticism of my motives," Himmelberg recalled. "I was chastised by reporters, sports fans and people who accused me of being a voyeur, a pervert and a fame chaser." But out of that crucible came the Association for Women in Sports Media (AWSM), which Himmelberg cofounded in 1988. AWSM now has about 600 members working to equalize the gender gap in sports journalism.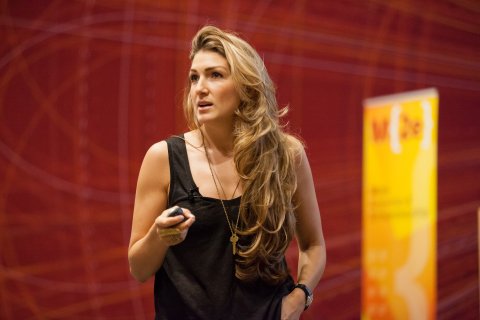 USC Annenberg / Brett Van Ort
Confidence Through Community
Alexis Jones (M.A., Communication Management '07)
With 150 local chapters and an online community of more than 250,000, I AM THAT GIRL is a place where girls can embrace who they are rather than adhere to Barbie standards. It's a daily struggle Jones can relate to — never mind that this Texas tomboy has already worked at ESPN, survived "Survivor," and done countless inspirational speeches. "I have moments when I'm concerned about what I'm wearing right before going on stage or if my speech is good enough or whether my dreams are possible," Jones said. But these thoughts aren't stopping her, and Jones is now speaking not just to girls, but to boys, about the importance of respecting women. "I realized I had built a global movement empowering girls, but that young men had been left behind," she said. "How could we can raise the bar for girls and not think we would have to make that commensurate for boys?"
Anatomy of Influence
Alan Kelly (B.A., Public Relations '81)
"It's the first periodic table of influence," Kelly said of his patented Playmaker system. Used by Fortune 100 companies such as HP, Intel, Abbott and the U.S. Department of Defense, Kelly's system brings structure to more intuitive disciplines such as PR, advertising, marketing and sales. "I get a kick out of being able to explain things in concrete terms that are inherently subjective," Kelly said. "It turns on the lights for so many people who are mystified by rhetoric, selling, spin, etc. and who want to crack the code of the plays they know are being run on them." Kelly taught his system at USC and George Washington University, and you can hear him break down politics during "Plays for the Presidency" on SiriusXM POTUS 124.
A Star Maker in Music
Martin Kierszenbaum (M.A., Communications Management '90)
It's not every day Kierszenbaum gets stopped at the France-Italy border with Eminem (for a photo with customs officials), but his work is always exciting. The founder and chairman of the Cherrytree Music Company, senior artists and repertoire executive for Interscope, and a Grammy-nominated songwriter-musician-producer in his own right, Kierszenbaum has worked with artists such as Sting, Lady Gaga and Ellie Goulding. When asked how he does it all, he said: "I wrote and played music in groups in Michigan as a teenager and also represented them to journalists, record labels and distributors. My approach is to be aware of the hat I'm wearing in each room and focus on my specific role at that moment." Kierszenbaum is now working with artists you'll soon hear on the radio, preparing to launch a new Ellie Goulding album, and producing and co-writing an album by French superstar Mylène Farmer.
Breaking the Brand Barrier
Kevin Kollenda (B.A., Broadcast Journalism '85)
If you're a brand trying to break new ground to reach your audience, you go to Two Hustlers, a collective of radical thinkers who experiment within the new media landscape to connect to a brand's audience through innovative, unexpected ways. With his partner Nicola Formichetti, Kevin Kollenda has been rocking the fashion, music and fine art industries. "We applied the same recipe we had learned in 'old media' and used it for this new media landscape," Kollenda said. "We partnered with emerging platforms and hit some giant metrics." For the likes of Uniqlo, Mac Cosmetics, and Barney's, the collective has conceived of campaigns that make use of Tumblr, SoundCloud, Twitter projection walls, and even 3D printing (of Lady Gaga's meat dress, no less).
Taking the Stink Out
Eric Kusin (B.A., Public Relations '04)
"Short of a Super Bowl commercial, it's hard to come up with a comparably impactful PR event," Kusin said of his company's appearance on "Shark Tank." But, he warns, what ended up on air was an hour's worth of material squeezed down to eight minutes. Son of Gary Kusin, co-founder of Babbages (now Gamestop) and former CEO of Kinko's, Kusin knows his way around business and so does his brother Ben. Together, they went on the popular reality TV show and introduced America to a new category of products that remove odors without using water. Kusin said that Reviver — his dry, on the-go solution to odors — has since popped up in more stores and business has doubled.
Upping the Ante in Educational TV
James Loper (Ph.D., Communication '66)
Growing up in Phoenix, a CBS radio affiliate's neon lights flashed into James Loper's bedroom. "I think it was a subliminal kind of thing that got ingrained in my psyche," Loper said in a video for Television Academy Foundation's Archive of American Television. Loper, who passed away in 2013, shaped educational television in Southern California with what he called his proudest achievement: starting and keeping KCET on air. "We not only had to sell a television station, but the whole concept of educational broadcasting. People weren't used to it," he stated in the same video. He went on to become the founding chairman of the board of the Public Broadcasting Service and served three terms as PBS chairman during its formative years, as well as serving as executive director of the Academy of Television Arts & Sciences for 16 years. In 2004, USC endowed the James L. Loper Lecture in Public Service Broadcasting, an annual address given by a major figure in noncommercial media.
The Human Drama of Sports
David Neal (B.A., Journalism '78)
"I'm in the family business," David Neal said. His father, Roy, was an NBC News correspondent and his mother worked for NASA's public affairs department. It's no wonder that in his storied career, he's produced some of the most watched media events on television — Olympic games, NBA finals, World Series games, and even Super Bowl pregame shows. Highlights include Michael Jordan's dramatic final game with the Chicago Bulls, the lavish opening ceremony of the Beijing Olympics in 2008, and the US winning the FIFA Women's World Cup. "Sports are the ultimate unscripted drama. It's live and DVR-proof," Neal said of sports' enduring appeal to him.
Media Tech Mentor
Derek Norton (B.A., Communication '87)
Every startup is going to need some capital and a lot of guidance, which is where Watertower Group comes in. A boutique advisory group, Watertower (referring to the structures found in every studio lot, which in their early days represented sustainability) aims to stand sentry over fledgling media technology companies, ensuring they won't falter in the fast-paced world of business. "I love being a part of innovation," Derek Norton, managing partner at Watertower, said. After stints as an entrepreneur and venture capitalist himself, Norton now lends his wisdom to hot technology and digital media companies such as Riot Games, Envivio, Widevine and Machinima, guiding them through the rocky course of capital raising, mergers and acquisitions.
Getting Social with Celebrities
Steven Puri (B.A., Broadcast Journalism '88)
This former 20th Century Fox VP oversaw movies like "Die Hard 5," "The Wolverine," and "24," but now his days are filled with Pinyata, a new kind of social network. "It's an attempt to move from the old generation of social media that were about 'me,' and create a 'we' platform," Steven Puri said. Instead of one-way selfies posted by artists, Pinyata lets artists have a real conversation with their fans by placing artist and fan posts in one "story." Puri admits the transition from entertainment to tech wasn't easy. "We made a ton of mistakes along the way and had to learn every day how to keep course correcting to point north," he recalled. But it must be rewarding because on a Friday night, Puri is still at it, busy answering emails about his startup.
Beyond Clickbait
Callie Schweitzer (B.A., Print and Digital Journalism '11)
When Business Insider named Callie Schweitzer to its "30 Most Important Women Under 30 In Tech" list, they added, "She is literally the future of media." As editorial director of audience strategy for Time Inc., Schweitzer's work concerns all sides of the business, from editorial, sales and consumer marketing to technology, product and beyond. "In the course of a day I could meet with every brand from FORTUNE and InStyle to Essence and Cooking Light," she said. "In most of those meetings, I'm working with the teams on how to grow audience and revenue in brainstorms, design reviews, product meetings, editorial meetings and more."
Covering All Corners of the World
Adelaida Severson (B.A., Broadcast Journalism '87)
News happens even in the most far-flung of places and Adelaida Severson's company, Bushtex, is there to cover it. Whether it's in conflict-ridden Sarajevo or the flourish of the Olympic games, Severson's remote production and satellite transmission services can get viewers there. "That is what we are — techs in the bush that can make anything happen for those who have no communication, or want to get in to a remote area and find something," Severson said of the company name. Co-founded with her husband of 24 years, Bushtex even works with the federal government on hush-hush projects and missions. "[There are] so many projects going on," Severson said. "Many are such that if I tell you, I'd have to kill you."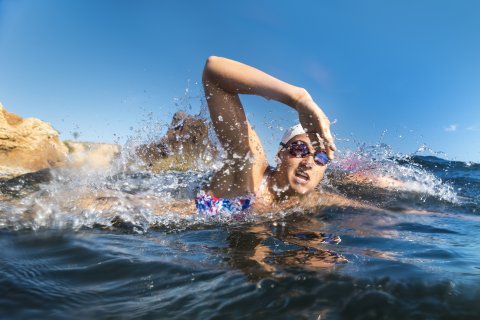 Photo Courtesy of Shaun Sexton/Sexton Gallery
Mind Over Matter
Rebecca Soni (B.A., Communication '09)
U.S. Olympic gold medalist Rebecca Soni believes that the mind always overcomes matter. "I noticed that a lot of my strengths weren't in the physical capacity, my competitors often were stronger at kicking, arm strokes, starts and turns within the race," Soni said "Mental strength is what keeps you going during tough practices, pre-competition, and that crucial point behind the blocks." A former world record-holder in 100-meter and 200-meter breaststroke, the New Jersey native now resides in Redondo Beach, hard at work building her business, RISE Mentors, which offers mental training in the athletic world.
Informing a Democracy
Karin Winner (B.A., Journalism '67)
Karin Winner was destined to be in the news. "I grew up hearing about newspapers from my grandmother whose father co-founded the Scripps-McRae Newspaper League," said the retired editor and VP of News for the San Diego Union-Tribune. Under her watch, the paper won a Pulitzer for a year-long investigation into the Randy "Duke" Cunningham story, which led to the largest bribery scandal in Congressional history. Knowing the power of investigative journalism, Winner is president of inewsource, which produces investigative, data-driven journalism for Southern California and distributes work collaboratively on the web, radio and TV. Why build this platform? Winner said "information empowers people and strengthens democracy."