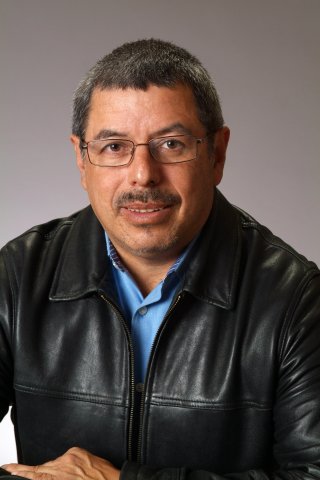 Photo Courtesy of Morad Boroomand
By Ruben Castaneda (B.A., Journalism '83)
By that Halloween, I had been addicted to crack for about a year.
I first tried the drug on another reporting assignment, when I was working for the Los Angeles Herald Examiner. It was mid-September 1988, and was a mile or so west of downtown looking for people to interview for an immigration story. A young woman, apparently in her twenties, caught my eye. We struck up a conversation—her name was Raven—and she offered me my first hit. I was 27, old enough to know better, young enough to feel invincible.
Raven and crack became part of my routine for the next 11 months. I'd usually see her on Saturday afternoons, after playing pickup hoops in the morning. Now and then, if I was flush after scoring some holiday pay, I'd see her twice a week. The truth is, by the time I took my first hit, my alcoholism was already taking me to scary places. I was reckless, compulsive, and I made bad choices. My career wasn't going any better. After more than six years at the Herald Examiner, I wanted to move on but had nowhere to go.
In early August 1989, a Post job fell from the sky. A few months earlier, in the spring, I had run into the paper's West Coast bureau chief, Jay Mathews, while we were both on assignment at a community center in Boyle Heights, a hardscrabble section of East L.A. I saw Mathews struggling to interview a Latina woman and volunteered to translate. Before I could ask, he offered to write a letter of recommendation for me. Now, with the D.C.'s homicide rate spiraling upward thanks to neighborhood crack wars, the paper needed to hire a night police reporter ASAP.
In anticipation of a drug test, I abstained from crack for a long, miserable week. I flew to D.C. on a Monday, went through a gauntlet of interviews on Tuesday, flew back to L.A. on Wednesday and was offered the job on Thursday. It turned out the paper didn't screen for drug use. I accepted without bothering to negotiate. I didn't feel the need—the first offer represented a 33 percent pay bump. I was moving up from the minors.
Leaving Los Angeles felt like a getaway. For me, L.A. was the city of doomed romance, excessive drinking and risky crack use. D.C. beckoned like a new lover. I would be working in the same newsroom as Bob fucking Woodward, racing to crime scenes in the most murderous city in the country.
On top of that, the previous month, a nationwide ABC News–Washington Post poll had shown that 44 percent of Americans considered illegal drugs the nation's most serious problem. In a televised Oval Office speech, President George H.W. Bush had just declared a federal War on Drugs (while displaying a large bag of crack)—and I was going to be a war correspondent. Dozens of D.C. neighborhoods were being wracked by violence fueled by crack turf wars.
As I drove cross-country to my new life, I vowed to end my drug habit.
Excerpt courtesy Bloomsbury USA.