Menus are ostensibly utilitarian objects, enabling patrons to figure out what dishes are available at a restaurant. But in his latest book, "To Live and Dine in L.A.: Menus and the Making of a Modern City" author, curator and USC Annenberg professor Josh Kun argues, it is so much more.
"I knew going in that I didn't want to write a book that was just about menus as food texts. I knew right away that I wanted to write about menus as urban texts," Kun said. "What do menus tell us about the city? What do menus tell us about culture, race, and gender, and class, and identity?"
For more than a year, Kun and a group of undergraduate and graduate students from USC combed through the Los Angeles Public Library's 9,000-piece menu collection, weaving together the threads of culinary history in the city — how, where, and what people ate in Los Angeles and what that says about living in the city for the past century.
Published by Angel City Press, "To Live and Dine in L.A." showcases more than 200 Los Angeles restaurant menus from 1875 through the 1980s. Along with these images are thoughtful texts that help readers move beyond the visual quality of these artifacts.
In the book's foreword, popular restaurateur and burgeoning food activist Roy Choi speaks about Los Angeles as a city always "in the moment" and the reasons he personally writes "weird-ass menus"; Pulitzer Prize-winning food critic Jonathan Gold examines food as a kind of theater; Guelaguetza's Bricia Lopez muses on Koreatown and Oaxacatown relations; and Los Angeles County Museum of Art curator Staci Steinberger reviews Los Angeles menus as design objects.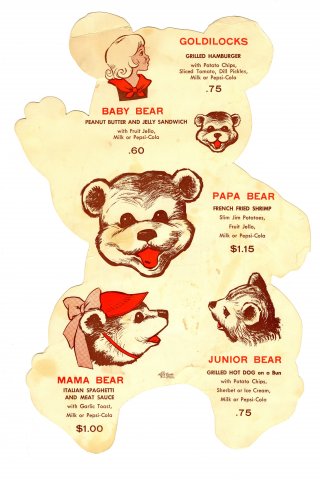 Courtesy of the Los Angeles Public Library Special Collections
As a tasty dessert, Kun turned eight old menus over to eight contemporary chefs — like
Nancy Silverton
,
Micah Wexler
, and
Susan Feniger
— and asked them to put a 21st century spin on vintage menus.
Their commentaries reveal what they would change about the fare and the presentation of these artifacts given today's culinary landscape. A bulk of which comes from Kun's thoughtful writing.
Kun teaches readers to look beyond the utilitarian aspects of the menu, to reveal the story of a city in progress. Among the author's discoveries is the cyclical nature of dining.
"What we now think of as contemporary food trends like farm to table dining, provenance on menus, and health food eating, go back as early as the 1900s," Kun said.
Kun also reveals the socioeconomic portraits painted by these menus. The earliest menus in the library's collection were from the upscale dining spots, which raised the question, 'Where did everybody else eat?'
"Going out to eat in a restaurant in the 19th century, no one did it. It was a tremendous economic privilege. You had to be well off to eat out at a restaurant," Kun said, "In contemporary food culture, it's still very much an issue when all the hottest restaurants and all the places everybody wants to eat are very, very expensive. There are huge populations in this city, that not only cannot afford to eat at expensive restaurants, but can't afford to eat at the most inexpensive restaurants."
This isn't the first time the Kun has tied in culture in a larger context from the visceral. The professor is largely known for his musical dissertations. His last project, "Songs in the Key of Los Angeles" also brought to life a Los Angeles Public Library collection: Southern California Sheet Music from the 1840s through the 1950s.
"Food and music function culturally in very similar ways," Kun said. "On the one hand, both food and music can be things that tell us who we are, that can restore a connection to our identity, our tradition, our cultural, our past, our family, our memory, to our neighborhoods. At the same time, a song or dish can help us cross out of who we are and think across the boundaries of culture and history."
"Just because I grew up eating this dish, doesn't mean that I'm not going to fall in love with that dish," he continued. "When I fall in love with that dish, maybe it opens me up to a whole other cultural view."
"To Live and Dine in L.A." will be available for purchase this month. An exhibition and public programming at the Central Library will also accompany it starting June 13.
"It's an exhibition that goes off in its own direction," Kun said.
The exhibition will feature more than 50 menus from the library's collection including rare, first editions and menu printing materials donated by The Lord Menu Company, which designed, printed, and delivered menus daily to landmark Los Angeles restaurants like Bob's Big Boy, The Brown Derby, and Perino's.
A suite of public programming including cooking demonstrations, nutrition workshops and conversations on history will also be presented across the library's 73 locations.