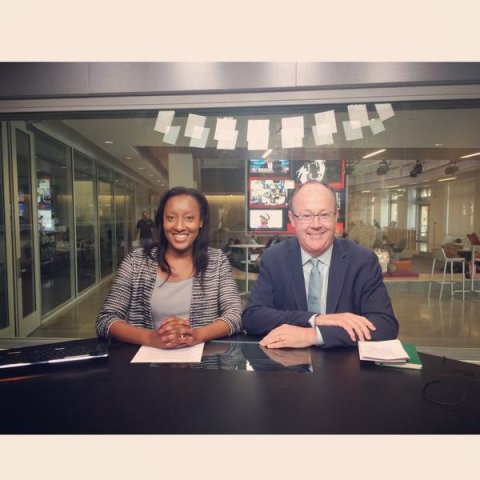 Twitter / Miracle McClain
What do I need to do to become successful? How do I develop my career?
These are questions that all students have thought about at one point or another. And in April, students received advice from USC Annenberg alum Bill Chandler, senior vice president of global corporate communication at Gap Inc.
Chandler graduated in 1986 and went on to become press secretary for Mayor Tom Bradley, state director and communication director for Senator Dianne Feinstein and vice president of corporate communication of Charles Schwab before starting his career at Gap Inc. Chandler has been with Gap for 10 years and in that time, has watched his job mirror the changes in the communication field over time.
"I am living proof that as communicators you can have a really interesting, dynamic, amazing career," Chandler said. "There's not a straight line in a career. It's one opportunity that's presented to you, it's an experience, you're tested things, you're learning and it leads to other things."
Chandler's advice to the students focused on the difference between what you want to do and what you think you should do, and how to choose the path that's right for you.
"As you embark upon this phase of your career, I think this is about finding a spot that feels right for you," Chandler said. "Sometimes you become enamored with something because you think 'That's what I want on my resume,' but if the environment's not right for you, if it doesn't have whatever will help you thrive, that's where it can be harder."
One of the projects that Chandler has led recently is a values-based microsite called Let's Do More, which aims to align Gap's corporate values with pressing social issues. Gap has been a leader in raising minimum wage, providing equal pay for men and women and giving back to the community.
Chandler's talk was part of USC Annenberg's "Insider Insights" event series, which provides a unique experience for students to get a high-level look at a particular company through the eyes of alumni who are leading across media communications, digital, journalism, marketing, PR and advertising.
"These sessions provide an opportunity to honor our alumni in a really meaningful way, by having them share their career path and help students understand how their field of study maps to various arenas," Miracle McClain, USC Annenberg corporate liaison, said.
In addition to his visit, Chandler recently created the first USC Annenberg-only Gap summer internship program, with positions available in San Francisco and Shanghai, China.
Sarell Diamond, a USC Annenberg senior majoring in Communications, is interning for Gap in San Francisco this summer. She said she was drawn to GAP because "it's so deep rooted in the American apparel market and brings a sense of nostalgia."
"When I was growing up, Old Navy and GAP were THE back-to-school stores, they were brands that really were present in my household and brands my family could rely on for all of our shopping," she said.
Diamond is working in the communications division of GAP's Global Supply Chain & Product Operations team.
"My team's main job is to better strengthen the emotional connections associated with Gap Inc. products and the individuals that come in contact with these products throughout the supply chain," Diamond said.
Diamond also had some advice for USC Annenberg students looking for summer internships.
"Don't be afraid to move locations. Sometimes an entirely different city offers a new perspective and fresh knowledge into your future career path," Diamond said, adding that there are probably other Trojans already there.
Additional reporting by Samatha Chow.