Award-winning author, journalist and social critic Afua Hirsch has been appointed the Wallis Annenberg Chair in Journalism and Communication. One of Britain's most vibrant voices on international affairs, the politics of identity and issues related to social justice, Hirsch will share her multi-platform media expertise with USC Annenberg students in both Los Angeles and London.
A writer and broadcaster for two leading British media outlets — the Guardian and Sky News — Hirsch has also worked in international development in West Africa and as a human rights attorney in the UK. Her bestselling book, Brit(ish): On Race, Identity and Belonging (Penguin, 2018), offers a groundbreaking analysis of the contemporary crisis in British national identity in the aftermath of the end of the British Empire.
"As the Wallis Annenberg Chair, Afua will advance our commitment to diverse voices in the news industry and our reputation as a leader in global media analysis," said Willow Bay, dean of the USC Annenberg School for Communication and Journalism. "Afua is playing a significant role in transforming the future of journalism; we are thrilled that she will be sharing her vision and expertise with our students and faculty."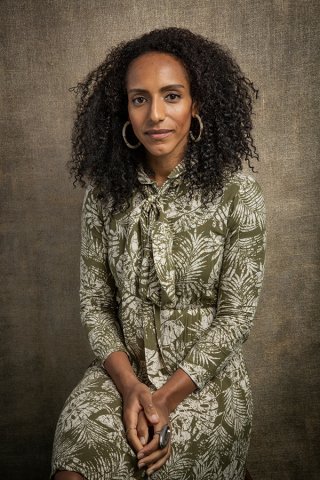 Photo courtesy: Afua Hirsch
Gordon Stables, director of the School of Journalism, said USC Annenberg is always seeking to attract and engage some of the most compelling journalists in the world.
"Afua Hirsch is a unique journalist who has demonstrated a remarkable ability to work across a range of mediums," Stables said. "She is doing absolutely compelling work on how news organizations should be covering broader questions of diversity, representation and inclusion."
Hirsch will continue to be based in London, where she will lead workshops with students interested in developing relevant and dynamic stories. These intensive sessions will focus on helping students learn from Hirsch's broadcast, print and digital experience.
In Spring 2019, she will serve as the faculty editor for USC Annenberg's London journalism program. This pop-up bureau will allow USC students studying in London to research and report on the dynamic social experience in the UK as the country approaches its Brexit deadline. Hirsch will also host a podcast series, touching on significant topics facing journalists and society today.
Hirsch said she believes that for the media industry to thrive in a new, digital era it's imperative that journalists, as individuals, understand, report and analyze events in a proper context.
"I believe passionately in the power of journalism to impact social justice and political change at the local, national and international levels," Hirsch said. "I am genuinely excited about the opportunity to share my passion for relentlessly rigorous, curious and impactful journalism with students, and welcome the opportunity to combine this with my continuing work as a writer and broadcaster."
She will also teach in Los Angeles as an instructor in the graduate summer immersion program, USC Annenberg's introductory class for new journalism master's students.
Hirsch took an unconventional path into journalism, at least at the beginning. As a self-described "young black girl struggling with my identity in Britain in the '90s," she began working for The Voice, Britain's oldest black national newspaper, at the age of just 14. She was soon writing and editing a section of the paper titled "Young Voices," in which she reported on issues affecting young black people in London, including drugs, teenage pregnancy and the music scene.
She went on to study at Oxford University, receiving a bachelor of arts in philosophy, politics and economics, and worked in international development with the Open Society Initiative for West Africa. Earning a law degree from The City Law School, she became a barrister, defending criminal cases. She also advised on international criminal trials in Sierra Leone and The Hague.
She returned to journalism in 2008 — while still a practicing barrister — reporting on the counterterrorism and security measures of the late 2000s. Her work emphasized how the ensuing government legislation and policies infringed upon civil liberties — particularly those of minority groups — across developed democracies. This specialist reporting for the Guardian helped demonstrate how in-depth legal knowledge could be mainstreamed in news coverage.
In 2011, she was appointed West Africa correspondent for the Guardian — the first in the newspaper's 200-year history — single-handedly establishing and running a new bureau in Accra, Ghana. Her high-profile coverage included the 2012 war in Mali, the 2013 terrorist siege at the Westgate Mall in Kenya and the ongoing security crisis triggered by Boko Haram in Nigeria.
Hirsch moved to Sky News, the UK's first ever 24-hour news channel, in 2014. There she has led reports on poorly understood topics such as the alleged "radicalization" of some British Muslims, the complex issues around children seeking transgender treatment, and the deplorable housing conditions for immigrant populations. Hirsch has also been a regular presenter on Sky News' The Pledge, its flagship current affairs debate show, since 2016.
In addition to her broadcast duties with Sky News, she also pens a column in the Guardian, contributes regularly to podcasts, collaborates with platforms for people of color such as Gal Dem and Media Diversified, and has made documentaries on British history for both radio and television.
"I am thrilled to join USC Annenberg because of its world-class faculty and facilities, its emphasis on equipping a future generation of journalists with the skills to thrive in a digital and globalized media, and its emphasis on social questions of race, class, gender and identity — all of which have been fundamental to my work," Hirsch said.
Hirsch lives in London with her partner and their daughter.
---
The USC Annenberg School of Journalism Wallis Annenberg Endowed Chair is a termed chair position held by a transformational interdisciplinary professional or scholar, a thought leader, innovator and proven collaborator who can foster deep and meaningful connections between USC Annenberg, the wider academic community and private industry. The school hopes the holder of the Wallis Annenberg Endowed Chair will play a significant role in shaping the future of journalism and communication.