Two Miami Herald reporters, who examined six years worth of child deaths in the state of Florida, were honored with the 2015 Selden Ring Award for Investigative Reporting for a project that married the rigors of investigative reporting and the grace of narrative storytelling on April 10. About 60 audience members were in attendance in Wallis Annenberg Hall as reporters Carol Marbin Miller and Audra D.S. Burch discussed their experiences writing "Innocents Lost" — a chronicle of 477 deaths of children whose families had been known by Florida child welfare authorities. The project drew on records from the state Department of Children and Families, other state agencies and law enforcement — as well as interviews with police, prosecutors, teachers, doctors, relatives, family friends, child welfare administrators, children's advocates, social workers, judges and others. The Herald filed three lawsuits, two of them successful, in their pursuit of the records.
The $35,000 annual Selden Ring Award, which has been presented for the past 26 years by the School of Journalism at USC Annenberg, honors the year's outstanding work in investigative journalism that led to direct results.
USC Annenberg / Benjamin Dunn.
"The series promoted sweeping reforms that bolstered child protections," Willow Bay, director of the School of Journalism School at USC Annenberg, said. "Well, without question your work gained the attention of the state's lawmakers and led to the most significant overhaul of the child welfare laws in the state's history, including a revised policy that explicitly put the welfare of children first along with two criminal indictments…"
Besides profiles on every child, the "Innocents Lost" project includes a searchable database of the children — now 534 of them — who have died of abuse or neglect since Jan. 1, 2008.
The 2015 Selden Ring panel included: Dean Baquet, executive editor of The New York Times; Marc Duvoisin, managing editor of the Los Angeles Times; Robin Fields, managing editor of ProPublica; Brant Houston, professor and Knight Chair of Investigative Reporting at the University of Illinois Urbana-Champaign's College of Media; Mark Katches, editor of The Oregonian and vice president of Oregonian Media Group; Kevin Merida, managing editor of The Washington Post; and Megan Twohey, a reporter at Reuters.
"The great thing about the Selden Ring Awards is that there's a reminder there is great investigative reporting all over the country," Baquet said in a pre-recorded video played at the event. "The best, most fun investigative reporting is local and regional investigative reporting, which this prize always reminds me of how much good stuff there is."
Early on in the project, both reporters said they wanted to do something different by telling the stories of each child's abbreviated life.
"The idea, again and again and again, was we wanted to create these layered portraits and we wanted to make sure every single one of these children, whether it was a very small, profound, or a very large one [case], that we had, in some way, marked their lives," Burch said.
In order to do that, they crisscrossed the state to try to find and talk to as many families as they could.
"That required us to visit cemeteries, visit prisons, required us to pore through autopsies and medical examiner's reports and also made sure to get pictures of each of these children because we knew that pictures resonate with readers," Burch said.
She and Marbin Miller included the tiniest details about the children, such as what type of pajamas one child liked to sleep in or how another child wanted to be a princess when she grew up. Both reporters also talked about the variety of challenges they faced during the series. A daunting test was speaking to relatives, who in some cases, could be asked to indict their very own family members by telling the story about a daughter, son, brother or sister who had allowed a child die to abuse or neglect, Burch said.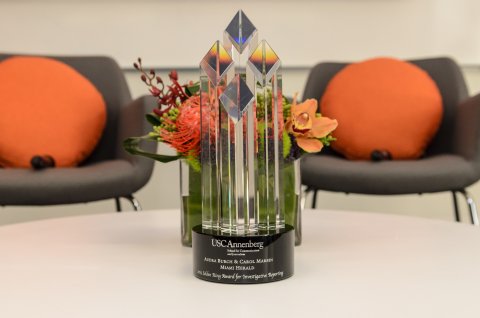 © USC Annenberg, Photo Credit: Benjamin Dunn
During the event, three USC Annenberg student journalists were able to ask the Miami Herald reporters questions.
Will Federman
, editor-in-chief of
Neon Tommy
, asked how Burch and Marbin Miller prevented the devastating material from consuming them.
Burch said she and Marbin Miller handled the range of emotions associated with telling the story of the children differently. "One thing [Carol] would tell me over and over is stay in the moment. There were moments I was terribly overwhelmed, she will tell you I would sit at my desk and sob and sob and sob," Burch said. "In all that emotion I knew we had to tell this story and if we don't tell it, it won't get told."
Toward the end of the speech, Burch and Marbin Miller doled out advice to the USC Annenberg students after
Max Schwartz
, who works at
USC Annenberg Radio News
and is also the civic center bureau chief for
Annenberg Media Center
, asked how worried they were about getting all the details right and being 100 percent accurate about the descriptions of each case during the project. With regards to fact checking and the consciousness of reporting, Marbin Miller said she had never worked with anyone like Burch who pored over the facts and accuracy like she did in the project.
"For the students in the room, you have to do that when you think your story is done and you're madly in love with it and every turn of phrase just makes you tingle, go back and do it all over again," Marbin Miller said.
The Miami Herald's project had an immediate, sweeping effect. Within three months of its launch, Florida lawmakers unanimously passed legislation that affected almost every facet of child protection policy. The law also assigned almost $50 million in additional funds for child protection, and Gov. Rick Scott has proposed allocating another $80 million next year. USC Annenberg students who attended the event said they learned a lot from the two Miami Herald reporters.
Tanya Mardirossian, a USC Annenberg junior majoring in print and digital journalism, said she's interested in going into the entertainment field as a journalist, where there are often investigative stories to cover.
"It's always useful to hear other peoples' stories just because as a student … I think you can learn from other peoples' tactics and strategies and their tips are welcome," Mardirossian said.
The Selden Ring Award for Investigative Reporting was established in 1989 by the late Selden Ring, a Southern California business leader and philanthropist. He established the award to honor journalists whose investigative reporting informed the public about major problems or corruption in society and yielded concrete results. The award continues in his name thanks to the generous support of the Ring Foundation.
---
The Selden Ring Award for Investigative Reporting: A Look Back
For the past 25 years, USC Annenberg has honored remarkable work in investigative journalism with the Selden Ring Award for Investigative Reporting. A $35,000 prize is presented annually to reporters whose work effected change. In anticipation of the 2015 winner announcement, we took a look back at the stories that have all shared the prestigious distinction.
---
The Miami Herald's "Innocents Lost" Project Wins USC Annenberg's 2015 Selden Ring Award
Miami Herald reporters Carol Marbin Miller and Audra D.S. Burch won USC Annenberg's 2015 Selden Ring Award for Investigative Reporting for their examination of six years of child deaths in Florida – a project that immediately resulted in the most sweeping overhaul of child welfare laws in the state's history.
The Miami Herald had covered the abuse and neglect deaths of children closely for many years. But following two horrific cases almost exactly a year apart – the 2011 death of Nubia Barahona, who had been tortured and beaten to death by her adoptive parents, and the 2012 death of Jeshiah DeJesus, whose father stabbed him to death amid a hostage-taking, murderous rampage – the Herald decided to take a comprehensive look at whether state policies and spending decisions were linked to what appeared to be an excessively high number of tragic – and possibly preventable – deaths.
---