Continuing to push journalism education and practice forward in a dynamic era, USC Annenberg will offer a new nine-month Journalism M.S., beginning with the 2014-2015 academic year. The program concludes with optional summer media internships and international opportunities for work and study.
The new master's degree, which will replace the two-year master's degree, coincides with the Fall 2014 scheduled opening of the technologically transformative Wallis Annenberg Hall. The 88,000- square-foot building in the heart of the USC campus will feature professional-quality video, radio and vodcast studios and a digitally converged newsroom for the school's award winning, student-run online, broadcast television, documentary and radio news outlets.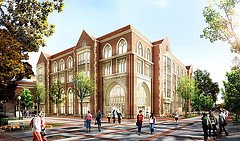 "This is a new program in a new building for a new era in journalism," USC Annenberg Dean Ernest J. Wilson III said. "This is what I call our 'Annenberg Advantage' in action. The nine-month M.S. degree prepares students for careers in the media industry by connecting them with a diverse group of award-winning professors, producers and editors in a newsroom that we anticipate will be the envy of established journalists around the globe."
The parallel opening of Wallis Annenberg Hall and the launch of a new nine-month M.S. program are designed to complement each other. The converged newsroom will tear down the silos that separate broadcast, print and online journalism. The nucleus of the operation is a 360-degree assignment desk that will run the day-to-day work of USC Annenberg's student news organizations. Student journalists will seamlessly share audio and video on multiple platforms, and studios in the newsroom will be multipurpose. (See a fly-through video of the new building here.)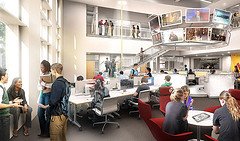 "We have an absolutely up-to-the-minute, state-of-the-art, integrated newsroom in the new Wallis Annenberg Hall," School of Journalism Director Michael Parks said. "It would be a crime not to take full advantage of its wide range of resources."
Students who enroll in the Journalism M.S. program will learn how to report, write and produce journalism across the platforms of text, video, audio and digital media – both spot news and long-form. Students may then choose to add an emphasis in one of those areas to enhance an expertise.
"We recognize that journalists in virtually every news organization are going to work on a variety of platforms on a daily basis and need the skills to do so," said Parks, a Pulitzer Prize-winning journalist and former editor of the Los Angeles Times. "We also recognize that consumers of news and information value the same reliability, the same authenticity and the same devotion to accuracy and truthfulness that they enjoyed in the days when they only watched one source of broadcast news or read one newspaper."
The Journalism M.S. program will include:
A three-week digital news immersion class. Students will be introduced – or re-introduced, depending on their experiences and expertise – to the basics of newswriting, news judgment and technology skills. A Fall semester in-depth immersion class, which includes an opportunity to work in Wallis Annenberg Hall's Converged Media Center, where students will produce professional stories and packages.
Required courses in the news business, quantitative analysis (data), mass communication law and journalism ethics.
Under the banner of the Journalism M.S., following their graduation from the nine-month program, students may choose to add an eight-week summer internship or practicum – coordinated by USC Annenberg – at a variety of leading news organizations. Or, students can intern during an international study abroad program in Cape Town, Shanghai, Hong Kong or London.

"We're serving students well by pressing them to learn more and learn faster," said Parks. "We're also providing a professional news environment, which is the most important element in getting a student acclimated in journalism."
USC Annenberg student journalists already compete daily with professional news outlets for scoops and stories far beyond campus. Student journalists from the school are regularly nominated for and win awards in competition with professional news outlets.
"We're intensifying the instructional program so the journalism students can quickly learn and then put their knowledge into practice," Dean Wilson said. "We want our students to get right to work, and we think our graduates will want to get right to work as well. The internship options in Los Angeles and across the globe reflect our school's commitment to community engagement, diversity, innovation and doing journalism in the public interest."
USC Annenberg's current two-year M.A. in Journalism program will be phased out with the launch of the new degree. For mid-career professionals looking to hone specific expertise, the school also will continue to offer a nine-month M.A. in Specialized Journalism, with a focus on sports, entertainment and popular culture, social sciences or natural sciences; and an M.A. in Specialized Journalism (The Arts).
USC Annenberg's master's students have interned locally at organizations including the Los Angeles Times, CNN Los Angeles, FOX News, KCRW 89.9 and 89.3 KPCC Southern California Public Radio, E! Entertainment and The Associated Press. Global internships have taken students to the Cape Times, Rolling Stone South Africa, CNN International and South China Morning Post, among many others.
"People want their news where they want it, when they want it and the way they want it, and deserve to get that news and information with all the values that American journalism provides," Parks said. "We're producing journalists who can deliver what the consumer wants in an ethical and comprehensive fashion."
To apply or for more information on the USC Annenberg Journalism M.S, please visit: http://annenberg.usc.edu/journalismms.