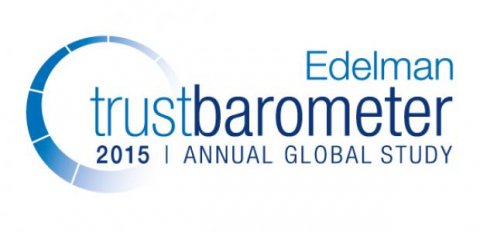 Multinational public relations firm Edelman, business and technological innovation has outpaced the public's trust — not overly surprising in a year marked by massive data breaches that reached as far as a major motion picture studio, global political unrest and the NFL getting caught turning a blind eye to major domestic violence issues on multiple occasions.
Edelman's U.S. President and CEO, Russell Dubner, revealed findings from the company's annual study, the Edelman Trust Barometer, findings to a nearly-full auditorium at Wallis Annenberg Hall on Feb. 25, discussing the current "age of skepticism" in which we live. Throughout the history of the Edelman Trust Barometer, innovation has been seen as a contributor to the advancement of society and is, therefore, inherently good.
The 2015 findings marked the first year in survey's history that trust in technology actually declined — though it was only from 79 to 75 percent. Still, 51 percent of people surveyed believed that innovation is moving too quickly.
"No one is buying that technology companies are in business to change the world for the better," Dubner said. "People have come to believe that they just want to make money and are solely about what they can commercialize."
Business and technology are far from the only culprits, though, as the study found that public trust has eroded in three of the four major institutions evaluated — government, business, non-government organizations (NGOs) and media.
"Trust numbers are down globally nearly across the board, which is of course, bad news," Dubner said. "Globally, only government saw any kind of an uptick, but even that is still at less than 50 percent."
Perhaps most interesting, though, was the increase in trust of media. While the data was collected before the fall of the once-revered host of the NBC Nightly News and subsequent questions surrounding another well-known Fox News journalist, Dubner attributed the increase to what he called "the democratization of media."
"This was the first year we found that online search had outstripped traditional media, as people are neutral at best on their trust of journalists," he said. "They want multiple sources for information."
But what sources do they deem trustworthy? According to 72 percent of respondents, friends and family. Academic experts made up the only other group more than 60 percent of respondents cited as trustworthy. Given the increased prevalence of interactions taking place online, it makes sense that a major part of this democratization of media comes from social. People log in and view their friends' posts when they look for information.
Others type it into Google.
In any event, though, online search is seen as an increasingly viable source for information about business. In fact, it has become the method of choice for people looking to confirm news, cited by 37 percent of respondents. Television came in a distant second at 20 percent, and newspapers were last at 18 percent. While the concept of the traditional media going by the wayside is hardly groundbreaking to those in the field, the 2015 Edelman Trust Barometer put a distinctly different context around it by highlighting the public's distrust of established institutions. The onus now falls on business and media to find ways to reestablish trust with their consumers. The credibility of the entire media profession depends on it.