The athletes weren't the only people working hard and setting records during the 2012 London Olympic Games. USC Annenberg lecturer Alan Abrahamson put in long hours in the British capital, as well as the months and years leading up to the games.
"The games were fantastic. I would call them the best ever," Abrahamson said during a recent interview.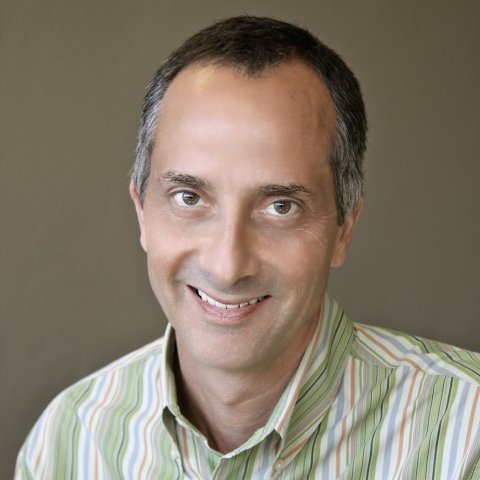 Abrahamson covered the London Games – his seventh winter or summer Olympics – for NBC as well as for his own site,
3 Wire Sports
. The latter drew more users during the games than it ever had before. Abrahamson, a best-selling author, previously covered the Olympics for the
Los Angeles Times
, for which he was a reporter for 17 years.
Asked about London's stars, Abrahamson saluted the showings of Jamaican sprinter Usain Bolt and American swimming legend Michael Phelps.
"The guy is track and field. Without him, the sport would basically be moribund, if not dead," Abrahamson said of Bolt. As for Phelps, the all-time Olympic medal-winner, Abrahamson was quick to share his praise. "He absolutely and unequivocally established himself as the greatest Olympian ever. I think anyone who wants to debate the question is just being silly."
Abrahamson also celebrated the exploits of runner and USC alumna Allyson Felix, who took home a trio of golds in "a performance every bit as impressive as Bolt," as the headline above one of Abrahamson's NBC online columns read.
But Felix wasn't the only Trojan to garner Abrahamson's attention. He came away impressed with the ability, courage and fortitude of Bryshon Nellum. A shooting victim four years ago, Nellum won a silver medal (1,600-meter relay) and his American teammates selected him to carry our nation's flag during the closing ceremonies.
Despite those outstanding feats, Abrahamson said that the singular performance was turned in by 800-meter gold-medalist David Rudisha. The Kenyan set a world record in the event that Seb Coe, the chairman of the London 2012 Organizing Committee, excelled in a generation ago. In his race, Rudisha defeated seven runners who each recorded personal-best times.
"It's the greatest 800-meters that has ever been run – anytime, anyplace," Abrahamson said. "And that is what the Olympics is all about."
Abrahamson noted that the pace of Olympics coverage has changed dramatically as a result of social media and multi-platform journalism. During the 2000 Sydney Games, he filed one article per day for the Times. A dozen years later, in London, Abrahamson wrote multiple daily columns for NBC online.
He also appeared regularly on television – for example, Abrahamson with host Matt Lauer and swimming analyst Rowdy Gaines.
Abrahamson also lived up to his pre-Olympics designation by Sports Illustrated as one of the 50 "Twitter feeds you need to follow during the London Olympics."
Abrahamson reported with the alacrity of a sprinter, the duration of a marathoner and the diversity of a decathlete. His tweets touched on subjects ranging from Pete Townsend to doping to the heroes' welcome Japanese athletes received when returning home to pre- and post-race observations and play-by-play. Follow him on Twitter at @alanabrahamson.
Much of Abrahamson's time was spent at Olympic Stadium, home of the opening and closing ceremonies, as well as the track and field events. "The track meet lasts for eight nights," Abrahamson said. "I was at the stadium every night until at least one o'clock in the morning and sometimes until three."
At USC Annenberg, Abrahamson is a lecturer in the Journalism School and a faculty associate with the USC Annenberg Institute of Sports, Media & Society."The emphasis on my class is not just on how to write sports," Abrahamson said. "It's about how to put yourself in the position to write sports."
The professor elaborated: "When you are a sportswriter, you don't have a secretary. No one is making your plane flights for you. No one is telling you how to get to the stadium on time. You have to do these things for yourself. So there is a huge emphasis in my class on what I call life skills."
Such wisdom and experience came in handy in London when it was a few hours before sunrise, there were deadlines still to meet and concession stands hadn't been open since who knows when. "If you don't know to bring a sandwich with you, then you're done." Abrahamson said.
As for other emerging and accelerating journalists, consider yourselves cautioned. The Sochi Winter Games are approximately 18 months away and the Rio Summer Games are 48. That's plenty of time to prepare a midnight snack.
Related:
Alan Abrahamson in conversation with Jacque Rogge, the head of the International Olympic Committee