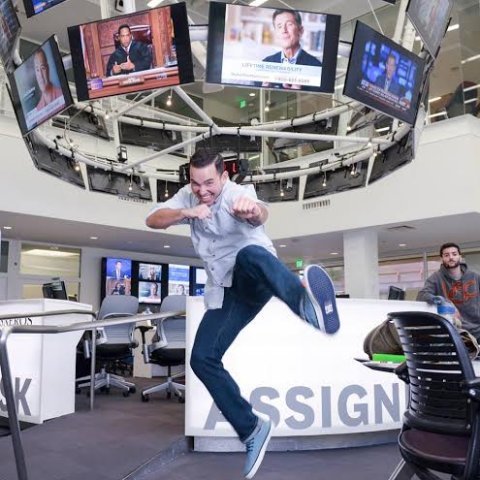 Despite being one of USC's newest student publications, Neon Tommy has established itself as one of the top student-run digital news sources in the country. The online magazine boasts an impressive list of alumni who now work at major media corporations like Time, Inc. and Yahoo! News. Alex Gold, a second year Master's of Strategic Public Relations student, is working from the inside out, helping the editorial staff at Neon Tommy create strategies for promoting stories through social media.
What is your title at Neon Tommy?
I am the social media director, which means that I lead a team that promotes stories across all social media platforms and is responsible for driving a large portion of our traffic to all the great content on Neon Tommy.
When you say "all" social media platforms, which ones do you mean?
We create high-quality native content across on Facebook, Twitter, Tumblr, Instagram, Pinterest and Google+.
Wait a minute … did you just say Google+?
I did. It's a medium that not only shouldn't be forgotten about, but it's incredibly important. Google pretty much owns the internet in the US and, therefore, a huge part of our web traffic and almost all SEO (search engine optimization) is tied to Google. An important aspect of its algorithm is Google+, so when you post a story, it factors heavily into its search value. If someone +1s that story, it has potential to be recommended to the rest of that person's network. Furthermore, Google+ recently released its business insights for pages. This enables us to monitor our actions on the platform in real time. This is big news within the tech community because it really opens the portal up as far as analytics goes. It all boils down to understanding your audience and your users' behavior. Google Analytics has a feature called user flow, which enables you to track where they come from, how much they navigate your site and when they leave. We've targeted our audiences through social, so the readership tends to stay longer and is more apt to read other stories we cater to them.
You've sold me on Google+, but how do you promote a story on Instagram or Pinterest?
Surprisingly, a large amount of our social traffic comes from Pinterest—almost as much as Twitter. Basically, we take the pics from the stories and pin them up as links back to the articles. Visual/social platforms like Pinterest and Instagram are baked into our thought process when we're selecting images for stories, and the team actively looks at which of these pics would do well on those media.
How do you manage updating all these platforms at once? From a process standpoint, we've developed a workflow in which social media is baked into the writing process. Once writers have crafted their stories, they are responsible for sending their drafts to editors with suggestions for promotion on Facebook and Twitter. Editors then review stories for accuracy, grammar, etc. and mark them ready for promo. From there, web producers publish and promote the stories on Facebook and Twitter. Then the social media team promotes every story on Google+ and Pinterest. When it comes to Tumblr and Instagram, I really encourage the team to be selective and curate the content when posting. Sometimes we get it right. Sometimes we don't, but I always try to encourage creativity among team members. Every week I put together a weekly roundup to recap what worked and what didn't. We've gamified the process to encourage friendly competition and continued education across our organization. As a leader, I prefer to motivate our team with a balance of positivity, encouragement and constructive criticism. In that sense, I'm much more of a cheerleader than a micromanager. I'm very hands-off and will only step in if there is a recurring problem with the functionality of our system.
Can you take me through a typical day (if such a thing exists)?
Every day is different, and there are always new fires to put out, but I'm always monitoring social media analytics. I go through each twitter handle to see what's generating traffic and what isn't. All Neon Tommy social media accounts are linked to my phone, so I get real-time notifications that let me respond and engage in two-way communication with our readership. At the end of the week, I put together my roundup email with "best three" and "worst three" social media content pieces. The goal is to get our staff thinking about individual posts and tweets as stand-alone bits of content and to strive to make them as high-quality as possible. In addition to it being informative, I try to give it a team-building element by using funny GIFs and memes. We also keep a tally of who is most frequently on the "best of" list with every monthly winner getting a prize. Other than that routine, though, my goal is to constantly make Neon Tommy a better experience—both for readers and for our team. To that end, I've started a continued education initiative, in which I've offered social media courses for our staff. Social media training is mandatory for all incoming writers, editors and web producers. With such a large staff—150 writers, 50 web producers, 20 editors and an executive editorial board—it's important that everyone is on the same page with respect to promoting our stories. Social media is incredibly nuanced—especially something like Facebook's ever-changing algorithm—so not only are we dealing with a fickle audience, our platforms constantly change as well. We write about news, which is always interesting and that helps, but it comes down to creating a marketing pitch for each individual story.
How would you describe the experience of working a PR position within a publication alongside journalists?
It's an incredible space to be in, and it's exciting to come to work every day. Annenberg is breeding the next generation of great minds in the media field—which includes both journalism and PR. We recognize the need to work together. Journalists recognize the need to market their own stories, and their PR colleagues can help them create the ownable hashtags and other elements necessary to get those stories out there to the people who want to read them. We're all wordsmiths who work really well together, so it's a union that works. Everyone at Annenberg is top quality, so it's never backtracking.