In 2017, longtime journalist Wendi C. Thomas set up a nonprofit digital newsroom in Memphis called MLK50: Justice Through Journalism, dedicated to reporting on economic justice. She began investigating what kept people in poverty in Memphis, America's second-poorest large city. This led to a series of stories that exposed the rapacious debt collection practices of the city's largest health care system. A nonprofit hospital chain affiliated with the United Methodist Church that was suing thousands of patients, including many of its own employees, for unpaid hospital bills.
"Most of the work I do starts with the question, 'Why is Memphis so poor, and who profits from that poverty?" Thomas said. "In this case, it was Methodist Le Bonheur Healthcare, a nonprofit, tax-exempt, faith-based hospital — and readers found that horrifying. This hospital was operating this machine that was sucking in poor patients and grinding them to bits."
That series, produced last year in partnership with ProPublica's Local Reporting Network and titled "Profiting from the Poor," has earned the 2020 Selden Ring Award for Investigative Reporting.
The annual Selden Ring Award, one of the foremost awards in investigative journalism, has been presented by the USC Annenberg School of Journalism for 31 years. The $50,000 prize honors work in investigative journalism that leads to direct results.
"There has never been a time when we needed hard-hitting investigative reporting to effect positive change more than in today's complex and turbulent world," USC Annenberg Dean Willow Bay said. "USC Annenberg is proud to have partnered with the Ring Foundation to once again present this prestigious award celebrating the very best in investigative journalism."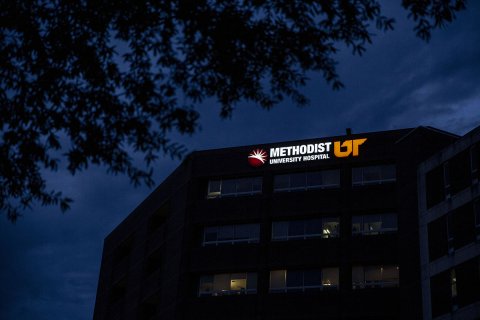 Photo by: Andrea Morales
Thomas, who spent more than two decades as a newspaper journalist, most recently as an assistant managing editor and columnist at the Memphis Commercial Appeal, says she founded MLK50 to honor the work that Martin Luther King, Jr. had embarked upon before his assassination in Memphis. "We wanted this to be the journalistic embodiment of his commitment to economic justice, centering the people Dr. King would have centered had he not been assassinated," Thomas said.
While Thomas is the only full-time employee of MLK50, she works with an "all-women-of-color leadership team" including a managing editor, a senior editor and a visuals director, the latter of whom shot the vast majority of the photos for the award-winning series. The stories were published both on MLK50 and ProPublica, and parts appeared in other online, print and/or broadcast outlets, including NPR and the Guardian.
To report the series, Thomas sat and took notes as patients the hospital was suing — including many of its own employees, some wearing scrubs with the hospital's name stitched on them — appeared in court. Some defendants eventually agreed to let Thomas into their homes and churches, so she could chronicle what their crushing medical debts had done to their lives. ProPublica reporters analyzed tens of thousands of digital court records to determine the scope of Methodist's use of the courts as a debt collection agency.
The impact of her work was immediate. Within days, Methodist suspended lawsuits against poor patients and launched a review of its collection practices.
"The biggest oh-my-God moment was when we calculated how much debt had been erased: at least $11.9 million in debt owed by more than 5,300 defendants," Thomas said. "In a city like Memphis, that's major. It eliminated not only those financial and emotional burdens, but countless people will never be sued, won't go hungry to pay Methodist, won't take out payday loans to pay Methodist."
Within weeks, Methodist beefed up its financial assistance policies and made more people eligible for free or discounted care. It also halted its practice of suing its own employees over healthcare debts and announced it would not file collection suits against any patients whose income is less than 250% of the federal poverty line, which includes more than half of the area's residents. Finally, the hospital announced it would boost the wages of its lowest-paid workers to at least $15 an hour by 2021.
"I'm so excited, grateful and overwhelmed to receive this honor," Thomas said. "I don't think any journalist does this kind of work for an award, but it does feel good to get one."
This year's judges reviewed 87 entries for the award. In addition to naming the winner, the judges also recognized the work of two finalists.
Chicago Tribune and ProPublica Illinois for "The Quiet Rooms," an exhaustive investigation that showed in graphic and heart-wrenching detail how schools across Illinois violate the law by putting thousands of children with emotional and behavioral disabilities into tiny locked rooms for behavior as trivial as refusing to do classwork and throwing Legos. Among the 50,000 pages of documents the reporters obtained were handwritten reports by school employees posted outside the isolation rooms. Those reports provide a disturbing view into the realities of these rooms as children, some as young as 5, were secluded, sometimes for hours — crying, screaming, wetting themselves, tearing at the padded walls. The project forced the state to issue an emergency order stopping timeouts behind locked doors and overhaul its policies for seclusion and restraint.
ProPublica for "The TurboTax Trap," which unearthed internal documents and other records that revealed how one of America's largest corporations used aggressive lobbying, misleading advertising and technological tricks to profit from millions of low-income people who were entitled to free tax preparation. The project forced the IRS to change its policies that were complicit with the industry, including a near 20-year-old prohibition against creating its own online filing system. It also sparked numerous investigations and lawsuits that ultimately forced Intuit to make changes in the way it does business.
"We would like to sincerely thank the Selden Ring 2020 judges' panel for their hard work," said Professor Gordon Stables, director of the School of Journalism. "This was a large and highly competitive field of 87 entries, including the year's very best investigative journalism; the judges had a very challenging task. The award seeks to recognize journalism that makes a substantial impact in their communities, and so many of these submissions can be directly traced to changing conditions at the local and national level. No matter how much journalism you consume, these award submissions reinforce that there is just so impactful journalism happening all across the country."
The Selden Ring Award has been part of USC Annenberg since 1989, when it was established by Southern California business leader and philanthropist Selden Ring. He wanted to honor journalists whose investigative work informed the public about major problems and corruption and yielded concrete results. The award continues, thanks to support from the Ring Foundation.
This year's judging panel included: Lead judge Brian Rosenthal of The New York Times; Geeta Anand, director of the Investigative Reporting Program and Acting Professor of Reporting at the UC Berkeley Graduate School of Journalism; Graciela Mochkofsky of the Craig Newmark Graduate School of Journalism at the City University of New York; Shani Hilton of the Los Angeles Times; Jessica Garrison of BuzzFeed News; Ron Nixon of the Associated Press; and Ginger Thompson of ProPublica.