Three USC Annenberg students were among the Trojans honored April 9 at the university's 38th annual Academic Honors Convocation. Held at Town and Gown on the University Park Campus, the event recognizes the outstanding scholarship and achievements of USC students, faculty, alumni and other members of the Trojan Family.
The USC Annenberg students honored were: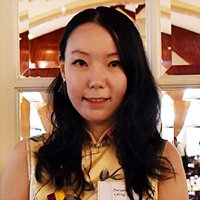 Xueyan Cheng, M.A., Global Communication
Phi Kappa Phi Student Recognition Award
Founded in 1897, Phi Kappa Phi is the oldest interdisciplinary honor society at USC. It recognizes scholarship and awards prizes annually to graduate and undergraduate students for creative and scholarly achievements.
A graduate of Tianjin University of Finance and Economics in China, Cheng is currently pursuing a dual master's degree in global media and communications at USC and the London School of Economics and Political Science. She currently serves as a film columnist for the China Film Art Research Center.
"I'm so excited about receiving this award," Cheng said. "The educational and cultural resources in USC and Annenberg make me feel just like living a dream. I want to send my special thanks to Manuel Castells, for his valuable advice and encouragement, and to my dear parents, for giving me the power and courage to move on."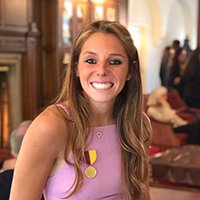 Alexandra Gershman, B.A., Communication
Emma Josephine Bradley Bovard Award
Awarded to the graduating students who have attained the highest scholarship average of all undergraduate women at the university.
A native of South Florida, Gershman interned at various media companies, including Fox Sports NBCUniversal, and worked on USC initiative to eliminate homelessness. She also is a member of the USC lacrosse team.
"I am beyond grateful to the caring and knowledgeable professors I have had the good fortune of learning from since arriving on campus," Gershman said. "I especially want to thank Professors Joe Saltzman and Karen North for their unwavering support and guidance over the years."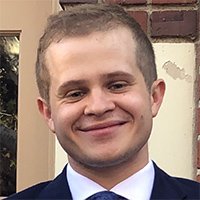 Joseph W. Teplicky Jr., B.A., Public Relations
USC Provost's Award
Awarded to the graduating students who have attained the highest scholarship average of all undergraduate transfer students at the university.
Teplicky grew up in Bellevue, Washington. He has spent the past 10 months interning in The Walt Disney Company's Enterprise Social Responsibility department, which has spurred his interest in communications surrounding corporate social responsibility.
"This award is a culmination of the effort I have put into my academic work and the continued support I have felt from Annenberg faculty throughout my time at USC," Teplicky said. "I would like to thank my parents and the faculty at Annenberg for encouraging me to challenge myself and realize my full potential."