Jack McShane Brockman grew up in Richmond, Ky., where he immersed himself in nearly every type of sport from basketball to football to golf. As an undergraduate at Florida State University (FSU), he chose to translate his love of sports into writing weekly articles for The FSView & Florida Flambeau.
"I got really close and personal with the teams," he said. "Going to those games, I realized how awesome these players and their backstories are."
Now, as he pursues his graduate studies at USC Annenberg, Brockman is focusing on public relations and advertising. His mission is to create communities by bringing sports fandoms together.
"I want to be able to spread the level of camaraderie that sports instills as much as I can by building these brands and relationships with the public," he said.
Brockman admits that jumping from his native Kentucky to Tallahassee and now to Los Angeles has been quite a "culture shock." Where once he was surrounded by farms, four wheelers and fishing, now he is adjusting to traffic, city lights and being across the country from his extremely tight-knit family. Still, the PR Graduate Fellow said he has always felt more like a city person. As a freshly minted Angeleno, Brockman is ready to jump right in and learn from everybody.
As an FSU summa cum laude graduate, you clearly have a strong work ethic, where does it derive from?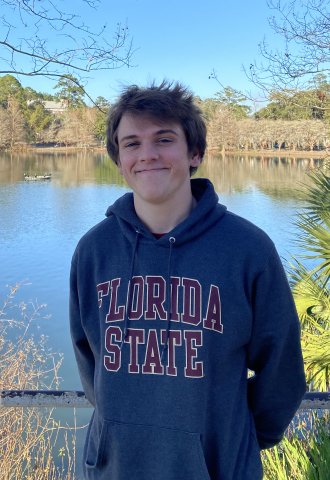 Photo courtesy of Jack McShane Brockman
I would say both of my parents. My mom is a stay-at-home mom, and she always gave her all with raising us. She has four boys actually, which is definitely a handful with all the sports that we did growing up. She'd have to go to baseball, soccer and basketball practices back-to-back; take us to school; cook us dinner; and do our laundry. Obviously, growing up, I realized how time consuming those things are. My dad, he's a salesman. That's not a nine-to-five job. That's a seven in the morning to seven at night type of job where you always have to be going, even working on weekends, meeting clients, driving hours upon hours just to show that he cares and is committed to the sale.
Can you share your journey of discovering your passion for public relations?
Initially at FSU, I wanted to be a lawyer. I got involved with a pre-law fraternity, Phi Alpha Delta, where I met my girlfriend. I realized that my commitment wasn't as strong to that line of work as I thought it was, and I started exploring different things that I wanted to do. I loved making these funny edits of Florida State Athletics on my own personal social media accounts. Then, I don't know exactly what it was, but I always kind of had a knack for writing. My girlfriend encouraged me to apply for the on-campus newspaper, so that's when I got the sportswriter position. I loved journalism. I was exploring more career paths in the field of communications and I came across public relations. I really like the variety of a career in public relations and dealing with all these sorts of clients and different issues. Kind of being a Swiss Army Knife for these clients. I applied for a position at a PR firm in Tallahassee, and just fell in love with it. That's what really encouraged me to apply for this master's program at USC Annenberg.
What are some of your career dreams in PR and advertising?
I'm interested in pursuing a sports scope for a career in PR. I'd like to eventually work in-house for any sort of team that'll have me. Professional brands that are already established and have their fan bases, I think it's very interesting and challenging to try to grow those brands, finding creative ways to build relationships with the public. In L.A., my favorite team is the Chargers. I know they're previously from San Diego, but I'm a big Chargers guy. I would love to be given the opportunity to work for a team like that. I'm also very interested in owning my own businesses one day, diversifying my own portfolio. One of the cool things would be to have my own PR firm way down the line.
Sports has clearly had a strong impact on you. How does that connect to your larger mission within public relations?
You know, sports and entertainment has been a really big part of my life and has brought me so much joy. Being part of certain fandoms, especially at FSU, I've had a real great community. Those are things I've been able to bond with my friends about. Although they're not necessarily as impactful as a career in politics or government, they do have a profound positive impact on people's lives. Politics nowadays can get pretty hairy. People not agreeing on things and starting to hate each other. One thing about sports and entertainment is that it's always something that people can express passion and love for one another. And I think that's pretty beautiful. These teams have wide-ranging fandoms of people from all different walks of life and they can all come together and love this one thing. It's cool to see that level of camaraderie. I wanna be able to spread that as much as I can.