@sweeteaedits and @sweeteaeditsig. For Jill Ofodu these handles on Instagram and TikTok respectively encapsulate her passion as a content creator and video editor that first began in the seventh grade. She curates popular movie and television scenes into 15- to 30-second video compilations paired with trending music, transitions and cool effects.
"I'm really drawn to the blend of art and fandom when it comes to making fan edits and being able to hone my creativity in a visual-auditory experience," Ofodu said. "It allows me to connect to a community of like-minded individuals who all appreciate storytelling through the lens of our favorite fictional worlds."
Recently, one of Ofodu's fan cam edits of Suki and Brian from Fast and the Furious reached over 2 million views on TikTok. Her Instagram posts have been recognized and reshared by the actors featured in her edits, including Xochitl Gomez, Joy Sunday and Talia Ryder. Even executives at Disney and Walden Media have amplified her work.
While at USC Annenberg, Ofodu will study communication and hopes to join the Annenberg Inclusion Initiative to investigate how marginalized communities are portrayed onscreen.
"I'm excited about being very close to the entertainment industry because I want to study communication and its effects on culture and entertainment," she said.
The youngest of three sisters, Ofodu is the last of her siblings to graduate from Dougherty Valley High School in the Bay Area and leave for college.
"My older sister Joy graduated from USC Annenberg in 2018 and she told me the difference between college and high school is no one's holding your hand to tell you what to do," Ofodu shared. "Obviously, there are people that guide you on the way, but you have a lot of accountability for your choices and goals."
Have you always been interested in communication and marketing?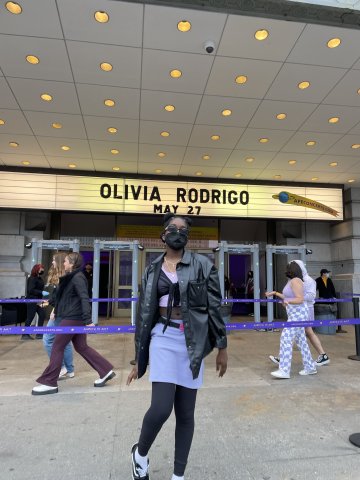 I've worked part-time for a company called JUV Consulting as a digital consultant for the past two years. Our goal is to bridge the gap between brands and Gen Z and help organizations develop better strategies for brand marketing. It's been really cool to have actual real-world experience during high school because I feel this job puts into perspective what marketing really is and it helped me solidify that I want to study it more.
In high school, I was the PR officer for our Black Student Union and additionally was able to be a part of an outside group called the African American Scholars Project. They are an organization that provides programming that addresses identity development, emotional wellness, college preparedness and a safe space to talk about our social and emotional well-being. They basically came to our school every other week and we had discussions about things going on in the Black community. We discussed topics like Black hair, perception in pop culture, cultural traditions, and shared our experience with microaggressions. I learned how communication can create bonds and heal. It was really interesting to know that I wasn't alone and other people understood me. It felt very productive to just talk and have a place where other people were affirming you.
Are there any clubs, activities or events that you are looking forward to being part of in college?
Through my 12 years in the same school district from kindergarten to high school, I've never had a Black teacher. So it is really important for me to have that representation. I'm interested in the Nigerian Student Association because I'm also Nigerian and I've rarely had the opportunity to frequently be around people who have similar cultural backgrounds as me. I'm also interested in the USC African American Cinema Society because I really enjoy film and television. I hope to possibly do social media and PR for them because that's kind of what I do.
I'm also interested in the Annenberg Cross-Cultural Student Association. I first learned about them when I was researching USC Annenberg during the application process, and I feel like it's also really cool to understand the perspectives of diverse ethnic groups and it's important to find ways to foster community.
What do you hope to accomplish during your time at USC Annenberg?
My goal is to finish undergrad and work somewhere in the communication marketing realm. My dream job is to be the brand marketing coordinator for Olivia Rodrigo. I'm a big fan of hers and would do great managing her brand because I love the attention to detail when it comes to the color schemes and marketing of her transformation from Disney to pop star. I think she just has such a distinct aesthetic and I admire how her team strategizes ways to connect her with her fans. I want to learn how to do that and use communication, brand management and marketing to create messages that influence and impact culture and entertain people.