Miki Turner, associate professor of professional practice, was named the 2022 National Association of Black Journalists' Journalism Educator of the Year at the organization's annual convention gala in Las Vegas this month.
Turner was recognized for her groundbreaking accomplishments and support of the Black community in news and media as well as students of color at USC and beyond.
"For us, it just seems obvious that Miki would be selected as educator of the year," said Gordon Stables, director of the School of Journalism. "She has a never-ending supply of energy to build new partnerships — from Los Angeles to Louisiana to Ghana and beyond — to help expand our recruitment efforts with HBCUs and other minority serving institutions. In addition to this, she finds time to teach and mentor our students, and to generally make Annenberg a better place."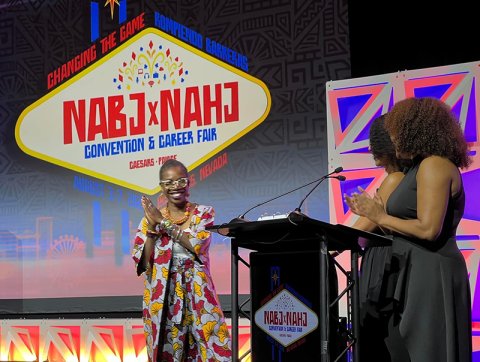 Photo courtesy of Miki Turner
Turner, who joined USC Annenberg in 2014, is a photojournalist and producer specializing in sports, entertainment and breaking news. She has worked at outlets from the Oakland Tribune and the Ft. Worth Star-Telegram to ESPN.com and AOL Productions.
She has helped expand USC Annenberg recruitment efforts with HBCUs and other minority serving institutions, to establish student/faculty mentoring programs, and to create diverse talent pipelines through the school's youth programs. She currently serves as program director for USC's Minority-Serving Institutions Graduate Recruitment Fair. She also collaborated with USC Annenberg students to help found the school's Cross-Cultural Student Association.
"I have been a member of NABJ for longer than I can remember and to get this honor from my peers at this point in my career is so humbling," Turner said. "I'm so appreciative of all the support I've gotten throughout my life and career from my family to my college professors like the late Lottie S. Knight, to Erna Smith and Laura Castañeda who brought me into Annenberg, to my skillful Annenberg colleagues who continue to teach this career student so many things. And to Willow Bay, Gordon Stables and Allyson Hill, who continue to support all of the things I try to do to make us all better."